Feds back research to stop Great Lakes invasions
TRAVERSE CITY, MI (AP). — Federal grants will support stepped-up research into ways to prevent invasions of the Great Lakes by foreign animal and plant species, with special emphasis on refining techniques that detect their DNA in the water, officials said October 2. The USEPA said it was distributing $8 million among 21 universities and nonprofit organizations for invasive species research studies. In addition to warding off future attacks, the projects will develop alarms to signal when invasions are starting and new methods of controlling those already under way.
"These projects will improve the environmental health and economic vitality of the world's largest freshwater system," said Susan Hedman, chief of EPA's regional office in Chicago. The funding is coming from the Great Lakes Restoration Initiative, a federal program meant to make progress on the lakes' biggest ecological challenges, such as toxic pollution, wildlife habitat loss and harmful algae blooms.
More than 180 exotic fish, mollusks, bacteria and other species have made their way to the lakes, many in ballast water of oceangoing cargo ships that began visiting the region's ports after the St. Lawrence Seaway opened in 1959. They've caused hundreds of millions of dollars' worth of economic losses while upending native ecosystems.
Scientists believe dozens of other species are waiting in the wings — including Asian carp, plankton-gobbling fish that have infested the Mississippi River and its tributaries and are bearing down on Lake Michigan. DNA from Asian carp has been found in waterways near Chicago beyond an electric barrier meant to stop them. Their genetic material also has turned up in Lake Erie.
So-called "environmental DNA" is found in excrement, scales and
mucous that fish leave in the water. Experts say its presence likely means live fish were in the area. But it doesn't reveal how many there are, and skeptics contend the DNA could have come from other sources such as fish-eating birds or bilge water deposited from boats. The U.S. Army Corps of Engineers is conducting a study to clear up those issues.
Several of the newly announced EPA grants will fund research into making environmental DNA a more useful yardstick. The University of Notre Dame received nearly $600,000 to determine whether it can help with organisms other than fish, such as invertebrates and even plants.
Environmental DNA "is becoming more and more accepted as a tool in detecting target species," said Scott Egan, a research assistant professor. "The earlier the detection, the faster we can avoid serious damages to the Great Lakes."
Michigan State University was awarded $600,000 for developing a hand-held device to analyze environmental DNA in the field, said Syed Hashsham, an environmental engineering professor. He and colleagues are working on ways to find the genetic material in large volumes of water instead of the small samples now taken.
A similar grant was approved for work at the University of Toledo on DNA diagnostic tests.
Other studies will focus on reducing Internet trade in invasive species, monitoring their presence in ship ballast and controlling invasive plants such as phragmites and purple loosestrife. Michigan State also got funding to experiment with chemical repellants that could prevent reproduction of parasitic sea lamprey, which feed on sport and commercial fish such as lake trout.
---
WASHINGTON DC (AP)--The Supreme Court has turned away an appeal challenging a federal rule that bars development on 50 million acres of roadless areas in national forests. The justices said Monday (October 1) they will leave in place a federal appeals court decision that upheld the so-called roadless rule that took effect late in the presidency of Bill Clinton.
The state of Wyoming and the Colorado Mining Association said closing so much forest land to development has had serious consequences for
residents of Western states and the logging, mining and drilling industries. The challenge centered on the contention that that U.S. Forest Service essentially declared forests to be wilderness areas, a power that rests with Congress under the 1964 Wilderness Act. The Forest Service manages more than 190 million acres of land.
---
USGS assessment of Shale Gas/Oil Resources in the Utica Shale: 38 trillion cubic ft
The Utica Shale assessment covered areas in MD, NY, OH, PA, VA and W. VA
The Utica Shale contains about 38 trillion cubic ft of undiscovered, technically recoverable natural gas (at the mean estimate) according to the first assessment of this continuous (unconventional) natural gas accumulation by the U. S. Geological Survey. The Utica Shale has a mean of 940 million barrels of unconventional oil resources and a mean of 9 million barrels of unconventional natural gas liquids.
The Utica Shale lies beneath the Marcellus Shale, and both are part of the Appalachian Basin, which is the longest-producing petroleum province in the United States. The Marcellus Shale, at 84 TCF of natural gas, is the largest unconventional gas basin USGS has assessed. This is followed closely by the Greater Green River Basin in southwestern Wyoming, which has 84 TCF of undiscovered natural gas, of which 82 TCF is continuous (tight gas).
"Understanding our domestic oil and gas resource potential is important, which is why we assess emerging plays like the Utica, as well as areas that have been in production for some time" said Brenda Pierce, USGS Energy Resources Program Coordinator. "Publicly available information about undiscovered oil and gas resources can aid policy makers and resource managers, and inform the debate about resource development."
The Utica Shale assessment covered areas in Maryland, New York, Ohio, Pennsylvania, Virginia, and West Virginia.
Some shale rock formations, like the Utica and Marcellus, can be source rocks – those formations from which hydrocarbons, such as oil and gas, originate. Conventional oil and gas resources gradually migrate away from the source rock into other formations and traps, whereas continuous
resources, such as shale oil and shale gas, remain trapped within the original source rock.
These new estimates are for technically recoverable oil and gas resources, which are those quantities of oil and gas producible using currently available technology and industry practices, regardless of economic or accessibility considerations.This USGS assessment is an estimate of continuous oil, gas, and natural gas liquid accumulations in the Upper Ordovician Utica Shale of the Appalachian Basin. The estimate of undiscovered oil ranges from 590 million barrels to 1.39 billion barrels (95 percent to 5 percent probability, respectively), natural gas ranges from 21 to 61 TCF (95 percent to 5 percent probability, respectively), and the estimate of natural gas liquids ranges from 4 to 16 million barrels (95 percent to 5 percent probability, respectively).
USGS is the only provider of publicly available estimates of undiscovered technically recoverable oil and gas resources of onshore lands and offshore state waters. The USGS Utica Shale assessment was undertaken as part of a nationwide project assessing domestic petroleum basins using standardized methodology and protocol.
The new assessment of the Utica Shale may be found online. To find out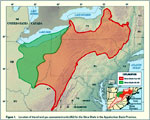 more about USGS energy assessments and other energy research, please visit the USGS Energy Resources Program website, sign up for our Newsletter
The Utica Shale is a formation in the Appalachian Basin that lies beneath the Marcellus Shale. It was recently assessed for the first time by the USGS, and is estimated to contain 38 TCF of natural gas, 940 MMB of oil, and 9 MMB of natural gas liquids.
---
EPA Awards Grant to Protect Women and Children from Mercury in Lake Superior Fish
CHICAGO (Oct. 4, 2012) – The USEPA today announced a $1.4 million Great Lakes Restoration Initiative (GLRI) grant to the Minnesota Department of Health (MDH) to reduce mercury exposure risk for women and children who live along Lake Superior's north shore. Excessive blood mercury levels have been documented in infants in this area. The funding will be used to improve health screening and to develop more effective fish consumption advisories.

"Many Great Lakes fish are unsafe to eat because of mercury contamination," said EPA Regional Administrator and Great Lakes National Program Manager Susan Hedman. "This project will help women make choices that minimize their exposure to mercury, but maximize the health benefits of eating fish."

The Grand Portage Chippewa Tribe and the Sawtooth Mountain Clinics in Grand Portage and Grand Marais, Minnesota will participate in the MDH project. Physicians affiliated with the clinics will survey consenting female patients of childbearing age about fish consumption and test blood
mercury levels. Patients will also be counseled to promote safe fish consumption choices.
The work supported by the grant will build on an earlier EPA-funded study which was completed last year by MDH. In that study, 1,465 newborns in the Lake Superior Basin – including 139 infants from Wisconsin and 200 from Michigan – were tested for mercury in their blood. The study found that 8 % of the infants had mercury levels higher than those recommended as safe by EPA.
Today's announcement is the most recent in a series of announcements to highlight EPA's 2012 GLRI grants. Over the last three years, the GLRI has provided more than $320 million to clean up toxic contamination in Great Lakes Areas of Concern and to reduce the risks associated with toxic substances in the Great Lakes ecosystem. The GLRI, initially proposed by President Obama in February 2009, is the largest investment in the Great Lakes in more than two decades.

More information about the Initiative is available at http://www.glri.us.
---