CEI sues EPA for hiding agency records on private e-mail accounts
Washington, D.C. – The Competitive Enterprise Institute on Sept 12, filed suit in federal district court for the District of Columbia challenging the EPA's efforts to shield a senior official's practice of hiding public service on private e-mail accounts that only he controls or can access.
The complaint demonstrates the epidemic in the Obama administration of moving controversial actions to non-public e-mail accounts. By exposing this practice, the suit will pave the way for obtaining all such public records stashed in private corners and thus out of reach of the nation's transparency laws, which clearly prohibit this kind of activity.
In May, CEI filed a Freedom of Information Act (FOIA) request seeking correspondence between EPA Regional 8 boss James Martin and the Environmental Defense Fund, where Martin had previously worked as a senior attorney. CEI's FOIA request was aimed at determining the extent to which policymaking in the Obama Administration is being coordinated with outside environmental pressure groups.
CEI expressly extended its request to cover information from Martin's non-official e-mail accounts, based on his clear history of using such accounts to perform official business. For five months, however, EPA has refused to produce these e-mails, claiming that records "sent to a personal email address" are not agency records. EPA has also stonewalled CEI's administrative appeal, refusing to provide a response and make its arguments on the record for CEI to challenge. As such, CEI's suit seeks to compel the release of these records.
On September 17, the CEI also filed a lawsuit against the Treasury Department that has been stonewalling inquiries regarding internal documents related to a "possible effort" to enact a carbon tax during Congress' forthcoming lame-duck session. The last thing America needs is an utterly bogus tax on so-called greenhouse gas emissions. A similar law is wreaking havoc on Australia's economy. And, since there is no "global warming" and carbon dioxide does not cause warming, such a tax is just one more way to grab more revenue.
Because of the hundreds of thousands of regulations the EPA has promulgated, the agency is constantly in court responding the law suits brought by states, by trade associations, and by corporations, but mostly by environmental organizations.
The EPA actually encourages environmental groups to sue in order to enter into consent decrees to "settle" the case in a manner they prefer. For decades, environmental groups have reaped millions in taxpayer dollars by accommodating the agency in this fashion. A case in point is the Environmental Defense Fund received $2.76 million in grants over the last decade while at the same time suing the EPA over various issues.
The Wyoming-based Budd-Falen law office has documented more than 3,000 law suits against the EPA by a dozen environmental organizations over the past decade! During the same time period, the Environmental Law Institute that created a citizen's guide to suing the EPA has received $9.9 million in grants!
It is especially ironic that the courts have often become the only protection Americans have against the Environmental Protection Agency. Despite the EPA's inflated bogus claims that it is saving lives, the reality is that—particularly during both the Clinton and Obama administrations—it has existed to destroy many elements of the nation's economy, with a special emphasis on the provision of the energy upon which everything depends.
In a recent Wall Street Journal editorial, "EPA Smack-Down Number Six",
a decision by the D.C. Circuit court "marks the 15th time that a federal
court has struck down an Obama regulation and the sixth smack-down for the Obama EPA. This tally counts legally flawed rules as well as misguided EPA disapprovals of actions by particular states."
The court ruling "saved Texas from an arbitrary and capricious EPA rejection of its permitting process for utilities and industrial plants" and asked "Why do federal judges constantly have to remind EPA Administrator Lisa Jackson" of the basic principle that even regulators must follow the laws of the United States?
Ms. Jackson is an acolyte of Carol Browner who served as EPA Administrator during the Clinton years. These days Ms. Browner is one of the many shadowy, behind the scenes, "czars" of the Obama administration, accountable to no one except the President. Many were surprised to learn that she was also a member of the Commission for a Sustainable World Society for the Socialist International. When that was revealed her biography was taken off its website.
In war you target a nation's energy facilities. This explains why the Obama administration has targeted coal-fired plants that generate nearly half of the nation's electricity.
Courts, however, are composed of judges trained in the law, but often ignorant of science. In an egregiously bad judicial decision the Supreme Court in 2007 ruled that carbon dioxide (CO2) and other "greenhouse gases" were deemed "pollutants" under the Clean Air Act.
Carbon dioxide is not a pollutant. It is vital to all life on Earth because no vegetation can exist without it. Moreover, there is no need to limit so-called greenhouse gases to fend off global warming—now called climate change—because there is no global warming. It was a huge hoax, but that doesn't deter the EPA from basing its regulations on it.
In a recent case, a D.C. Circuit Court decision was based on a Clean Air Act that empowers the EPA to regulate greenhouse gas emissions in "upwind" states "without regard to the limits imposed by the statutory text" thus vacating the Cross-State Air Pollution Rule that forces reductions from plants in 28 states in the eastern half of the nation. It was challenged by several states including Texas, Alabama, and Georgia.
An illustration of how the EPA justifies its insane attack on the generation of electricity can be seen in its estimates that the rule would have prevented up to 34,000 premature deaths, 15,000 nonfatal heart attacks, and 19,000 cases of acute bronchitis annually. Such figures are simply plucked from thin air, having no relationship to reality than a ruling that a child story's fairy dust can kill you.
Indeed, in 2011, the House of Representatives approved legislation aimed at ensuring that the EPA cannot regulate "farm dust." H.R. 1633 would prevent the EPA from issuing any new rule in 2012 that regulates coarse particulate matter. It passed on a vote of 268-150. Thirty-three Democrats joined with Republicans.
The EPA has become a major threat to property rights nationwide in addition to its relentless attacks on the energy sector. It is a very costly agency in terms of what Congress calls "major rules" that are defined as costing the private economy more than $100 million annually. In August 2010 Speaker of the House, John Boehner, sent President Obama a letter pointing out that the administration had been creating regulations that cost ten times more.
Of the seven rules that broke the $1 billion barrier, four of them were from the EPA. The total cost of EPA regulations hit $104.5 billion versus $5 billion for the entire rest of the government!
To read the complaint, click here.
---
Brauer announces retirement from tour competition
Camdenton, Mo. - September 24, 2012 - As the old adage says; "all good things must come to an end." Thus, legendary angler, Denny Brauer, of Camdenton, Mo. has decided to retire from Bassmaster Elite Series competition following the 2012 season.
Citing several facets of the expanded Elite Series schedule and the toll a 32-year career competing on the sport's highest levels have taken on him physically; Brauer has decided to retire from tour level competition. "While I will not ever fully retire from this great sport that has been my passion for so many years, it is time for me to step down from competing on the Bassmaster Elite Series," said the 63-year-old Brauer. "The last 32 years have been tremendous; Shirley and I are so appreciative of all that this sport has been for us."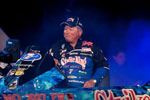 Brauer steps away from what is highly regarded as one of the greatest career records in the sport of professional bass fishing. His career statistics began with his first Bassmaster entry in a Federation Chapter Championship on Lake Eufaula, Alabama in 1978. That entry would spawn his full time venture into Bassmaster competition in 1980, and the rest as they say, would become history.
Brauer steps down from tour level competition after a career that includes 317 Bassmaster Entries. Those many events have produced 17 wins, 79 top 10 finishes and 197 finishes in the money. He has competed in 21 Bassmaster Classics, winning the 1998 event on High Rock Lake in North Carolina. He was also the 1987 Bassmaster Angler of the Year, and retires as one of only 12 anglers to have won both the Bassmaster Angler of the Year and Bassmaster Classic titles. He retires having earned $2,579,394 in Bassmaster competition; a total that ranks him third amongst all competitors in the history of B.A.S.S.
He also found success on the FLW Tour. In 38 FLW Outdoors entries, Brauer recorded nine top 10 finishes, four appearances in the Forrest Wood Cup, collected $132,350 and earned the 1998 FLW Angler of the Year title.
His 1998 year still ranks as the most impressive single year a professional angler has ever recorded. In 1998, Brauer won four BASS events including the Bassmaster Classic, and placed in the top 10 five out of seven times on the FLW Tour. His Bassmaster earnings of $406,000 still ranks in the top 10 of all time highest single season earnings. He earned an additional $52,500 in FLW competition that year en route to winning the FLW Tour Angler of the Year award.
Amongst a career full of highlights, some of the other remarkable ones include being the first professional angler to appear on a box of Wheaties cereal, and he made two appearances on the David Letterman Show. He has also been the host of several popular television shows throughout his career.
The first people Brauer wanted to acknowledge for helping make his career a possibility were his family. "I could not have done this without the sacrifices of Shirley and Chad throughout the years," he said. "Shirley made sure everything was taken care of for me. She has been my friend, my business partner and road companion through everything. I cannot
say enough how proud I am of Chad and the man he has become. One of
my true joys in this life has been seeing him build a career in bass fishing and beyond, and being able to share in it alongside him."
Brauer said that his career would not have been possible had it not been for the help of an incredible list of sponsors. "I owe so much to them for everything they have done and continue to do for me even now in the planning of this phase of my career," he said. "I owe a tremendous amount to those people who have stood by me over the years and still remain a part of me now.
"I owe special mentions to John Barnes, Doug Minor and the people at Strike King Lure Company, Kim Ott, Bart Schad, Randy Hopper and everyone at Ranger Boats, Krista Heidgerken and her team at Evinrude, Mike Brooks at Ardent, Todd Hammill and his team at Gemini Sports Marketing / Wired2Fish, Jeff Pierce at Mustad Hooks, Tim Price at Humminbird / Minn Kota, and to the folks at Busch Beer, Oxygenator and Seaguar, thank you so much for standing behind me for so long. I know there are people at all of these companies that I'll overlook here, please know you all have meant so much to us.
"I also want to say thank you to Ray Scott for his vision of B.A.S.S. and to Irwin Jacobs at FLW, you both are responsible for the venues that helped me build my career. Lastly, thank you to Forrest and Nina Wood, without your support I don't think I would have been able to make this a career."
He revealed that the hardest part of stepping down from the tour competition will be missing the people that have been a part of his life for so many years. "Shirley and I have met some incredible people over the course of this career, and knowing we won't be seeing as much of them has been the most difficult part of this decision," said Brauer. "We have met some amazing people and have been so touched by so many of you; we will miss seeing you every day."
He also said he will miss the people that make everything in the sport possible. "I will greatly miss the interaction with the fans of the sport at tournaments," he said. "The fans are who make this career so rewarding, to hear your cheers and listen to your recollections of events throughout my career are moments that I remember and cherish - thank you for giving so much of yourselves to me, and to the sport as a whole."
In retirement from full-time touring competition, Brauer and his wife Shirley have decided to list their Camdenton, Mo. property for sale and will take up full-time residence in their new hometown of Del Rio, Tex. where he will still actively participate in fishing activities on a frequent basis. "I really call this a semi-retirement because I will still be fishing tournaments, primarily at Major League Fishing events and events on Lake Amistad and the surrounding areas," he said. "I will still be working with my sponsors on product development and making appearances at shows; I may also end up doing more television in the future, so I'm not going to completely step away, it just means too much to us.
"The past 32 years has been amazing," said Brauer. "I could have never imagined a career such as this in my wildest dreams. There have been ups and downs, but we step away with the warmth of friendship, support and a career full of goals reached and dreams realized. "Thank you to sport of bass fishing, it has been a wild and crazy ride; one that I am really humbled and proud to have taken"
---