Enjoying the Outdoors in Luxury
A memorable experience in the Ozarks
Experience the great outdoors in luxury. America's Premier Wilderness Resort, Bass Pro Shop's Big Cedar Lodge located near Branson, MO. offers a pleasant and exciting change from your highly urbanized job and big time destinations. A luxurious tour of the Missouri Ozarks will be a rewarding and exhilarating experience. Rolling hills and wooded pastures are the first change you trade for steel and glass urbania. Roll down your windows and enjoy the crisp, fresh air.

Ideal for families, businessmen and angling groups alike, Bass Pro Shops' Big Cedar Lodge offers about everything a big city dweller wants in his getaway vacation. The lodge, a Bass Pro Resort, and its marina, are tucked away in the wooded hillsides of the Ozark Mountains in a quiet cove on sprawling Table Rock Lake. It's just 10 miles south of Branson and only 5 miles from the Branson airport with direct flights to many major cities.

Big Cedar offers a wide selection of lodging facilities, all with rustic and woodsy but contemporary appointments; great views, and opportunities that will accommodate any number in your party, sleeping and living needs, extravagant tastes, or the conservative pocketbook.
Lodging choices at Big Cedar Lodge, all with rustic amenities, include rooms at three lodges, private cottages and log cabins. Experience the best of Big Cedar by choosing a luxurious accommodation in one of their spacious log cabins.

Featuring spacious Jacuzzis, real wood-burning fireplaces, contemporary kitchens, spacious balcony views and vaulted ceilings, these deluxe remote cabins in secluded coves offer the finest of appointments for honeymoons to family reunions.
Deluxe rooms are perfect for one to four people. Beautiful lobbies filled with oversized couches and wood burning fireplaces at The Falls, Valley View and Spring View Lodges offer opportunities to relax and enjoy the view. Value accommodations are an economical way to enjoy

the resort with unique four-poster beds, rustic décor and gorgeous views. Most are equipped with a refrigerator or are available at no charge upon request. For specific amenities and pricing visit www.big-cedar.com.
Bent Hook Marina offers professional fishing guides, a pro ski school, personal watercrafts and other boating rental opportunities that will tempt your scheduling activities, often making you late for lunch or dinner at the many lodge venues offered to temp any palates. The Bent Hook Market offers a variety of grocery items and sundries, for your cooler. It also offers lake cruises, covered slip rental, fishing licenses, boat rental opportunities and complimental launch and trailer parking.
This is where you can leave

everything behind and enjoy everything the great outdoors has to offer – memories that will last a lifetime. Whether you like fishing, cruising, waterskiing, tubing, wakeboarding jet skiing or just venturing out for a quiet paddle in a canoe, Big Cedar's Bent Hook Marina has it all.
This classy, rustic, contemporary and enticing facility is designed to keep you indoors if that is your pleasure, or for a change of pace. From Spa Services to a Fitness Center with possibly your personal trainer, these opportunities can upgrade your state-of-health and mental outlook. Whatever your fitness goals, Big Cedar Lodge can accommodate them all. Their expert staff will help you unwind and have you leaving rested and renewed.
For the kids, Big Cedar Lodge offers a unique introduction to the Lodge's extensive 800-acre playground. The Little Cedar Kids' Club welcomes children of all ages, who can explore, interact and play in a magical environment, offering nutritious snacks and hands-on experiences. Daily pony rides are available for kids 10 and under. Guided horseback rides are available for adults also.
Dining at Big Cedar's variety of dining locations is another notable experience. From an early breakfast or quick snack to fine dining or a late night cocktail, the lodge has four free standing restaurants, all with spectacular views, to cover your taste buds, and time table.

One of the original structures on the property, The Truman Café will cover your early morning breakfast needs, or for lunch or supper for an assortment of sandwiches, soups, soups and delicious sides. While the interior has been re-designed, the exterior still reflects its 1920'style and charm.
Devil's Pool Restaurant offers a casual dining experience that combines the best in southern home-style fare with rustic elegance steeped in the rich history of local Ozark favorites. Breakfast, lunch and dinner are served daily, with a sumptuous Sunday brunch. Indulge in the comfort of the past and present, or savor the taste and aroma of hickory smoked prime rib, Smoked Trout or one of the other local Ozark favorites
Buzzard's Bar is located downstairs from Devil's Pool, and offers a warm reception in legend and superstition. Comfortable seating is available indoors offering an
excellent selection of specialty drinks, or in an outdoor
setting on their patio overlooking the pool. They even boast their own selection of sandwiches, salads and house-made soups. Each evening, the Bar offers country singing entertainment, singing all your favorites.
Devil's Pool and Buzzard's Bar are steeped in legend that is now barely a memory, mysteries of a bottomless pool buried under Table Rock Lake. Early on, indistinct images of the mind and sacred icy waters of the Osage Indians spilled out of its seemingly bottomless confines and twisted and turned on its winding path to the powerful White River below. A legend of hundreds of buzzards mysteriously appearing nightly, steeped in the minds of the first white settlers to the Ozarks. However, if you see buzzards circling overhead…
The grandeur of The Worman House, a legendary historic home going back to the early 1920's is well noted with the exciting experience of dining in a lakeside casual atmosphere. Incredible dining from a menu created to please the discriminating palates, a sumptuous Sunday brunch or an elaborate buffet featuring all your favorites.
Dogwood Canyon Nature Park, a property of Big Cedar,

offers 2200 acres of preserved American wilderness. One of its greatest appeals is trout fishing in sparkling spring-fed waters, home to their magnificent rainbow trout. The park offers guided catch-and-release fishing trips, fly casting clinics, and multi-day fly fishing schools. It also offers horseback riding, hiking and

biking trails, mini golf, romantic carriage rides and chuck-wagon dinners at rustic campsites. A small tackle and souvenir shop with a limited lunch menu is available at the general store.
Tram tours of the entire park highlight rustic pastures with herds of elk, native buffalo, deer and other native wildlife.

You might even see some great blue heron and American eagles. The park also has one-, two- and three-bedroom rustic log cabins offering ample opportunity for extended outdoor exploration.
Big Cedar Lodge is equipped to accommodate all your business needs, weddings or family reunions from an intimate group of 10 to conferences up to 1000. Situated near the two largest lodges, the Grandview Conference Center has over 21,000 square feet of flexible meeting space on two levels. The resort's rustic theme is carried out in conference center décor with 21st Century technology and equipment. Relaxing Ozark ambiance is complemented by floor to ceiling windows offering splendid views. In addition to the Conference Center's 15 meeting rooms, there are smaller meeting facilities scattered throughout the resort, including Dogwood Canyon
Complimentary shuttle service is offered to any facility on the 800 acre property from your home away from home or from Bent Hook Marina or any other amenity back to your lodging –or some other property location. Shuttle service is also available to Branson, its airport or other nearby locations. Check for fees and availability.
Although ample opportunity exists to fill your daily schedule at Big Cedar, a side trip to Springfield and the Bass Pro Shops' signature store would be a memorable experience.
The mere entrance into the store shows giant, exquisitely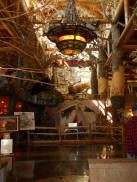 crafted outdoor themed chandeliers, made by Bass Pro Shops' own artisans, hanging throughout the store. Lifelike images of elk, deer, raccoon, rabbit, turkey, bobcat, bear and water fowl are in the store's center arena. Museum quality wildlife exhibits and dioramas are also seen around the walls. Waves of waterfowl along with geese, pheasant and eagles may be seen flying and roosting throughout.
One last word about fishing; incidental catches of record class feisty blue gills will keep you occupied between those catches of Kentucky, Largemouth or Smallmouth bass. There are plenty of 'gills, at every cove and point you stop to wet a line.
A memorable trip to Missouri Ozarks' Big Cedar Lodge can be planned any time of the year. The seasons will vary with each presenting its own outstanding sights, opportunities, adventures and panorama.
Some contact info for your next outdoor experience:
Big Cedar Lodge
Dogwood Canyon Nature Park
Devil's Pool Restaurant
The Worman House
The Truman Café
612 Devil's Pool Road
Ridgedale, MO 65739
800-225-6343
White River Fish House
1 Bass Pro Drive
Branson, MO 65616
www.whiteriverfishhouse.com
417-243-5100
Bass Pro Shops
Springfield Location
1935 South Campbell
Springfield, MO 65807
800-227-7776
417-887-7334
---