Sonar-equipped robo-kayak patrols Welland Canal for carp
Canadian scientists are launching a robotic kayak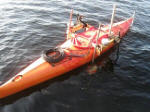 equipped with echo sounder sensors in the Welland Canal this week to see if invasive fish such as the Asian carp could travel between Lake Ontario and Lake Erie. Some scientists say it's only a matter of time before Asian carp arrive in the Great Lakes. They worry that the ravenous fish will out-compete native species for food.
The Chicago Sanitary and Ship Canal, which links the Mississippi River basin to the Great Lakes basin, gets much of the attention as a potential entry point for invading carp. Resource managers have focused prevention efforts there. But other invasion routes need to be monitored, too, said Becky Cudmore, a senior science adviser with Fisheries and Oceans Canada, a federal agency. "If we're just focused on our front door and it sneaks in through our back door, we're in trouble," she said.
Many invasive species, such as sea lamprey, have slipped through the Welland Canal, where locks lift ships around Niagara Falls into Lake Erie, said Scott Milne, principal of Milne Technologies in Peterborough, Ontario. That gains them access to the upper Great Lakes from the east, but no one has yet proven that a lunker like the Asian carp would swim through this vulnerable passageway.
Because of heavy ship traffic, scientists aren't allowed to enter the lock chambers with boats and nets to survey how fish move in the canal, Milne said. His robo-kayak, dubbed the "Waterbug," is ideal for the job since it is unobtrusive and crewless. Powered by a 12-volt battery that runs two small motors mounted on either side of the 14 foot hull, the Waterbug can turn on a dime in response to radioed commands from onshore operators.
In real time, the kayak's echo-sounders send acoustic images to a laptop computer that estimates the size of fish and pinpoints their movements. A fish as large as the Asian carp would produce a unique echo, Milne said. "The idea is to use the echo sounder to see where fish are in the system, then follow up with a camera that takes acoustic images that show distinctive features such as fins," he said
The sensors can even be tuned to track tiny invasive zooplankton.
Milne and his partners at Fisheries and Oceans Canada hope the pilot survey of the canal will help measure the risk of passage by Asian carp and inform officials whether and where barriers are needed. And they'll keep an eye out
for other invaders. Milne doesn't expect to find Asian carp
this year. But if his team finds common carp in the canal, it raises suspicions that Asian carp are also capable of navigating the locks.
The kayak launched from near St. Catharines, Ontario, will complete the survey by mid to late October. The Waterbug will cruise about 26 miles from Lake Ontario to Lake Erie through lock chambers and intervening waters. "It's possible to program the Waterbug to run autonomously for 24 hours surveying a system," Milne said.
Depending on how the Waterbug performs, it could be used for monitoring the effectiveness of such hurdles as the electric barrier in the Chicago Sanitary and Ship Canal, according to Phil Moy, an invasive species specialist with Wisconsin Sea Grant.
Cudmore co-authored a 2004 risk assessment that concluded there is a high probability that Asian carp could become established in the southern Great Lakes basin and have a significant impact on the ecosystem. The most likely route of entry to the Saint Lawrence Seaway and Lake Ontario is through the live fish trade, Cudmore said. Live carp are prized in the Greater Toronto Area where fish markets sold over 100,000 kg of Asian carp, much of it still alive, in 2003.
Unfortunately, people buy fish at the market and then release them. "Individual Asian carp have been found in a tributary of Lake Ontario and in a fountain in downtown Toronto," said John Cooper, a spokesperson for the Ontario Ministry of Natural Resources. In 2005, Ontario banned the possession and sale of live Asian carp. The U.S. ban on transporting live Asian carp across state lines went into effect March 22.
Over the past year, the Ministry of Natural Resources has partnered with the Canadian Border Services to intercept three shipments of live Asian carp. A Canadian judge slapped one importer with a fine of $20,000 for a 6,000 pound shipment of carp and fined a repeat offender $50,000 for a 4,000 pound shipment. The third case is still before the courts.
Imported in the 1960s and 70s to control algae in catfish farms in the southern U.S., Asian carp grow up to 4 feet long and weigh more than 100 pounds. The carp invaded the Mississippi River basin in the early 1990s through accidental and intentional releases, Moy said.
Leaping Asian carp have inflicted broken bones and concussions when they land on boaters, Moy said. The ravenous fish has likely out-competed native filter-feeding species in the Mississippi River ecosystem. "In some parts of the Mississippi River, nine out of every 10 fish caught are Asian carp," Cudmore said.
---
Weber new NE Regional Director for the USFWS
USFWS Service Director Dan Ashe named Wendi Weber as the new Regional Director for the Service's Northeast Region. Weber, a 13-year career Service employee, has served as Deputy Regional Director for the region since 2007.
In her new capacity as Regional Director, Weber will oversee Service activities in the 13-state Northeast Region, which ranges from Maine to Virginia. From the regional office in Hadley, Mass, she will lead more than 900 Service employees working in more than 130 field offices across a region ranging from Aroostook National Wildlife Refuge in northern Maine to the Southwestern Virginia Field Office in Abingdon.
"Wendi Weber is a dynamic and passionate leader who has continually proven her ability to work with others to achieve great things for conservation.
As Deputy Regional Director, Weber oversaw the day-to-day operations of the region, coordinating and directing activities to ensure compliance with legal, regulatory, and
Departmental policies. She also advised and consulted
with members of Congress, the Office of Management and Budget, the Office of the Secretary, and other Federal and State agencies and Departmental Bureaus on matters pertaining to Service programs.
Prior to coming to the Northeast Region, Weber served as Assistant Regional Director for Ecological Services in the Service's Midwest Region in Minneapolis from 2004 to 2007. From 2002 to 2004, Weber served as Chief of Endangered Species in the Service's Northwest Region, based in Portland, Ore. She also worked for the Service's endangered species and international affairs programs in Washington, D.C., for three years.
Prior to joining the Service in 1998, Weber worked for the states of Florida and Georgia as a field biologist. She lives in Hadley with her husband Jon and sons, Bailey, 14, and Clayton, 12. Originally from Rochester, New York, Weber has a bachelor's degree in zoology from the University of Rhode Island and a master's degree in fisheries from the University of Georgia.
---
House warned against "EPA Power Grab of Breathtaking Proportions"
Expert testifies before House Committee on New Vehicle Energy Mandates
Washington, DC, October 12, – In the aftermath of a recent deal between the Obama administration and automakers to force higher fuel economy standards on "light duty vehicles," the House Oversight and Government Reform chaired by Rep. Darrell Issa (R-Calif.) is holding a hearing to question the Environmental Protection Agency's decision to impose those costly new standards.

"The Environmental Protection Agency is carrying out a power grab of breathtaking proportions," said CEI Senior Fellow Marlo Lewis, in written testimony submitted to the subcommittee on Regulatory Affairs, Stimulus Oversight and Government Spending.

EPA is regulating fuel economy and determining national policy on climate change. EPA claims that in doing so it is merely implementing the Clean Air Act. But, Lewis notes in his testimony, the Clean Air Act was enacted in 1970, "almost two decades before global warming emerged as a public concern and five years before Congress enacted the nation's first fuel economy statute.

"The Clean Air Act was neither designed nor intended to regulate greenhouse gases, and it provides no authority to regulate fuel economy," said Lewis.

Lewis's testimony develops the following points:
►If packaged into a bill, EPA's fuel economy/greenhouse gas regulations would be dead on arrival. That's after almost two decades of global warming advocacy. There is no plausibility Congress signed off on EPA's greenhouse agenda in 1970.
►EPA cannot regulate greenhouse gas emissions from motor vehicles without implicitly – and obviously –
regulating fuel economy, because carbon dioxide (CO2)constitutes almost 95% of motor vehicle greenhouse gas emissions, and the only technologies that can reduce vehicular CO2 emissions are fuel-saving technologies.
►Congress, however, delegated the responsibility to regulate fuel economy to another agency, the National Highway Traffic Safety Administration (NHTSA), under a separate statute, the Energy Policy Conservation Act (EPCA). EPA's actions are inconsistent with the statutory scheme Congress created.
►To preempt auto industry opposition to its power grab, EPA pursued a strategy of regulatory extortion, confronting auto companies with the economically ruinous prospect of a market-balkanizing "regulatory patchwork" if they did not waive their right to sue EPA.
►EPA created the patchwork threat by reconsidering California's request for a waiver allowing states to implement their own greenhouse gas/fuel economy programs. EPA did this even though EPCA expressly prohibits states from adopting laws or regulations "related to" fuel economy.
►The May 2009 "historic agreement" between the White House and the auto industry recognizing EPA's new role as fuel economy regulator was conducted behind closed doors, under strict orders to "put nothing in writing, ever," thereby flouting federal standards for transparency and accountability in rulemaking.
►The Obama administration's latest agreement with automakers, establishing a fuel economy target of 54.5 mpg by 2025, was also a closed-door proceeding and similarly tainted.

Currently, no vehicles except plug-ins or battery electric cars meet that standard. The new CAFE standards will add over $3,000 to the cost of an average vehicle in 2025, according to government estimates. The actual cost could be even higher.
► View the testimony by Marlo Lewis, Jr.
---
Firearms Interstate Commerce Reform Act
Allows for the interstate sale of firearms
WASHINGTON - Recognizing the need to revamp outdated and restrictive gun laws, U.S Senators Mark Begich (D-Alaska) and Orrin Hatch (R-Utah) have introduced the Firearms Interstate Commerce Reform Act. The bill allows for the interstate sale of firearms and removes several antiquated and unnecessary restrictions imposed on interstate firearms transactions.
"Utahns and Americans everywhere have a right to bear arms, and this legislation ensures that onerous and outdated restrictions on everyone's Second Amendment rights are no longer in place," Sen. Hatch said. "By removing these restrictions, we can ensure that the constitutional freedoms we seek to protect remain intact."
"Current laws restricting interstate commerce of firearms not only lag behind common sense and new technology, they are unfair and burdensome," Sen. Begich said. "This legislation cleans up decades-old laws that are unnecessarily restricting the rights of Alaskans and other Americans to purchase and sell firearms."
"The National Instant Criminal Background Check System has made many restrictions enacted in 1968 obsolete. It's time to bring the law into the 21 st century. This important legislation will modernize and streamline interstate firearms transactions. The NRA and gun owners across the nation thank Senators Hatch and Begich for their leadership on this issue," said Chris W. Cox, executive director of the NRA Institute for Legislative Action.
The Firearms Interstate Commerce Reform Act removes a number of restrictions from the Gun Control Act of 1968, which only allowed licensed dealers to sell rifles and shot guns to residents of a different state under a lengthy series
of conditions. The restrictions were supposed to prevent buyers from evading "background checks" available at the time, which were mainly carried out through state laws requiring local police chiefs to issue firearms permits.
However, since 1998, all people buying firearms from dealers in the U.S. have been subject to computerized background checks under the FBI's National Instant Criminal Background Check System; a system much more sophisticated and advanced than what was available in 1968. As a result, the complex system of state laws currently restricting the interstate commerce of firearms is outdated. In some cases, current law requires citizens to jump through so many hoops, it hinders or even prevents these sales.
The new law would allow:
►Individuals to buy handguns, as well as rifles or shotguns, from licensed dealers in another state, subject to the background check requirement. The buyer and dealer would still have to meet in person and comply with the laws of both states;
►Dealers to engage in their business at gun shows in other states, complying with the laws in the state of gun show;
The bill would reduce theft and loss of firearms during shipment between dealers by getting rid of a provision that says dealers may not transfer firearms to one another face to face, away from their business premises. Currently, dealers who agree on a sale are forced to return to their businesses and ship firearms to one another which involves some risk of theft or loss. The new law would allow an in-person exchange.
Similar legislation has been introduced in the House.
---