Smith & Wesson M&P Shield
Comes in 9mm or .40 cal
#180020 or #180021 (9mm)
Officially unveiled at the 2012 NRA Show, the new M&P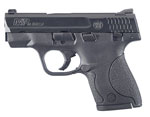 SHIELD is a powerful, slim, lightweight, and concealable polymer pistol. Designed as an extension to the popular M&P pistol line, the M&P SHIELD delivers outstanding comfort, accuracy and performance in a carry or concealed carry platform.

The M&P SHIELD is a slim, concealable, lightweight, striker-fired polymer pistol. Available in 9mm and .40 S&W, the new M&P SHIELD features a slim design combined with the proven and trusted features found in the M&P Pistol Series. From the pistol's easily concealed one-inch profile to its optimized 18-degree grip angle, the M&P SHIELD offers professional-grade features that provide consumers with simple operation and reliable performance.

The M&P SHIELD features a high-strength polymer frame with a black, Melonite coated stainless steel slide and 3.1" barrel, an overall length of 6.1" and an unloaded weight of 19 ounces. For fast tracking and smooth target acquisition, the M&P SHIELD is standard with a 5.3-inch sight radius and has been enhanced with a short, consistent trigger pull measuring 6.5 lbs.

Additional features include Striker fired action – which delivers a smooth, short, consistent and dependable
trigger pull, a Stainless steel internal chassis - which
reduces flex & provides an extremely stable shooting platform, Patented take down lever & sear deactivation system – which allows service without pulling the trigger, and Optimized 18 degree grip angle – which provides a natural point of aim and rapid target acquisition. Front & rear sights come with White dots for easier and quick site pictures.

The M&P SHIELD comes standard with two magazines – one compact for easy concealment and the other extended for full grip and increased capacity, and Smith & Wesson's lifetime service policy.

Features include:
Action: Striker Fire
Barrel: 3.1"
Front Sight: White Dot
Rear Sight: White 2-Dot
Overall Length: 6.1"
Frame Width: .95"
Overall Height: 4.6"
Weight: 19.0 oz
Frame Material: Polymer
Barrel/Slide Finish: Black Melonite
Trigger Pull: 6.5 lbs. +/-
Sight Radius 5.3" /13.3 cm

About $449.00

800-331-0852 [email protected]

www.smith-wesson.com/MPShield
---
Smith & Wesson SD9 VE & SD40 VE Pistols
Self Defense Handguns offer High-Grade features at affordable prices
#123400 & 223400 (.40 cal), 123900 & 223900 (9mm)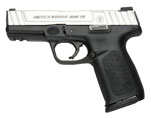 Smith & Wesson has introduced two new handgun models - each with two different magazine capacities - designed to assist with personal protection and home defense needs. The new SD9 VE and SD40 VE semi-automatic pistols, chambered in 9mm and .40 S&W, combine value with enhanced features to deliver top-grade performance in a reliable option for home and personal protection.

The design of the new SD9 VE and SD40 VE pistols incorporates the best features of the Smith & Wesson SD and Sigma models and evolves them into a new generation of pistol that delivers on function and price.

The foundation of the SD VE is the lightweight polymer frame, designed for both comfort and durability. The Self Defense Trigger (SDT™) provides a smooth, consistent trigger pull, enhancing both accuracy and user confidence. The accompanying stainless steel slide features aggressive front and rear slide serrations for improved handling and is fitted with white-dot front and rear sights.

For optimal comfort and control, the SD VE features an 18° natural point of aim, an ergonomic grip, aggressive
front and back strap texturing and textured finger locators
placed directly above the trigger guard on both sides.
The SD VE also features a universal Picatinny-style equipment rail for optional accessories.
The SD9 VE is available in 16+1 or 10+1 magazine capacity while the SD40 VE comes standard in 14+1 or 10+1. Both models have an unloaded weight of 22.7 oz and a slim profile of 1.29 inches. The 4-inch barrel and overall length of 7.2 ", makes the SD VE fully compatible for personal protection or home defense measures.

Features included on all models:
SDT-Self Defense Trigger for Optimal, Consistent Pull
Dovetailed, White Dot Sights
Standard, Picatinny-Style Rail
Slim, Ergonomic, Textured Grip
Textured Finger Locator
Front and Back Strap Texturing
Two-Tone Finish
Front and Rear Serrations
Two Magazines
Weight 22.7 oz
4" barrel
Lifetime warranty

About $379.00

800-331-0852 [email protected]

www.smith-wesson.com/MPShield
---