Recovered from spawning, fish "ready to chase just about anything"
HAYWARD - The northern zone musky season opens May 26 and anglers are likely to find good prospects for catching the official state fish, now that water temperatures are finally climbing and making the fish more active, state fisheries biologists say.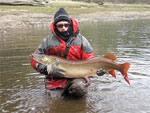 "The start of the 2012 northern musky fishing season should be timed perfectly with an increase in fish activity now that water temperatures have warmed into the mid- to upper 60s throughout most of northern Wisconsin," says Dave Neuswanger, Department of Natural Resources fisheries supervisor based in Hayward. "Most muskellunge completed their annual spawning ritual weeks ago during an early warming period, so they have long since recovered and will be ready to chase just about anything that moves!"
Neuswanger says that jerk baits and even spinners with bucktails should provide good action. "Anglers will find healthy musky populations in traditional waters, but do not overlook some of the smaller, out-of-the-way lakes and streams that often have surprising numbers of fish between 36 and 44 inches long," he says.
Fish in these waters tend to be more na�ve than those in heavily pressured lakes, so they are more likely to be encountered and caught. Multiple-fish days on some of the less-pressured lakes and streams are not uncommon. "Also, this is the time of year when anglers targeting bass with spinner baits are subject to surprise attack by muskies, so using a wire leader and keeping some hook-out tools and gloves in the boat are good ideas," Neuswanger says.
Mike Vogelsang, fisheries supervisor based in Woodruff,
reports that musky in his area spawned at least two weeks ahead of "normal," with the peak right around mid-April.
"Water temperatures have been steady and cold for several weeks now, but they are finally beginning to moderate a bit, a trend that should continue through the musky opener. That will make the musky active. Look for them near newly emerged weeds with deeper water nearby -- the transition from weeds to deep water on the edges of bays are key spots."
Weedy open flats that are 5 to 9 feet deep also make for nice "drifts" while casting, Vogelsang says. "Early in the season anglers may also want to scale down the size of their baits a bit -- it's not always necessary to throw those big tandem bucktails or 12-inch jerk baits. For the first couple weeks of musky fishing, smaller bucktails and 6-inch twitch baits can work equally well if not better.
Terry Margenau, fisheries supervisor stationed in Spooner, says that now is an exciting time to be a musky angler in Wisconsin. "Twenty-five years ago our musky populations were growing in numbers but many fish were mid-sized, or 32-36 inches long. However, with the continued practice of live release by sport anglers and more restrictive regulations, there has been a shift toward more larger fish -- what the musky angler wants."
That growing catch-and-release ethic has made a big difference that anglers this year will enjoy, he says. "Over the past several years our crews are seeing more and more 30-plus pound fish in our nets, not to mention that occasional 40 pounder and larger. Some of our populations in the north have more than 50 percent of the adult musky population over 40 inches.
"This is an exciting time to be a musky angler in Wisconsin -- expect some big things with a little hard work in 2012!"
---
Anglers can rely on the new version of an old "friend" -- the 2012 version of the Wisconsin Muskellunge Waters book [PDF] -- to help lead them to the waters offering the potential to catch a monster musky or the prospect of lots of action.
The 35-page booklet is available online and can be downloaded and printed off. Hard copy versions are available by contacting a local DNR service center and asking for a copy of publication FH 515 (2012).
The printing of the booklet was paid for by the Musky Clubs Alliance of Wisconsin, along with its individual member clubs. Funding was also provided by the Federal Aid in Sport Fish Restoration program.
Tim Simonson, the DNR fish biologist who chairs DNR's
musky committee and edited the book, says the update is
the first since 1996. Some smaller, minor lakes have been taken off the list of musky waters as well as some lakes that had been stocked in the past but hadn't produced fisheries.
The book also updates the status of waters as far as whether they are Class A, the premier musky waters providing the best musky fishing, Class B, waters that provide good fishing, or Class C, waters with musky present but not of major importance to the overall fishery.
About 47 percent of the 667 classified musky lakes in Wisconsin are Class A Waters and 29 of the 100 classified river segments are Class A.
"By all measures, musky fishing has continued to improve," Simonson says. "The percentage of large fish -- over 45 inches continues to increase in our sampling surveys."
---
A new 40-inch size limit is in effect statewide and applies to 94 percent of musky waters in Wisconsin, Simonson says. There are 41 waters that continue to have either lower size limits or higher size limits. Waters of Green Bay and Lake Michigan north of Highway 10 carry a 50-inch minimum size limit. The daily bag limit for muskellunge is 1 on all waters statewide, except Yellowstone Lake, Lafayette County (daily bag limit is 0), and Escanaba Lake, Vilas County (no daily bag limit).
The Guide to Wisconsin Hook and Line Fishing Regulations lists the wrong size limit for musky on those waters. Otherwise, consult the guide for information about specific waters or check DNR's new online regulation database to find size limits on the inland lake you plan to fish for musky.
Simonson says the new size limit, increased from 34 inches last year, will allow musky populations to better reach their full biological growth potential. "Angler harvest is low, but even low harvest of the larger fish still impacts the average size of fish in a musky population," he says.
The growth potential of muskellunge easily exceeds 40 inches on the vast majority of muskellunge waters in the state, except in a few, high density, slow-growing populations typically found in smaller lakes, Simonson says.
Creel surveys indicate that the length of muskellunge harvested over the last few years have averaged 38.7 inches, with 62 percent of harvested fish less than 40 inches. The new 40-inch size limit will reduce musky harvest by up to 60 percent statewide every year, which is expected to continue to improve the size-structure of populations, Simonson says.
A recent evaluation of the 40-inch minimum length limit on 24 lakes in Wisconsin over a 15-year period showed a significant increase in fish 34 inches and larger, as well as a significant increase in the percentage of fish 40 inches and larger, compared to lakes that had remained under the 34-inch minimum length limit in place statewide until this year, he says.
Down the road, the increased size limit also will help better meet the expectations of musky anglers in Wisconsin in terms of the size-structure of populations. State mail surveys of anglers indicate that most anglers consider a trophy musky to be 50 inches or greater. Among avid musky anglers, the proportion considering 50 or greater a trophy has increased from 44 percent in 1989, to 62 percent in 1999, and to 77 percent in 2011, Simonson says.
More information on musky can be found by searching for �musky fishing� on the DNR website.
---
Conservation-minded fishing league format sweeps Wisconsin
Tournament fish would be only measured and digitally photographed and released
In the face of increasing state regulations of fishing tournaments and community concerns about the impact of competitive angling on local fisheries, a group of innovative, conservation-minded anglers have adopted a novel strategy for conducting weekly walleye tournaments on a set of lakes and rivers in western Wisconsin. These events do not require fish to be transported in livewells to an off-water weigh-in at the end of the event; rather, the length of each fish is documented with a digital photo before it is quickly released back into its native environment. This catch-record-release format ensures that the events have minimal impact on the overall health of the fisheries by eliminating fish mortality associated with livewell transport. Moreover, the 100% release format without an off-water weigh-in, coupled with limitations on the number of competitors, allows the leagues to operate without direct intervention from state regulators. The founders of these western Wisconsin walleye leagues envision this format taking hold in other areas where regulatory or community concerns have negative impacts on club-level competitive angling.
Dr. Jeremy Frigo, one of the founders of the Menomin-Tainter Walleye League , explains how the league was established in 2011: �The original inspiration for starting a walleye league came from the idea of melding the love of walleye fishing with the idea of local competitive fishing. Local multispecies leagues already existed, but nothing specific to walleye. We chose the �catch-record-release� format, introduced by Anglers Insight Marketing (AIM) for a number of reasons. First and foremost, it�s the best thing for the fisheries. The fish are caught, measured, photographed and released. This is not any different from normal fishing in which catch and release is practiced. Second, since all fish are released immediately, we are not tied to any size limits, culling restrictions or daily bag limits. This allows great flexibility. Third, since all fish are immediately released and not brought back to a weigh-in, the process is greatly simplified on a number of fronts,� by eliminating the need for fish handling and weigh-in facilities.
In the Menomin-Tainter Walleye League, each fish is measured on a standardized, league-supplied tournament ruler, and digitally photographed using a league-supplied SD card. Competitors only have access to the rulers and cards while the events are underway, ensuring that any fish registered in the weekly events are caught, photographed, and released during the 3-hour, weeknight competitions. The winners of each night�s competition are determined by the cumulative length of their four longest fish. Since fish are released immediately after being measured and photographed, anglers need not worry about the impact of bag limits or restrictive harvest �slot� limits. The relatively short time commitments, close-to-home locations, and modest weekly entry fees make the competitions accessible to a wide variety of anglers, some of whom still travel over an hour to join in the camaraderie of the league events.
Involvement of young anglers and partnerships with local communities are paramount to the health and growth of these walleye leagues. Dr. Frigo explains, �One of our utmost important goals of the league is to involve young anglers. Last year, we agreed that the greatest example of our success was the fact that parents felt comfortable enough to bring their children and involve them in our activities. As a result, some of these kids have absolutely turned into fishing machines! Not only do the parents have a chance to take their kids out for a great night of fishing, they also get to introduce them to the world of competitive angling in a fun, friendly format that just breeds enthusiasm.� Moreover, �community feedback to our league has been very positive. Essentially, the bad rap (mostly unjustified) was that fishing tournaments kill fish due to the stress of the weigh-ins. Whether this was justified or not, we totally removed that variable from the equation. Overwhelmingly, support came due to conservation of the fisheries being kept at the forefront. That is something we all can feel great about. Last year we caught A TON of walleyes�all which went back to be caught another day.�
Another testament to the success of the catch-record-release format for weekly competitions is that this same format has now been adopted by two other regional walleye leagues. Dr. Frigo explains that these other leagues, �are almost mirror images of our format. Jesse Krook, who fished our league one night with us last year on Lake Tainter, has now established the St. Croix Valley Walleye League. He loved our format so much he begged, pleaded and bought us 5 cheeseburgers each to help him establish a similar league near Hudson, Wisconsin. The response to that league has been huge as well. Likewise, Jason Sullivan and his committee members recently started the Chippewa Valley Walleye League, based out of Chippewa Falls, Wisconsin. Since all of our formats are nearly identical and have such common goals, it will allow for future growth in the direction of uniting the local leagues under one basic entity. In my crystal ball, I see a possible local weekend tournament series, formation of new local leagues and seminars. Essentially, the door is wide open.�
While professional-level bass and walleye tournaments, held on expansive bodies of water with traditional off-water weigh-ins, are likely here to stay, the catch-record-release format adopted by the Menomin-Tainter Walleye League is an excellent adaptation for local events where reducing impacts on smaller fisheries is of paramount importance. In this format, anglers can still enjoy the thrill of the competition and share in each others successes, while still maintaining a strong, 100% live release, conservation ethic. We look forward to watching the Menomin-Tainter Walleye League, and other similar organizations, continue to grow and prosper in years to come.
Dr. Jason Halfen is a multi-species guide and teaching pro based in Wisconsin. For more info www.JasonHalfenOutdoors.com.
---