Eating Fish and cutting red meat can lower Cancer Risk by 40%
Study shows substantial benefit in eliminating/reducing red meat and substituting healthier proteins
It is commonly believed that lowering your intake of red meats while eating more fish will improve health and lower the risk of cancer. A new meta-analysis in Nutrition Reviews reports that consumers of red and processed meat have a 40% higher risk of developing oesophageal cancer than their peers.
Red meat: in addition to raising the risk for colorectal cancer and other health problems, it can actually shorten your life. That's the clear message of the latest research based on data from two ongoing, decades-long Harvard School of Public Health studies of nurses and other health professionals. It appears "healthy meat consumption" has become an oxymoron.
"This study provides clear evidence that regular consumption of red meat, especially processed meat, contributes substantially to premature death," according to Dr. Frank Hu, one of the senior scientists involved in the study and a professor of nutrition at the Harvard School of Public Health.
How should you respond to this latest blow to red-blooded American cuisine? How much meat can you eat? And if not meat, what types of protein should you substitute?
Meat and mortality
In the study, published April 9, 2012, in the Archives of Internal Medicine, a team of Harvard researchers looked for statistical links between meat consumption and cause of death. The populations scrutinized included about 84,000 women from the Nurses' Health Study and 38,000 men in the Health Professionals Follow-up Study.
People in the study who ate the most red meat tended to die younger, and to die more often from cardiovascular disease and cancer. These people also tended to weigh more, exercise less, smoke tobacco more, and drink more alcohol than healthier people in the study. Yet even when the researchers compensated for the effects of unhealthy lifestyle, mortality and meat remained associated.
Portion Control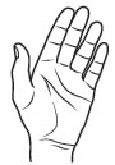 A 3-ounce portion of meat would fit in the palm of your hand.
What the study found
After 28 years, nearly 24,000 people in these two studies died from cardiovascular disease or cancer. How much and what kind of meat did they eat while they were alive?
Using questionnaires, the scientists asked people in the study to estimate how many servings of meat they consumed. Unprocessed red meat included beef, pork, lamb, and hamburger at serving sizes of 3 oz, or a portion about the size of a deck of playing cards.
Processed meat included bacon, hot dogs, sausage, salami, bologna, and other processed items. Two slices of bacon represented 1 serving; so did one slice of cold cuts.
The study determined that each additional daily serving of red meat increased risk of death by 13%. The impact rose to 20% if the serving was processed, as in food items like hot dogs, bacon, and cold cuts.
What it means for you
What does a 13% increased "risk of mortality" (for each additional serving of unprocessed red meat) mean for an individual? Dr. Walter Willett, a senior scientist on the team and the chair of the departments of nutrition and epidemiology at the Harvard School of Public Health, suggests this way of looking at the study results:
"If someone is age 60 and has a 50% chance of dying in the next 25 years, adding one serving a day would increase his risk of dying in that time to about 57%, and if he had two servings a day, this would be about a 63% risk of dying in that time."
In other words, the effects of unhealthy foods are relative to where you start, and eating red meat—the study shows—comes with a mortality tax. But there is also a hefty mortality dividend to cutting back on red meat. Consuming less than half a serving (1.5 ounces) per day of red meat could have prevented about one in 10 premature deaths in men in the study.

Protein substitutions for red meat that can reduce your early mortality risk.

Substitute a daily portion of red meat with a healthier protein source to reduce mortality risk by the indicated amount:

Red Meat Substitute

Reduced Risk

Fish

-7%

Legumes, low-fat dairy

-10%

Poultry, whole grains

-14%

Nuts

-19%
Substituting healthy proteins
The study points to an even greater benefit if you substitute meat with equivalent servings of more healthful protein sources, such as fish, poultry, nuts, legumes, low-fat dairy products, and whole grains. The benefit was 7% for substituting fish, 14% for poultry, and 19% for nuts.
Again, says Dr. Willett, there is a clear mortality dividend for such substitutions. "If someone who has a 50% risk of dying in the next 25 years replaces one serving of red meat per day with chicken, the risk is decreased to about 42%, and to about 40% if nuts replace red meat."
What should you do?
The prudent course would be to try to reduce red meat consumption if you already haven't. On an individual level the exact benefit is hard to predict, but you can bet that reducing meat consumption—particularly processed meat—is likely to score you an advantage. "Making these kinds of decisions is like being a smart gambler," Willett says. "Nothing is guaranteed, but this is putting the odds in your favor." It's a menu many men can live with—literally.
---
Agent Orange linked to life-threatening Prostate Cancer
A new analysis has found a link between exposure to Agent Orange and lethal forms of prostate cancer among US Veterans. Published early online in CANCER, a peer-reviewed journal of the American Cancer Society, the findings suggest that Agent Orange exposure history should be incorporated into prostate screening decisions for Veterans.
The herbicide Agent Orange was heavily used during the Vietnam War era and was often contaminated with dioxin, a dangerous toxin and potential carcinogen. Prior research suggests that exposure to Agent Orange may increase men's risk of developing prostate cancer, but it is unclear whether it specifically increases their risk of developing lethal forms of the disease. "This is an important distinction as the majority of prostate cancer cases are non-lethal and thus do not necessarily require detection or therapy. Having a means of specifically detecting life-threatening cancer would improve the effectiveness of screening and treatment of prostate cancer," said Mark Garzotto, MD, of the Portland Veterans Administration Medical Center and Oregon Health & Science University.
To look for a link between Agent Orange exposure and life-threatening, or high-grade, prostate cancer, Nathan Ansbaugh, MPH, designed and conducted analyses on a group of 2,720 US Veterans who were referred
by multiple providers for initial prostate biopsy. Biopsy results and clinical information were compiled for analysis by principal investigator Dr. Garzotto.
Prostate cancer was diagnosed in 896 (32.9 percent) of the Veterans; 459 (16.9 percent) had high-grade disease. Agent Orange exposure was linked with a 52 percent increase in overall risk of prostate cancer detection by biopsy. Exposure to the herbicide did not confer an increase in risk of low-grade prostate cancer, but it was linked with a 75 percent increase in risk of high-grade prostate cancer. In addition, Agent Orange exposure was associated with more than a two-fold increase in the highest-grade, most lethal cancers.
This study indicates that determining men's Agent Orange exposure status is a readily identifiable means of improving prostate cancer screening for US Veterans, allowing for earlier detection and treatment of lethal cases and potentially prolonging survival and improving quality of life. "It also should raise awareness about potential harms of chemical contaminants in biologic agents used in warfare and the risks associated with waste handling and other chemical processes that generate dioxin or dioxin-related compounds," said Dr. Garzotto.
---