Click here to submit comments: www.regulations.gov/#!searchResults;rpp=25;po=0;s=FWS-R9-MB-2011-0033%252B
The U.S. Fish and Wildlife Service is requesting public comments to guide the preparation of a Supplemental Environmental Impact Statement related to revising regulations governing the management of Double-crested Cormorants.
USFWS requesting input
These latest comments will update the original 2003 Final Environmental Impact Statement (FEIS): Double-crested cormorant management in the United States (USFWS 2003, 208 pp). USFWS is requesting comments to help them determine future national policy for effective management of double-crested cormorant populations in the United States.
One group, the Lake Huron Citizens Fishery Advisory Committee is supporting the Michigan DNR's recommendation to amend the 2003 Final Environmental Impact Statement to incorporate a regional approach. Managing the cormorant population at the Flyway level ensures that the cormorant population is protected and significantly increases efficiency and flexibility for the action agencies (State fish and wildlife agencies, federally recognized Tribes and State Directors of USDA Aphis Wildlife Services). The cormorant take for each state would be determined by discussions between the U.S. Fish and Wildlife Service and each Flyway Council with the goal of each State maintaining breeding cormorant abundance above minimum thresholds while reducing bureaucratic hindrances within each State.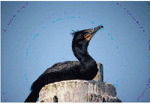 The regional approach would allow management activities to be spread over wider areas within and between States. Especially troublesome is managing a colony that crosses state or national boundaries. The regional approach would allow for better coordination of efforts resulting in more effective treatments at lower costs. This new system would allow the States to focus efforts over a larger area and in zones located at a distance from the treated colonies and to react immediately to quickly developing problems caused by migrating or far foraging colony birds.
Each State would determine a cormorant management goal and conduct ongoing monitoring to ensure that minimum population threshold levels are maintained and the States' goals for cormorant management are being achieved.
Current management regulations
Under current regulations, cormorant control activities are conducted annually at the local level by individuals or
agencies operating under USFWS depredation permits,
the existing Aquaculture Depredation Order, or the existing Public Resource Depredation Order. The depredation
orders are scheduled to expire on June 30, 2014. This analysis and your comments will aide the USFWS in updating the 2003 Final Environmental Impact Statement:

Double-crested Cormorant Management in the United States

.
Electronic comments via www.regulations.gov must be submitted by 11:59 p.m. Eastern Time on April 6, 2012. Comments submitted by mail must be postmarked no later than April 6, 2012.
You may also submit your comments by U.S. Mail to:
Public Comments Processing, Attn: FWS–R9– MB–2011–0033;
Division of Policy and Directives Management; USFWS,
4401 North Fairfax Drive, Suite 222
Arlington, VA 22203–1610.
Comments submitted by fax or e-mail will NOT be accepted
To submit your comments, click here: www.regulations.gov/#!searchResults;rpp=25;po=0;s=FWS-R9-MB-2011-0033%252B
Support Documents
1. Latest Revision Date, Federal Register Revision to Comment period, January 27, 2012
www.fws.gov/policy/library/2012/2012-1807.pdf (One page)
2. Federal Register, November 8, 2011 Notice Cormorant Management, future mgmt policy
www.fws.gov/policy/library/2011/2011-28755.pdf (Six pages)
3. Original USFWS Final Environment Impact Statement – Cormorant Management, 2003 (208 pp)
http://library.fws.gov/Bird_Publications/CormorantFEIS.pdf
4. Federal Register, Revision of Expiration Dates, April 2009 (five pages)
www.fws.gov/migratorybirds/CurrentBirdIssues/
Management/cormorant/2009/Final%20Rule%206%20April%202009.pdf
5. Final USFWS Environmental Assessment, March 2009
www.fws.gov/migratorybirds/CurrentBirdIssues/
Management/cormorant/2009/DCCO%20FEA%2019%20March%202009.pdf
6. Regulations.Gov proposed rule, PDF or Text, January 27, 2012
www.regulations.gov/#!documentDetail;D=FWS-R9-MB-2011-0033-0016
---
FCC extends comment period on GPS decision to March 16
BoatUS recently cautioned that America's boaters weren't out of the woods yet with the possibility of the country's sole electronic navigation system failing as the result of radio signal interference issues from a newly proposed cellular broadband network.
The Federal Communications Commission extended the public comment period to the network's proposed builder, LightSquared, allowing comments through March 16. Boaters and all users of GPS are urged to submit comments to the FCC to ensure that the nation's system of global positioning devices keeps Americans safely on course.
Here is how to file comments to the FCC through its online comment form:
Click here for the FCC online Comment form:
http://apps.fcc.gov/ecfs/hotdocket/list
• Select "Proceeding Number 11-109."
• Enter contact information.
• In the box that says "Type in or paste your brief comments," here are some points to select from:
• Explain how you use GPS in your life — on the water, on land or in the air.
• What would happen to your business/personal life if GPS became unavailable or unreliable?
• Wireless broadband service is important, but it should not come at the expense of GPS.
• All of the studies show that LightSquared's proposed network would cause interference and that there are no remedies.
• Tell the FCC that you rely on it to protect the integrity of the GPS signal and that you support its recommendation to stop LightSquared's current proposal.
• Click "Continue."
• If the review page is correct, click "Confirm."
---
(Columbus, OH) –On the day before the pivotal "Super Tuesday" primaries, former Pennsylvania Senator Rick Santorum sat down for an interview with the staff leadership of the U.S. Sportsmen's Alliance to discuss issues important to hunters, trappers and anglers.
The USSA staff present for the interview with Santorum were: Bud Pidgeon (President and CEO); Rob Sexton (Senior Vice President); Doug Jeanneret (Vice President, Marketing); and Evan Heusinkveld (Director, State Services).
Here is the interview by issue topic:
Topic One: Hunting Recruitment and Hunting Access
Jeanneret: One of the issues facing sportsmen these days are dwindling numbers of sportsmen. It's a really big issue. The conservation community, every national group… if you talked to any of them it's a concern of theirs. One of the things we would like to ask you, the Department of Interior oversees U.S. Fish and Wildlife Service, which oversees federal game laws. In your opinion, should they be helping us create hunters, fishermen, trappers and promoting that ethic out there?
Santorum: I hear you but I am looking at where we are from the standpoint from the deficit. I mean a lot of people ask me, where are you for federal dollars for this or that? We are borrowing 42 cents of every dollar right now and for me to commit any new dollars to do anything would be a tough thing. If you are talking about within the literature, for example that comes out, and we do things to talk about hunting and fishing opportunities… if it's in the context of what the agency generally does and making sure that people are aware of opportunities and things like that to sort of reinforce the importance or nature of the sports. I have no problem with that. It's different if you're saying we need to spend new dollars to do this.
Jeanneret: We're not.
Sexton: We're not. The pot of money we are talking about would be excise tax dollars that come from ammunition sales, firearm sales, fishing tackle sales. That money typically gets spent back on conservation issues and sportsmen issues anyways. We are looking for some prioritization of that money to programs that will get people into the field and get them out and open up new land for them to hunt on and things like that.
Santorum: I have no problem. I mean if you are asking me if I am going to be friendly to opening up federal lands for more sportsmen activity the answer is absolutely yes. If you are talking about if we are going to take federal lands in the extent we can and turn them over to private sector or turn them over to the state the answer is yes. I think this is an opportunity for us. We have way too much federal land and way too many restrictions on the federal lands that we have. I will be working with a whole variety of different conservation groups, not environmental groups, conservation groups as well as sportsmen groups to see what avenues we can pursue to make that a much more welcoming environment for sportsmen and for recreation.
Sexton: For years our community put our money towards reestablishing species, whether it be deer or turkey or pheasant or what have you. Returning to the idea of hunters, one of the biggest factors is the urbanization of America. Guys give up hunting because they have to drive 2½ hours to get to a place to hunt. I am just bringing this around full circle so you know where we are coming from. We have used our money… the firearm tax money and the fishing tackle money. That money is supposed to be put back into the resource so that you get back more hunters and anglers. Of course they (hunters) have a huge economic impact as you know from your own home state. What we are looking for now… we want to see investment in programs so that a guy doesn't have to drive 2 hours outside of Pittsburgh to get to hunt.
Santorum: I am okay with that as long as…you are going to find if you look at my record one of the programs I am not a fan of is CRP. I know a lot of CRP land is used for habitat but we shouldn't be paying farmers not to farm. I mean if you want to use that money to pay farmers to keep habitat for pheasant, turkey, whatever…great, but I don't think we should be using money that encourages farmers not to farm their land for environmental purposes. It's not (CRP) as you know, it's not intended for wildlife habitat. It was intended for runoff and all sorts of other things to preserve the ecology. I understand a lot of hunters and sportsmen actually feel very passionate about the CRP program. I don't. Just being very up front with you. If you want to use the knowledge for that, that's one thing but we shouldn't use ­­ag (agriculture) dollars for that.
Topic Two: HR 4089, The Sportsmen's Heritage Act of 2012
Heusinkveld: We have a piece of legislation we have been working on in D.C. It's called the Sportsmen's Heritage Act of 2012. It's a package of four different pieces of legislation. It would close legal loopholes that anti-hunters have used to shut down access to sportsmen to federal lands. It has a provision, "open until closed," which mandates that these federal lands are open (to hunting, shooting, and fishing) until closed by the agency because they've got specific reason or cause or evidence that it needs to be done. The way the current law works, they (federal land management agencies) have to open every single piece of land. That opens up the opportunity to be sued by anti-hunters and animal rights groups.
Santorum: I'm for it. (referring to supporting HR 4089)Heusinkveld: Great.
Santorum: Government should make things available unless there is a reason it shouldn't be.
Topic Three: Dog Breeding and the Humane Society of the United States
Sexton: I think you are probably aware of a lot of the media coverage over issues of substandard dog breeding operations. There has been a 50 state campaign to address the issue but the issue has gotten out of control. The laws that are being written heavily impact folks who aren't large breeders, but operate sporting dog kennels, hobby breeders instead of going after…
Santorum: …that's actually why we thought about doing this at the federal level so we could get all the folks and interested parties in doing it. I mean you actually probably know I supported some of this because of it was in conjunction with a problem we were having with the importation of dogs and cats, but mostly dogs from China where there are huge, huge problems with dogs, huge amount of dogs dying in transportation and other types of problems and so that was clearly a federal government issue because it has to do with trade so this was sort of piggy backed on that bill. But it has been a chronic problem for us in Pennsylvania too in the Amish areas. It became sort of a wildfire issue for me and as far as I know they didn't have this (state) effort, which I understand they do now, to try and take care of this in the 50 states. I know each state is dealing with it differently. But if you look at that law we put together we were very, very conscious of hobby breeders. We were very conscious of making sure we were talking about large commercial operations, not somebody that was breeding a few bitches you know every year or two.
Sexton: I think one of the concerns about the issue nationally is that the chief proponent of the overall issue was the Humane Society of the United States, who the hunting community regards as the top anti-hunting group. The bills have been written in wide funnel methodology that would… well in Pennsylvania the law they proposed would have put every sporting dog kennel out of existence. We couldn't find even one in compliance with their proposal.
Santorum: I am not surprised by that. We dealt with both the AKC and the HSUS. There were a lot of issues that ultimately would go back and forth that we are not able to resolve and as a result probably just set them aside. You know for me this was trying to do something that was reasonable. I do believe in people's ability to raise their own animals, but I also believe when animals go into the home as most of these animals do, you have to have consumer protection standards so you're not having defective animals and animals that have temper problems and other types of problems coming into people's homes. How many folks do you know that their dog is like their child? You just can't introduce an animal into the home without having some sort of standards that are set in place.
Sexton: Are you aware of the issues between the Humane Society of the United States and the Sportsmen's Community?
Santorum: Sure. I am very aware of it. I understand there are issues between them (HSUS) and production agriculture which is even worse than it is with the Humane Society and the sportsmen. I think you'll find I am very reasonable guy. I do believe we should be good stewards. We have dominion over animals. We have dominion over the earth and we have to be responsible for the treatment of them. I know most sportsmen are but unfortunately there are some breeders who aren't. As a result this is the same thing as everything else when you have people that do not live up to those conditions. Everyone else has to deal with regulations as a result of that. You can't just turn a blind eye to it. You can't just say well it's too bad there are some bad people out there but too bad. I just don't think that's what laws are for. People keep a minimum standard for the care of and treatment of animals.
Sexton: You know you can draw a parallel when you think about it like firearms regulations and laws. We are after law breakers, not the law abiding and the same would be true on this issue.
Santorum: The concern is that we heard from some sportsmen groups and breeders that government shouldn't be involved with us at all. Well, I don't buy that. I mean you know if you want to police yourself…but you're not because I can point to lots of kennels where you're not. So if you're not, someone is going to have to police it, otherwise you can run the videos and show the American public and you're going to lose because no one is going to want to see animals treated like this and hear the stories that are going on. I mean, Americans loves our pets so we have to be reasonable. What I found is that vast majority of breeders are very reasonable. Some who don't believe in any government regulation of anything and they have been out there speaking against me as I have heard in some of the states, but my feeling is we need responsible laws just make sure were hitting the irresponsible people not the responsible ones.
***Editor's Note: The U.S. Sportsmen's Alliance is attempting to set up interviews with the remaining presidential candidates. We will provide information on their views on the most important issues to sportsmen as it becomes available.
---
Tony Stewart to chair NHF Day Celebration
Springfield, MO--Leading NASCAR Sprint Cup Series driver/owner Tony Stewart knows a thing or two about winning championships. As the driver of the No. 14 Office Depot/Mobil 1 Chevrolet in the NASCAR Sprint Cup Series, Stewart has won 12 driving championships, including three Sprint Cup Series titles, in a career spanning more than three decades.
Stewart is a champion off the racetrack as much as he is on, and has been recognized for his philanthropic efforts via his Tony Stewart Foundation, which raises funds for distribution to three specific groups – chronically ill children, drivers injured in motorsports activities, and organizations dedicated to the protection of various animal species. This year, Stewart is a champion for another cause as he has been named honorary chairman of National Hunting and Fishing Day 2012.
Congress established National Hunting and Fishing Day to recognize hunters and anglers for their leadership in fish and wildlife conservation. Since launching in 1971, the day has been formally proclaimed by every U.S. President, countless governors and mayors. Stewart joins an elite fraternity of entertainment and sports figures that have served as honorary chairs, including Hank Williams Jr., Travis Tritt, Tracy Byrd, Jeff Foxworthy, Jay Novacek, Robert Urich, Wade Boggs, Ward Burton, Arnold Palmer, Terry Bradshaw, the USA Olympic Shooting Team and many others. The annual celebration is set for Saturday,
Sept. 22, 2012.
"We are excited to have Tony Stewart as honorary chairman of National Hunting and Fishing Day. It's good to have the voice and perspective of one of America's most respected NASCAR drivers, owner and philanthropists. His volunteerism shows that hunting, fishing and conservation remain important in all walks of American life today," said Misty Mitchell, Director of Conservation Programs for Wonders of Wildlife. The museum, in Springfield, Mo., is the official home of National Hunting and Fishing Day.
Wonders of Wildlife coordinates public education and awareness campaigns to promote traditional outdoor sports. The museum recently opened the newly constructed Conservation Education Center. The museum itself has also undergone extensive renovations and will open in 2013.
Stewart is one of America's 34 million hunters and anglers. Together, their licenses, permits and special taxes contribute more than $4.7 million each day for fish, wildlife and habitat programs. No one contributes more for conservation.
The growing list of sponsors for National Hunting and Fishing Day 2012 includes Wonders of Wildlife, National Shooting Sports Foundation, Bass Pro Shops, Sportsman Channel, Realtree, GunBroker.com, Pope and Young, Ducks Unlimited, Smith & Wesson and Yamaha. For more information, visit www.nhfday.org.
---