Michigan's Sturgeon River Strain Brown Trout show promise
Recent Michigan DNR electro-fishing surveys below Hodenpyl Dam on the Manistee and Au Sable Rivers below the dam at Mio produced vastly different results, though they did have a couple of common characteristics.
Fisheries crews turned up more than 800 trout during a half-day survey with two shocking boats on the Au Sable, in a stretch that has come to be dubbed "the trophy water" because of the large trout there. On the Manistee, two shocking crews turned up just over 100 trout.
But the crews did find some unusually large brown trout in both river stretches and they found something else they were looking for – good survival of Sturgeon River strain brown trout, something biologists hope bodes well for the future of brown trout fisheries in Michigan.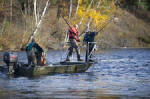 Fisheries Division, discouraged by relatively low return rates from stockings of brown trout in recent years, began stocking a different strain of browns – the Sturgeon River strain – in 2010. The Sturgeon River strain brood stock was collected from wild trout out of the Sturgeon River in the northern Lower Peninsula whereas other strains are raised from brood stock maintained in hatcheries.
Michigan had been using several other strains of brown trout for its stocking programs over the years – most notably Wild Rose and Seeforellen – but the DNR has seen relatively poor recruitment into the fishery in its Great Lakes and inland-lake stocking programs. Biologists wondered if going to a different strain would help.
Research biologist Todd Wills said Fisheries Division identified the Sturgeon River strain as a potential replacement for the Seeforellens in both the Great Lakes and inland lakes. But when fisheries biologist Steve Sendek – who works out of Grayling and is responsible for the Au Sable River – heard about the idea, he suggested that Fisheries Division stock the new strain (along with equal numbers of Wild Rose browns) in the tailwater fishery below Mio, too.
Fisheries biologist Mark Tonello, who is responsible for the Manistee River, seconded the motion. So Fisheries Division stocked both strains in the river stretches, marking them with different fin clips.
In the Manistee River, the marked brown trout collected by electro-fishing during the recent survey were all the same strain. "We only found Sturgeon River fish," Wills said. "We did not see any Wild Rose fish – not a one. "The overall catch of trout was very low," he continued. "It's encouraging to see the Sturgeon River browns – and it leads us to believe that they did better than the Wild Rose
browns – but with the catch as low as it was, it's difficult to
make any firm conclusions."
That the catch was low was not entirely surprising as the Manistee River below Hodenpyl is marginal trout water and during the summer of 2011, the area suffered through the hottest July on record. Under those adverse conditions, a low survival rate of stocked trout is not unusual. Although the catch was much better below Mio, the marked Sturgeon River fish recovered by the shocking crew far outnumbered the Wild Rose strain.
"There's no question that below Mio, the Sturgeon River brown trout are doing better than the Wild Rose strain," Sendek said. "We found about five times as many Sturgeon Rivers as Wild Roses and not just young-of-the-year fish; it looks like the Sturgeon River fish carry over from year to year better than the Wild Rose, too."
Sendek said he is encouraged by what he's seen so far. "Since the Sturgeon River fish are a wild strain, they're a little harder to work with than the Wild Rose, which is a domesticated strain," Sendek said. "They come out of the hatchery smaller than the Wild Rose fingerlings, but they catch up.
"I'm looking for the fishery below Mio to not only keep going, but get better," he continued. "With year-round fishing now and new regulations, this could be a win-win situation. This fishery is very special. And we can't count on natural reproduction to sustain that fishery because of the influences of the dam. Stocking is going to be an important part of maintaining that fishery.
"I'm very optimistic about the future with the early results. I'm hoping this will revitalize all of our brown trout fisheries – we just have to learn how to utilize this new tool." Although the survey results are not complete, "it appears from the data we have now that the Sturgeon River strain browns are doing better in the tailwater fisheries – the Au Sable and the Manistee – than the Wild Rose," Wills said.
As for the lake portion of the study, it's too soon to tell, he said.
"We are not seeing a large return from any of the marked fish in the inland lakes we've stocked," Wills said. "To date we've seen more Wild Rose fish, so the Wild Rose strain seems to be doing better. However, some of the lakes that we stock are difficult to sample with our survey gear, so we're working with local fisheries managers to obtain reports from anglers to supplement information we collect in the field.
"We've also stocked Sturgeon River and Wild Rose strain fish in Lake Michigan, but our creel clerks haven't seen any returns so far. Brown trout returns in Lake Michigan have been pretty low in general, and these fish may still be a little smaller than those typically harvested and reported by anglers," Wills continued.
---
2012-2013 DNR updates for Waters in SW Michigan
The Southern Lake Michigan Management Unit is announcing fishery management actions and activities for the 2012-2013 angling season. These actions and activities include fish stocking, habitat rehabilitation projects, creel census, fish community surveys and angler access programs.
"These management updates are provided as a means to notify anglers and the public of changes in management and to make lake and stream property owners aware of our survey activities," said Jay Wesley, Unit Manager in Plainwell. "We also value and encourage public input regarding our management actions and activities."
For more information, contact Jay Wesley at 269-685-6851 or at the Plainwell Operation Service Center, Plainwell, MI 49080.
The Southern Lake Michigan Management Unit covers the Grand, Kalamazoo, St. Joseph and Galien river watersheds and all the lakes and streams within that area. Each year, fisheries biologists and technicians evaluate management options on various water bodies in order to achieve increased fishery benefits. Fish-stocking actions are reviewed at least every six years based on fish community or creel surveys. Counties with specific management actions and waters that are planned for surveys in 2012 are listed below. Anglers are asked to provide feedback on specific management options.
Allegan County
The Kalamazoo River will be sampled in April to determine the presence of spawning lake sturgeon as part of a long-term population rehabilitation effort. Available sturgeon eggs and larvae will be collected and raised in a streamside rearing facility in New Richmond. Pike Lake and Lake Sixteen will be removed from the Type C trout lake regulations since management of rainbow trout in both lakes has been discontinued. The Duck Lake Drain fish community will be surveyed as part of a random stream status and trends program. Excellent walleye, catfish, steelhead and Chinook fishing is available along the shore of the Kalamazoo River below Allegan Dam through the Allegan State Game Area.
Barry County
Rainbow trout will be stocked in Deep Lake in the Yankee Springs Recreation Area. Walleye will continue to be stocked in Thornapple Lake, and the DNR will begin stocking the Great Lakes strain of muskellunge to establish future broodstock in Thornapple Lake. A fish community survey will be conducted on Baker Lake. The Morgan Dam is scheduled for removal on Highbanks Creek, and floodplain restoration work will begin on Quaker Brook. There are excellent shore fishing opportunities in the Yankee Springs Recreation Area at Gun Lake State Park, Deep Lake Campground and Hall Lake.
Berrien County
Blue Jay Creek in the Galien River watershed will be removed from the designated trout stream list due to a lack of trout. The Paw Paw River will continue to be stocked annually with yearling steelhead and with fall fingerling steelhead and coho salmon when available. A creel survey will be conducted to evaluate Lake Michigan effort and harvest at the Port of St. Joseph/Benton Harbor. Fisheries surveys will be completed at several sites on the St. Joseph River as part of a multi-year walleye population evaluation. Good fishing opportunities are available along the St. Joseph River for walleye, steelhead, salmon, catfish and smallmouth bass in Berrien Springs, Buchanan and Niles.
Branch County
Fisheries surveys are planned for Cary, Craig and Morrison lakes. Matteson Lake will continue to be stocked with walleye, and Lake Lavine will continue to receive rainbow trout. Fisheries Division will be partnering with local anglers and the Union Lake Association to raise walleye in a local pond for stocking in Union Lake.
Calhoun County
A fisheries survey will be conducted on Nottawa Creek. Natural resource damage assessments associated with the oil spill will continue on the Kalamazoo River and Talmadge Creek. A rock ramp will be constructed on the Garfield Lake outlet control structure to provide better fish passage. Walleye are planned to be stocked in Duck Lake. Brown trout will continue to be stocked in Dickinson Creek at the Historic Bridge County Park.
Cass County
Rainbow trout stocking will continue in Birch Lake, and
walleye will be stocked in Magician Lake. Dowagiac River shore and wading opportunities for brown trout are available at Dodd County Park.
Clinton County
A fish community survey is scheduled for Peet Creek and the Maple River. There are great shore fishing opportunities on Lake Ovid in the Sleepy Hollow Recreation Area.
Eaton County
Lakes Interstate and Delta will continue to be stocked with channel catfish, and they provide great shore fishing opportunities for bluegill and largemouth bass. The Grand River offers fishing opportunities for walleye, suckers, smallmouth bass, steelhead and coho salmon in Delta Mills and Grand Ledge.
Ingham County
The majority of the coho salmon stocked in the Grand River in Lansing are proposed to be moved downstream to improve survival. A public meeting will be conducted during the summer of 2012. The Grand River offers fishing opportunities for walleye, suckers, smallmouth bass, steelhead and coho salmon in the City of Lansing at the North Lansing and Morse dams.
Ionia County
A fish community survey will be conducted on the Maple River. Steelhead will continue to be stocked in Prairie and Fish creeks, and the brown trout strain will change from Wild Rose to Gilchrist Creek in Fish Creek. Shore fishing opportunities are available along Sessions Lake in the Ionia Recreation Area. Good angling opportunities are available along the Grand River in Portland, Lyons and Ionia for catfish, suckers, walleye, steelhead and coho salmon.
Jackson County
Fishing opportunities are available on Portage Lake in the Waterloo Recreation Area.
Kalamazoo County
Natural resource damages associated with the Kalamazoo River oil spill will continue to be assessed. Portage Creek will be surveyed to assess stream habitat improvements near Alcott Street. Muskellunge stocking will resume in Austin Lake. Fishing in the parks opportunities are available on Eagle, Whitford and Jackson lakes in the Fort Custer Recreation Area.
Kent County
Spring Brook, Flat River and Bear Creek will be surveyed as part of a status and trends program. The Flat River and Rogue River will continue to be stocked with steelhead. Muskellunge will be stocked in Murray Lake. Brown trout stocking will be discontinued in Buck Creek due to lack of survival and angler effort. Grand River shore access is excellent in the City of Grand Rapids for sucker, walleye, steelhead, Chinook salmon and coho salmon fishing.
Montcalm County
Clifford Lake will no longer be stocked with spring fingerling walleye due to poor survival.
Muskegon County
Mona Lake will be stocked with walleye.
Ottawa County
Crockery Creek will continue to be stocked with steelhead. Walleye will continue to be stocked in Lake Macatawa and the Grand River. The Great Lakes strain of muskellunge will be stocked when available in Lake Macatawa and the lower Grand River to take advantage of over-abundant gizzard shad and to provide a sport fishery. Fishing in the park opportunities are available along Lake Macatawa and the Holland Pier in the Holland State Park and beach areas. A creel survey will be conducted at the Port of Grand Haven.
St. Joseph County
Fish community surveys are scheduled for Lake Templene and the Pigeon River. Spring Creek will be removed from the designated trout streams list and Type 4 trout regulations due to a lack of trout.
Van Buren County
Clear Lake is scheduled for a fish community survey. Walleye stocking will continue in Maple Lake and the Black River. Bankson Lake will continue to receive muskellunge and the East Branch Paw Paw River will be stocked with brown trout. A creel survey will be conducted at the Port of South Haven.
---
Experience wildlife workshops March 3-10
EAST LANSING, Mich. – Would you like to learn more about boat building, identifying birds in the wild or using a fishing pole? You won't have to look far to find wildlife-related workshops at this year's Agriculture and Natural Resources (ANR) Week.
ANR Week, scheduled March 3–10, is an annual event that hosts a wide variety of meetings, workshops and conferences in areas such as agriculture, horticulture and natural resources on the Michigan State University (MSU) campus.
The following lists wildlife-related workshops at ANR Week:
The 17th Annual Quiet Water Symposium, the largest one-day show of its kind celebrating non-motorized outdoor recreation takes place March 3 from 9 a.m. to 5:30 p.m. at the MSU Pavilion. The day will consist of seminars on paddle sports, bicycling, birding, diving, and other outdoor skills and activities. Vendors will also be available to help you choose the right gear or classes with which you can get the proper start. For more information, visit www.quietwatersymposium.org or contact [email protected].
Also on March 3, the Beginning Birding Workshop takes place from 9 a.m. to 3 p.m. at the Kellogg Conference Center. Become a better birder by attending the morning portion of the session where you'll learn about the use of binoculars and field guides, bird identification and the habitat of our feathered friends. In the afternoon session, you'll put your newfound knowledge to the test by taking a bird walk around the MSU campus. Cost for this workshop is $25 per person. Register at the Michigan Audubon's website at www.michiganaudubon.org/education/eventcalendar.
Learn more about Michigan's aquatic resources at the Fishing for the Future of Our Great Lakes Workshop March 6-7 from 9:30 a.m. to 4 p.m. The program takes place at the Natural Resources Building with a focus on getting kids and their families fishing in local areas. More than just an activity using a line and a worm, fishing develops life skills, long-term relationships and care for our valuable natural resources. Continuing education requirements for teachers will also be available through this session. The cost to register is $55. Find the registration form at www.projectfish.org/anrweek. For more information, contact Mark Stephens at 517-432-2700 or [email protected].
---