DNR releases information on actively managing cormorants
The Michigan DNR announced figures from its efforts with federal partners to actively manage cormorants in several parts of Michigan.
For years anglers have observed cormorants feeding in their favorite fishing spots, with substantial increases in bird numbers over the past few decades. These observations have concerned anglers about the potential effects cormorants may be having on the fish they are targeting. In response to these growing concerns, the federal government enacted a depredation order in 2003 that authorized states, tribes and the U.S. Department of Agriculture (USDA) to conduct cormorant management, with the U.S. Fish and Wildlife Service overseeing the process. Under this authority, the DNR developed management goals at several cormorant breeding colonies across the state to determine what, if any, impacts cormorants were having on the state's fishery resources. On-the-ground work to meet these goals is conducted by USDA's Wildlife Services, which began oiling eggs and culling cormorants in the Les Cheneaux Islands in 2004.
Since that time, Wildlife Services has expanded its operations to include efforts at Thunder Bay (Alpena), Beaver Island, Ludington and Bays de Noc (Escanaba), with the culling of up to 10,000 birds per year for the past several years. Subsequently, cormorant nesting populations have been reduced anywhere from 54 percent to 94 percent at peak nesting counts at these locations. In colonies where management efforts have
been conducted, the estimated cormorant nest count in Michigan waters
has gone from more than 23,000 in 2007 to less than 10,000 in 2013.
In addition to these efforts, Wildlife Services has directed volunteer groups in harassment programs at many inland lakes and Great Lakes bays during spring migration periods. Volunteer groups also assisted in cormorant harassment programs during stocking events at many Great Lakes ports. Each year, management locations are mutually agreed-upon by a coordination committee composed of representatives of several federal, state and tribal agencies.
It's difficult to evaluate the effects of cormorant management and its relationship to sport-fish populations due to constantly changing food-web dynamics, including the establishment of invasive species throughout the Great Lakes," said Steve Scott, Michigan DNR fisheries biologist. "Fisheries surveys have shown an increase in sport-fish populations during the same period cormorant populations were declining in areas where activities have been conducted. We are seeing some very encouraging results in fisheries at several locations, and anglers are reporting improvements. We are very pleased with the progress we are making through our partnership with Wildlife Services."
USDA website cormorants: www.aphis.usda.gov/wildlife_damage/aquaculture/aquaculture
---
DNR announces 2014 Black Lake season harvest results
DNR officials announced the 2014 Black Lake sturgeon harvest season lasted 82 minutes on Saturday, Feb. 1, with six fish being harvested. The fishing season, which included spearing or hook-and-line fishing, was scheduled to run Feb. 1-5, or until the harvest quota had been reached.
"The 2014 allocation of Black Lake sturgeon for the State of Michigan was six fish, although DNR officials imposed a voluntary quota of five fish for recreational anglers," said Todd Grischke, Lake Huron Basin coordinator. "Establishing this one-fish buffer before the fishing season allowed us to stay within our allocation of six fish. This year is a great example of how our harvest allocation model and on-ice communication effectively reduce the chance of overharvest of lake sturgeon in Black Lake."
There were 228 registered anglers on the ice on Saturday, down from 268 the year before. Most anglers registered at the pre-registration held on Jan. 31, which allowed for a much more streamlined process.
According to Tim Cwalinski, DNR fisheries biologist, lake sturgeon were moving the last couple days, including opening day, which meant more fish were able to be seen by anglers. The first three fish were harvested before 8:45 a.m. opening day, then a short flurry of activity occurred just after 9:15 a.m. as three additional fish were harvested.
The sturgeon fishing hotline was updated at 9:19 a.m. and officially closed the season. In addition, signal cannons and sirens were used to signal the season's end. DNR law enforcement officials and other DNR personnel were embedded in the fishing communities and were able to quickly report harvested fish this year, as well as to quickly contact all lake sturgeon anglers on the ice and close the season.
Dan Stroup, a 71-year-old retiree from Bronson, got things going shortly after fishing began at 8 a.m., with a 66-inch, 90-pound fish, which turned out to be the biggest taken this year.
Stroup, who has been spearing sturgeon for 33 years, took the eighth sturgeon of his career and his fourth at Black Lake. (His other four were taken in Wisconsin.) The 90-pounder was his personal best.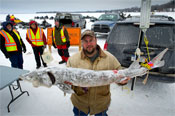 The fish "came in beautifully," Stroup said, about 12' down in 22' of water, swimming in from the side toward his white decoy. Stroup, who had been living in his 7½ x 13' shanty for 10 days, said he'd speared a muskie five days earlier, then covered his spearing hole and waited for Saturday. Stroup said he'd fry and bake portions of the leviathan."These are better than the ones in Wisconsin," he said. "Those we smoke."
Data of the six harvested fish: fish one was female, 90 lbs and 66"; fish two was female, 59 lbs and 61"; fish three was male, 70 lbs and 66"; fish four was male, 12 lbs and 41"; fish five was male, 28 lbs and 51"; and fish six was male, 28 lbs and 51". Three of the six fish taken had been captured several times before by Michigan State U and DNR researchers during lake netting surveys.
The unlimited entry fishery paired with a significant on-ice presence of DNR personnel allows for greater participation by anglers while protecting the population of lake sturgeon in Black Lake from overharvest. It was deemed a very successful season for angler participation, fish harvest, quick response times, and from a safety perspective. Rehabilitation of lake sturgeon in the Cheboygan River watershed is a cooperative effort involving the Department of Natural Resources, the Black Lake Chapter of Sturgeon For Tomorrow, Michigan State University and Tower-Kleber Limited Partnership.
---
highlights 2013 accomplishments and activities
A report highlighting the various activities of the DNR Fisheries Division during Fiscal Year 2013 has been produced and is now available online at www.michigan.gov/fishing.

The 2013 Fisheries Division Annual Report summarizes the programs and work completed in the past fiscal year (Oct. 1, 2012, through Sept. 30, 2013) by division staff in an effort to maintain and improve Michigan's fishery. The report categorizes the division's work within the five goals it developed as part of its five-year strategic plan, published in March 2013.
These goals include:
1) Healthy aquatic ecosystems and sustainable fish populations
2) Diverse fishing opportunities
3) Strategic resource partnerships
4) Strategically focused assessment and decision support tools
5) Efficient division operations
The report also includes Fisheries Division's mission and vision, details on partnership efforts during 2013, and fisheries-related quick facts.
"This report provides Michigan citizens with a snapshot of Fisheries Division's management of the state's aquatic resources," said Fisheries Division Chief Jim Dexter. "It helps us track our progress as we work toward completing our strategic plan and is something we are proud to share."
Input on the activities of Fisheries Division is encouraged by readers of the 2013 Annual Report. All communication can be shared by email through [email protected].
---