DNR creel clerks collecting angler info this winter
The Michigan DNR is reminding anglers that agency personnel will be interviewing anglers about their fishing trips.
DNR creel clerks will ask anglers about how long they fished, what species they were targeting, what they caught and where they live. It usually takes only a couple of minutes to answer the questions. The DNR appreciates anglers' cooperation. In some cases, the creel clerks may ask to measure or weigh fish and to take scale samples.
These efforts are part of the DNR's Statewide Angler Survey Program, a long-term monitoring program designed to track recreational fisheries across Michigan waters of the Great Lakes.
"The point of this program is to characterize how many fish are harvested, how many hours anglers spend fishing and what fish they're targeting," said DNR fisheries biologist Tracy Kolb. "The primary goal is to ensure we have enough information to manage our fisheries across the state."
This winter creel clerks will be stationed at Saginaw Bay, the Au Sable River, the Les Cheneaux Islands, Munising, Au Train, Marquette, Keweenaw Bay, Little Bay de Noc and Menominee Harbor. Starting April 1, creel clerks will appear at Great Lakes boating access sites, fishing piers and shorelines across the entire Great Lakes coastline to survey spring, summer and fall fisheries.
---
Catfish record broken second time in less than two years
The Michigan DNR has confirmed the catch of a new state record flathead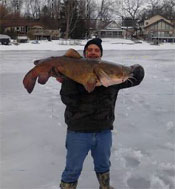 catfish on Monday, Jan. 13. The catfish was caught by Dale Blakley of Niles, Mich., on Jan. 12, on Barron Lake in Cass County. The fish weighed 52.0 lbs and measured 46.02". Blakley was ice fishing for crappies when he landed the record fish.

The record was verified by Brian Gunderman, a DNR fisheries biologist, at the Plainwell office.

The previous state record flathead catfish was caught by Rodney Akey of Niles on the St. Joseph River in Berrien County on May 22, 2012. That fish weighed 49.8 pounds and measured 45.7 inches. Prior to that, the record hadn't been broken since 1943.

"Catching this fish was the most exhilarating experience," said Blakley. "It
was only the second time I've ever gone ice fishing and it was the only bite we had on the lake the whole day. This definitely sits at the top of my list!"
It should be noted that flathead catfish typically inhabit large river systems, like the nearby St. Joseph River. Based on the size of this fish, it mysteriously found its way to Barron Lake several years ago, perhaps through illegal stocking as there are no direct connections to a large river system. Anglers are reminded that transferring fish from one water body to another is prohibited because such transfers can disrupt the fish community in the receiving water through predation, competition with native species, or introduction of new disease-causing organisms.

State records are recognized by weight only. To qualify for a state record, fish must exceed the current listed state record weight and identification must be verified by a DNR fisheries biologist. Watch video: http://youtu.be/864YR-QAKMY
---
Michigan State U. hosts 99th annual ANR Week
EAST LANSING, Mich. – Gardeners, farmers, foresters and families interested in animals, plants, land and water are invited to Agriculture and Natural Resources (ANR) Week, Feb. 28-March 8, 2014. The annual event, formerly known as Farmers' Week, is hosted by the Michigan State University (MSU) College of Agriculture and Natural Resources, MSU Extension and Michigan AgBioResearch.
This year's events include educational programs on topics ranging from conservation stewardship to artisan cheesemaking.
Programs this year include:
Birding 101: A Beginner's Guide to Birding (March 1) – This workshop is sponsored by Michigan Audubon and the Quiet Water Symposium. It will explore the use of binoculars and field guides, and cover bird identification and habitat.

Forage Technology Conference (March 6) – This conference, sponsored by MSU Extension, the Michigan Forage Council and the Grazing Lands Conservation Initiative, will feature innovative researchers, industry representatives and cutting-edge farmers. They will speak on topics such as grazing management, use of cover crops as forage, hay and haylage production, and corn silage production.
In addition, ANR Week is the setting for several annual meetings and conferences, including the following:
Michigan State Rabbit Breeders (Feb. 28-March 2), which includes exhibition and judging of more than 3,000 rabbits and cavies.
Michigan Wildflower Conference (March 2-3), which will focus on preserving and restoring biodiversity in generally urban and suburban yards.

82nd Michigan FFA Convention (March 5-7), which is themed, "Envision the Goal, Embrace Your Journey."

Michigan Barn Preservation Network Conference (March 7-8), which offers barn enthusiasts and barn owners an opportunity to learn more about Michigan's agricultural heritage and historic farm buildings.

Michigan Beekeepers' Association Spring Conference: The Wonder of Honeybees (March 7-8), will offer breakout sessions for participants to learn about the many aspects of beekeeping.
Other events include the Michigan Farmers Market Conference (March 4-5), Horticultural Therapy: Connecting People and Plants (March 7), Horse Expo 2014 (March 7-9) and the Quiet Water Symposium (March 1).
Free ANR Week program guides with dates, times, locations, costs and event descriptions are available from any county MSU Extension office or the MSU Bulletin Office, 117 Central Services, MSU, East Lansing, MI 48824-1001; 517-353-6740.
For a complete list of programs, conferences and educational opportunities, visit www.anrweek.canr.msu.edu, or contact program coordinator Megghan Honke at 517-353-3175, ext. 229, or e-mail [email protected].
---