Dutch Lake Damaged by Flooding
Lake to be drained, fishing restrictions relaxed
Dutch Fork Lake is closed to all boating. The fall trout stocking scheduled for the week of October 18 is cancelled. The stocking of the Delayed Harvest area on Dutch Fork Creek scheduled for the week of October 4 will continue as planned.
An assessment of Pennsylvania Fish and Boat Commission (PFBC) properties in the aftermath of flooding associated with Hurricane Ivan has revealed serious damage to the spillway at Dutch Fork Lake in Washington County. Following consultation with dam safety officials at the Department of Environmental Protection (DEP), the PFBC is taking prompt action to begin draining the lake.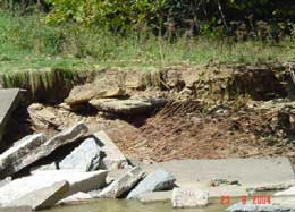 The dam at Dutch Fork Lake is characterized a "high hazard dam," meaning if the structure were to fail there would be a significant risk of downstream property damage. "While there is no immediate threat of dam failure at this time, the Commission is draining Dutch Fork Lake as a precautionary measure in the interest of public safety," said PFBC Executive Director Dr. Douglas Austen. "The lake will be lowered in a controlled manner to limit disturbance in Dutch Fork Creek. Dutch Fork Lake will remain drained while the Commission pursues the funding needed to address the dam's deficiencies."
DEP Deputy Secretary for Water Management Cathy Curran Myers, lauded the Commission's decision. "DEP's Division of Dam Safety is working closely with the Fish and Boat Commission to drain the reservoir to remove a potential threat to downstream residents. The Fish and Boat Commission deserves credit for acting quickly to address this problem. I encourage the owners of all dams, large and small, to
perform a thorough inspection of their structures following this flood event."
In conjunction with starting the draw down, the PFBC is removing season, size and daily creel limit restrictions for fishing at Dutch Fork Lake in Washington County. The relaxing of fishing restrictions, which takes place immediately, does not apply to Dutch Fork Creek upstream and downstream of the impoundment. The Commission will conduct fish salvage operations in conjunction with the draw down of the lake. Enhancing opportunities for anglers to harvest fish prior to salvage efforts provides both additional recreational opportunities and can help reduce the number of fish that will either be captured/transported or potentially stranded when the water level drops. Individuals or organizations interested in assisting with formal fish salvage operations can contact the PFBC's Southwest Regional Office at 814-445-8974. The Commission has not established a date for formal fish salvage efforts; lake conditions will dictate timing.
The Commission faces a $100+ million backlog of infrastructure needs. Rebuilding the dam at Dutch Fork Lake – a highly popular recreational facility that draws anglers and boaters from across the Pittsburgh area – is estimated to cost nearly $3 million. Commission operations are funded from the sale of fishing licenses and boat registrations. Currently there is no funding source the agency can tap into to address major capital project needs, such as rebuilding the dam at Dutch Fork Lake. A Green Ribbon Panel created by the General Assembly and Governor Rendell is actively exploring legislation to address a wide scope of environmental and natural resource funding needs. The draining of Dutch Fork Lake further illustrates the importance of including funding for PFBC projects in any future funding initiatives.
Dutch Fork Lake is closed to all boating. The fall trout stocking scheduled for the week of October 18 is cancelled. The stocking of the Delayed Harvest area on Dutch Fork Creek scheduled for the week of October 4 will continue as planned
---
Youth hunting seasons just around the corner
HARRISBURG - With autumn's arrival, the start of Pennsylvania's general small game and archery seasons are just around the corner. However, before all licensed hunters get a chance to head afield, Pennsylvania Game Commission Executive Director Vern Ross encouraged them to help make the upcoming youth squirrel and pheasant hunting seasons a success by introducing a youngster between 12 and 16 years of age to the hunting community.
"Part of the Game Commission's overall vision is to promote our state's rich hunting and trapping heritage," Ross said. "The future of hunting and trapping is directly related to the continuing participation of young Pennsylvanians in our hunting and furtaking seasons. The challenge is to successfully compete with all the other activities and recreational opportunities that vie for a teenager's time. It's truly a challenge for the Game Commission, as well as Pennsylvania's more than a million hunters."
The Board of Game Commissioners approved an expanded youth squirrel season for 2004. In the past, the youth squirrel season was a two-day event. Under this year's package, the Board established the 2004 youth squirrel season as Oct. 9-15.
The youth pheasant hunt will be held Oct. 9 and 11. On Oct. 9, more than 30 sportsmen's clubs from across Pennsylvania will host a mentored youth pheasant hunt where they will provide specific instructions on pheasant hunting. Each club also was able to receive Game Commission-raised pheasants to stock as part of the special hunt.
Under the youth squirrel and pheasant hunts, participants are not required to purchase a junior hunting license, but they must pass a Hunter-Trapper Education course. As with all junior hunting, those participants 12 and 13 years old must be accompanied by a parent, guardian or other family member 18
years or older, and those 14 and 15 years old must be
accompanied by a person 18 years or older. Also, all bag limits apply, including areas for harvesting male and female pheasants.
"These youth seasons take into account that students are off school on Saturday, Oct. 9, and most are off on Monday, Oct. 11, the Columbus Day holiday, as well," Ross said. "The remainder of this youth squirrel season (Oct. 12-15) takes place before the change of daylight savings time. This gives students an opportunity to go home after school and have two hours or so to hunt, which is a long-standing tradition in many rural parts of the state."
For the youth pheasant season, Game Commission personnel will stock 18,000 birds on 114 sites in 56 of the 65 counties where pheasants are stocked. An additional 2,000 pheasants will be divided and shipped to more than 30 sportsmen's clubs that have signed up to host a mentored youth pheasant hunt. Last year, 23 clubs hosted such hunts. Youth hunters, however, are not limited to hunting in only those areas where pheasants have been stocked. The pheasant stocking locations and pheasant hunting area maps are outlined on pages 26-29 of the 2004-2005 Pennsylvania Digest of Hunting and Trapping Regulations, as well as on the agency's website (www.pgc.state.pa.us ).
Other recent Game Commission initiatives to promote youth hunting opportunities include: a youth spring gobbler season that was held in 2004 for the first time; a youth pheasant hunt that began in 2002; a youth waterfowl hunt initiated in 1996; special antlerless deer harvesting opportunities initiated in 1998, and expanded in 2000; and youth field days implemented in the early 1990s. Also, as part of the license fee increase approved in 1998, the General Assembly created a junior combination license that packages regular license privileges with archery, flintlock and furtaking opportunities for $9, compared to the regular junior license price of $6.
---