Help keep the Asian carp out of the Great Lakes
A second larger, longer-life barrier is now under construction, but the cost of the design exceeds available funds by $1.8 million.
Illinois has contributed $2 million to the project, but the other Great Lakes Governors say they are not able to contribute the balance – $1.8 million. Their states do not have the money. The need for the additional $1.8 million is critical.
Contributions from any non-federal source will help. That's where clubs, individuals and corporate America can help
Use of Contributed Funds
Funds will be held by the Great Lakes Sport Fishing Council
and distributed based on the direction of a board of non-agency trustees including the president of the GLSFC.
All contributions are tax deductible and will only be used to:
1) Implement the Asian Carp Rapid Response Plan
2) Improve or operate Barrier I
3) Construct and operate Barrier II
Send your donations to:
GLSFC – carp fund
P.O. Box 297
Elmhurst, IL 60126
Or use our PayPal for credit card donations. Go to www.great-lakes.org/carp
---
Asian Carp Prevention - The effort continues
Our Asian Carp fund drive continues, and with many clubs beginning to hold their monthly meetings again, our drive picks up momentum. But we need your help. If the states do not pick up the tab for the missing $1.8 million and the feds don't appropriate the necessary funds to keep this program alive, we are the ones that will feel the impact of any invasion of Asian carp. It's our resource – and recreation, that will be affected.
We need everyone to help.

Asian Carp and other invasive species are approaching the Great Lakes via the Chicago Sanitary and Ship Canal. You may have seen video clips of these jumping fish on TV. These large plankton-eating fish have the potential to wreak havoc on the Great Lakes ecology and our recreational fisheries. Although it is unlikely they would be

come abundant in the middle of the lake, they almost certainly would do well in near shore areas, river mouths and shallow productive bays. Not only would this add an undesirable component to the ecosystem but these fish add an element of personal risk to boaters and others using recreational watercraft. We must do whatever we can to keep these fish out of the Great Lakes.
The electric fish barrier in the Chicago Sanitary and Ship Canal stops the passage of large fish. The U.S. Army Corps of Engineers built this as a temporary project with only a three-

year life span. The three electrodes in this barrier are expected to wear out in about April 2005. One is already gone, the second will probably break down by the end of the year.
Asian carp have been captured only 22 miles downstream of the barrier. Involved agencies have a monitoring plan in place to determine the leading edge of the Asian carp population as they move closer to the barrier site and are working on a rapid response plan to kill the fish if they begin to accumulate in number below the barrier.

A second larger, more powerful barrier has been designed and construction is scheduled for completion by December 2004. However, the cost of the barrier design to stop Asian carp from entering the lake exceeds the available funds by $1.8 million. We need funding to help support construction of the barrier and to help pay for the rapid response plan if it has to be used.
We Need Your Help to Protect the Great Lakes
The Second Barrier
A second larger, longer-life barrier is scheduled for completion by the end of this year, but the construction cost exceeds the available funds by $1.8 million. The U.S. Army Corps of Engineers program under which the project is being constructed limits the federal contribution to the project to $5 million.
The State of Illinois has already contributed $2 million to the project and it will be difficult to obtain the entire balance from a single entity. Governors of most of the other Great Lakes do

not feel they are able to contribute the balance of the funds at this time, yet the timing of these additional contributions is critical. If the funds can not be secured the cost of construction will increase by 30% or
more and we will not have the two-barrier system needed to prevent small Asian carp from entering the Great Lakes until the second barrier is complete.
We are applying to other sources for the needed funds, but every contribution from any non-federal source will help.
Asian Carp Rapid Response
A Rapid response Committee has developed a Rapid

Response Plan to address the presence of Asian carp in the Chicago Sanitary and Ship Canal if they begin to congregate below the existing barrier before the second barrier is completed.
The Asian Carp Rapid Response Plan would involve eliminating Asian carp from 5.5 miles of the Sanitary and Ship Canal. Current estimates for implementation of the plan place the cost at about $450,000. There are 18 agencies involved in the response planning effort but none of them has the funds to enact the plan if it is needed. Funding for the plan is not covered in any Congressional Act or other agency mission. The response plan is a vital action which must be used if the carp appear in the Canal before Barrier II is in place.
We need your financial support to help keep Asian carp out of

the Great Lakes. The most immediate need is to gather enough money to make the rapid response happen if it is needed. The large-scale response if needed would most likely occur this fall. Once Barrier II is online the response would be scaled back to treat the 1000 ft distance between the barriers if fish were found between the barriers.
The second use for the funds would be to maintain and improve Barrier I. Barrier I will still be needed after Barrier II is built. We need your help to ask Congress to extend that authorization indefinitely and to provide the Corps with the directive to construct improvements to Barrier I. These improvements would increase the effectiveness of Barrier I

and the service life of the project. Right now, the Corps of Engineers does not have the authority to operate Barrier I after September 2005.
Use of Contributed Funds
The collected funds will be held by the Great Lakes Sport Fishing Council and will be distributed based on the direction of a board of non-agency trustees including the president of the GLSFC. All contributions are tax deductible and 100 % of the contributions will be used towards Asian carp prevention. Contributions will be used to:
1) Implement the Asian Carp Rapid Response Plan
2) Construct Barrier II
3) Improve or operate Barrier I
The funds will not be used for agency labor or overhead and will not be used for research. Collected donations will be used to pay for barrier construction, carp control chemicals or if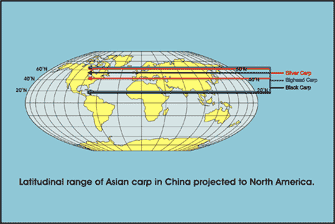 ---
Why Anglers & Hunters Don't Wear Life Jackets
Two hunter and angler focus groups commissioned by the BoatU.S. Foundation for Boating Safety & Clean Water reveal the top three reasons sportsmen don't wear life jackets while boating - and why some choose to.
"The number one reason for not wearing a life jacket was lack of comfort," said Chris Edmonston, Director of Boating Safety Programs. The second reason for not wearing a jacket was that this group rarely sees professionals on TV wearing their life jackets. The third reason for not wearing them was that sportsmen feel comfortable with their swimming ability.
Why do some hunters and anglers choose to wear a jacket?
A close call on the water by a friend or family member was the top reason given in the study. A second reason to wear was to present a positive role model for children or grandchildren. The third reason was that it's simply a common sense precaution.
The focus groups were commissioned by the Sportsman's Forum, a coalition of sporting organizations. Full reports of both studies, along with practical boating tips for hunters and anglers, are available as a free CD by e-mailing name and mailing address to [email protected] . Contact Joni Turken, 410/897-0514, [email protected] .
---
Vermont biologists shoot 208 cormorants
MONTPELIER, Vt. Vermont wildlife biologists shot or trapped more than 200 cormorants on Lake Champlain this summer. The action was part of an attempt to slow a population explosion of the large, fish-eating birds that turn islands into a wasteland of dead trees and guano.
Environmental groups support efforts to control cormorants but oppose the shooting because they say it could drive the birds elsewhere to nest. Wildlife officials are also working to
decrease the number of cormorants on the New York side of the lake by shooting birds and oiling eggs to kill the embryos. There are more than 5-thousand cormorants on Four Brothers Island near Willsboro, 120 miles north of Albany.
New York is one of 24 states given federal permission to take harsher steps against the waterfowl. The state is focusing on cormorants in Oneida Lake, Lake Ontario, and the Buffalo Harbor-Niagara River in addition to Lake Champlain.
---
Administration gives big bucks to preserve open spaces
The Bush Administration has provided more than $1.3 billion to states, tribes, local governments, conservation groups and landowners that preserve open space, restore wildlife habitat, and protect endangered species.
Working in partnership with states, tribes, local communities and private landowners, the Department of the Interior is achieving conservation that protects homes in the West from wildfire, restores millions of acres of wildlife habitat, improves national parks and provides more hunting, fishing and recreational opportunities.
Interior manages, in an environmentally responsible fashion, more than 20% of America's lands.
1. Interior is rapidly advancing the President's commitment to restore, improve and protect more than three million acres of wetlands over the next five years.
2. By 2005, the Administration will have entered into more than 17,000 conservation partnerships with private landowners to protect habitat.
Improving National Parks. Record levels of funding are being invested in national parks. The 2005 National Park Service operations budget of $1.8 billion is 20 percent higher than when President Bush took office. This is more funding per acre, per employee, and per visitor than at any other time in the history of national parks.
3. President Bush is meeting his commitment to invest $4.9 billion over five years to address the backlog of maintenance needs he inherited. More than 4,000 improvement projects are completed, planned or underway.
4. In three years, funding has nearly tripled to preserve and study the natural resources in national parks.
5. The Administration has established or proposed new national parks, including the Great Sand Dunes National Park and Preserve in Colorado and the Lewis and Clark National Historical Park in Oregon and Washington, and has accepted the World War II Veterans Memorial. Secretary Norton created the first historic preservation and technology training center, designated 43 new National Historic Landmarks and transferred 18 lighthouses to local preservation groups.
Restoring Healthy Forests and Improving Public Lands. America's forests are healthier and communities are safer due to the implementation of President Bush's Healthy Forests Initiative.
6. Interior and the Forest Service have treated more than 10 million acres to reduce the threat of catastrophic fire and reestablish natural healthy forest and rangeland conditions. This is double the rate of past fuel reductions. Half of these acres are near communities at risk of wildland fires.
7. Answering President Bush's call to service, Secretary Norton introduced Take Pride in America to achieve greater stewardship of public lands through volunteerism. Governors from all 50 states are helping implement Take Pride. More than 200,000 volunteers work with Interior on federal lands.
Expanding Hunting and Fishing. As lifelong sportsmen and recreationists, President Bush and Vice President Cheney are working with Secretary Norton to enhance hunting and fishing access for all Americans.
8. The Fish and Wildlife Service has expanded hunting and fishing access at more than 60 National Wildlife Refuges. Today, 325 refuges are open to hunting and 282 are open to fishing.
9. A Fish and Wildlife Service agreement with 17 major outdoor sports and conservation groups is improving hunting and fishing access to federal lands. A separate cooperative agreement is improving facilities and access for disabled men and women.
Producing Energy; Enhancing Protections. Over 30% of America's energy production is from federal lands.
10. Clean burning natural gas production is increasing through new offshore production incentives.
11. Oil and gas development is now being guided by site-specific best management practices developed with input from conservationists, ranchers, and western governors. In addition, Interior expanded the role of states and counties in land use planning decisions.
12. Renewable energy production from federal lands is increasing significantly under the Bush Administration. 317 wind and geothermal leases have been issued by this Administration as compared to only 29 issued by the previous Administration.
13. Interior proposes to reclaim abandoned coal mine lands at less cost and in half the time as the current program.
Managing and Protecting Water in the West. The new Water 2025 program assists the West's drought stricken areas by helping to prevent crisis and conflicts over western water.
14. Challenge grants are helping communities with water efficiency and water enhancement projects.
15. Secretary Norton signed the Colorado River Water Delivery Agreement, a landmark action advancing cooperation among Colorado River users. The agreement helps bring certainty to long term water supply for seven western states.
Improving Quality of Lives for Indian Communities. The Interior Department is also working with more than 500 Indian tribes to provide education and economic development services.
16. President Bush provided $1.1 billion for Indian school replacement, improvement and repair projects. This is more money in the past four years than in the previous eight years. Four new schools are built and 21 are under construction.
17. Interior is working to assure that 48,000 Indian students receive quality education as a part of the President's No Child Left Behind initiative.
18. After extensive consultation with Indian tribal leaders, Secretary Norton is improving financial management and providing better customer service to Native American beneficiaries.
Management Improvements. Interior has implemented technology efficiencies projected to save $250 million over four years.
---
GPS Technology puts Invasive Plants on the map
Washington, DC - A weed might be the last thing you'd expect global positioning system (GPS) technology to track, but that's exactly what's happening at America's wildlife refuges across the country. To assess the harm done from non-native plants to native ecosystems, the US Fish and Wildlife Service, the National Wildlife Refuge Association (NWRA), The Nature Conservancy (TNC), and the National Institute of Invasive Species Science of the U.S. Geological Survey have launched the Cooperative Volunteer Invasives Program, a pilot program to track the invasives threat on six national wildlife refuges located in California, Florida, New Hampshire, Montana, Texas, and Ohio.
"Global positioning system technology can be found almost everywhere, whether it's in cars or on cell phones," said Steve Buttrick, director of science and stewardship for The Nature Conservancy in Oregon. "It only seems natural to use GPS to help solve environmental problems too."
Non-native invasive species crowd out native wildlife and damage valuable habitat. These invaders spread at an estimated rate of 14 million acres per year, making them the number one threat to the nation's 100-million-acre National Wildlife Refuge System. Although exact mitigation strategies are specialized and depend on the ecosystem and the species involved, the total estimated cost of fighting these invaders on refuges is believed to be more than $150 million.
"When it comes to environmental threats, everyone knows the usual suspects - dirty air, polluted water and suburban sprawl - but invasive plants are strangling the life out of our precious wild lands right in our own backyards," said Evan Hirsche, president of the National Wildlife Refuge Association.
The pilot program involves training local volunteers to identify invasive plant species and use hand-held GPS devices to
pinpoint the location and extent of the spread of the target species. Collected data will be entered into a national database built and maintained by the National Institute of Invasive Species Science in Ft Collins, Colorado, and used by the US Fish and Wildlife Service to prioritize its efforts in controlling invasive species. An important component of the program is the early detection of incipient infestations. Volunteers are notified of invasive species present in the surrounding area and asked to be on the look out for these species on the refuge. Rapid response to small infestations is generally much more cost effective than waiting until a population gets out of control.
"The Refuge System is a uniquely American concept that protects our national heritage of splendid biodiversity," said Bill Hartwig, chief of the National Wildlife Refuge System. "If we don't act soon to stem the devastation invasives can do, the very life will be choked out of some our most wondrous wild places."
The six geographically and biologically diverse refuges chosen for this initial stage of the program are National Bison Range Complex in Moiese, MT, San Pablo Bay National Wildlife Refuge (NWR) in Newark, CA, San Bernard NWR in Brazoria, TX, Hobe Sound NWR in Hobe Sound, FL, Pondicherry NWR (a unit of Silvio O. Conte NWR) in Jefferson, NH, and Ottawa NWR in Oak Harbor, OH. On June 7 and 8, 2004, National Bison Range was the first of the six refuges to hold a two-day training session. Volunteer Training at the remaining refuges followed in June, July, and August.
By early September, the more than 30 volunteers trained through the program had mapped the spread of the invasive species of most concern in over 400 acres of refuge habitat. As these and other volunteers continue their work, they will add to the collection of data essential to effectively meeting this threat to our diverse natural heritage.
---
USFWS awards four states boating infrastructure grants
The USFWS has awarded nearly $4 million in Boating Infrastructure Grants (BIG) in Texas, Illinois, Oregon, and
Nebraska to improve marina facilities.
Funded Projects include:
Corpus Christi Marina, Corpus Christi, Texas
The Texas Parks and Wildlife Department will receive $450,000 to help this marina develop 48 transient boat slips. The BIG award is a part of a major renovation and addition being completed by the city of Corpus Christi. The new transient boat slips will provide access to the area for off-shore fishing tournaments, special events, regattas, and other events.
Grafton Harbor Project, Grafton, Illinois
The Illinois DNR will receive $996,000 for transient boat slips and facilities as part of the city's development of a new marina for boaters along the Mississippi and Illinois Rivers. The new marina and transient boat slips will provide boaters access to Grafton that was previously not available.
Sandy Beach Project, Columbia River, Oregon
The Oregon State Marine Board will receive $749,138 to help this project develop a 520-ft. concrete breakwater and docking facility for transient boaters at the Sandy Beach Access area on the Columbia River.
NP Dodge Park Marina, Omaha, Nebraska
The Nebraska Game and Parks Commission will receive $930,692 to help the marina provide docking facilities for up to 40 transient boats at this marina. The BIG award is part of a larger project being completed by the city of Omaha. The new slips will provide transient boaters a link for their travels along the Missouri River.
The BIG proposals are reviewed by a panel of representatives from the FWS, as well as a committee from the Sport Fishing and Boating Partnership Council. The Council, a federally chartered body which advises the Secretary of the Interior and the Service on recreational fishing and boating issues, made an initial funding recommendation to the Service based on a review of project proposals by a Council-appointed committee.
The Council's Boating Infrastructure Grant Program Review Committee members this year were: Mike Hough representing the Kentucky Department of Fish and Wildlife Resources; Ryck Lydecker of BoatUS; John Hardin representing Grady White Boats; Jim Frye of the National Marine Manufacturers Association; John Schwartz of the Michigan Sea Grant Extension Program; and Doug Boyd of the Coastal Conservation Association.
For more information, contact the Boating Infrastructure Grant Program, USFWS, Div of Federal Aid, 703-358-2156.
---
Pombo Gets under Skin of Environmentalists
California Republican Richard Pombo has been using the power of his office to sound off on "radical environmentalists," an approach that has some in the movement huffing and puffing with indignation. His press releases have gained momentum since early June when he launched a broadside against the Southern Appalachian Biodiversity Project for filing "frivolous, politically motivated lawsuits."
"I have never seen a law so abused in the name of a good cause," said Pombo, chairman of the House Resources Committee.. Next, he blasted the left wing League of Conservation Voters for giving President Bush an "F" on the environment and, in another release, Pombo chastised the
Pew Ocean Commission for exaggerating problems they said existed along the nation's coasts.
Marty Hayden of Sierra Club's Earthjustice criticized Pombo for using tactics usually reserved for environmental groups. "If anyone disagrees with you or has a different point of view, you demonize them and label them as extremists," he said. Pombo says he is merely trying to counter the environmentalist's accusations that Republicans are anti-environment.
"The truth is, everyone cares about the environment," responded Pombo.
---