Showcasing Missouri's premier trout program

About 63 miles ENE of Springfield, Missouri, is Bennett Spring State Park. Named after the springs that boasts its name, Bennett Spring is the state's second largest spring with nearly 100 million gallons of water gushing daily through its underground rock formation and aquifers. The bubbling emerald colored pool feeds the

Niangua River that runs through the 3,099 acre park. The stream and very busy stocked trout stream is stocked daily through the March 1 – October 31 trout season and provides excellent fishing for rainbow trout.
One of the state's oldest and most popular parks, Bennett Spring State Park is 12 miles west of Lebanon on Hwy. 64, and includes a visitor center, swimming pool, dining lodge, cabins, and many campsites. Many recreational activities are available at the park including canoeing, tubing, swimming, hiking and camping.

But the park's popularity is primarily attributed to the excellent trout program offered by the Missouri Dept of Conservation (MDC), its fishery and the trout hatchery on the premises. In 2003 the park sold over 180,000 trout tags with

2,419 on opening day which was a Monday. The park generally sells 30,000 tags monthly, with 10,000 trout stocked weekly. One other figure: 103,000,000 gallons of water flow daily from Bennett Spring.
Bennett Spring Trout Park
Under the fishing regulations, brown trout in the Niangua River and its tributaries (including Bennett Spring Branch and the Trout Park) must be 18" to be harvested or possessed. The daily limit in the Trout Park is still five trout, but only one may be a brown trout.
There are three fishing zones.
♦ Zone 1 starts at the spring and runs downstream to the dam near the hatchery. Only flies may be used in zone 1.
♦ Zone 2 runs from the dam downstream to the whistle bridge. Only selected artificial lures may be used in zone 2. These are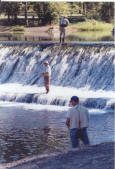 manufactured lures, including flies, not containing natural food substances or fluids. Soft plastic worms, synthetic grubs, synthetic eggs or pork rinds are not allowed in zone 2.
♦ Zone 3 runs from the whistle bridge downstream to the confluence with the Niangua River. Only natural baits and the artificial lures prohibited in other zones may be used in zone 3.
Trout Parks
Missouri has four trout parks with trout hatcheries on the park grounds; all are heavily stocked to ensure angler success. The parks host two seasons, one running from March 1 through October 31. The second season begins the second weekend of November and extends through the second weekend of February.

The MDC operates four trout hatcheries and one trout rearing area. These hatcheries play a vital role in the management of Missouri's fishery resources. Trout are not native to Missouri, but were first introduced into the state over 100 years ago. Today natural reproduction does occur in some areas, but it is not sufficient to maintain large populations. Since demand for trout exceeds supply, hatcheries make up the difference by rearing and stocking catchable size trout.
All four parks require a Missouri fishing license, along with a daily tag (adults $3.00, kids 15 and under $2.00) during the March – October season. Fish are stocked nightly at a rate of 2.25 fish per tag sold.
Each year the parks host two special events that encourage

angling as a family activity and provide novice anglers the opportunity to experience trout fishing. These two events are the Free Fishing Days held the first Saturday and Sunday following the first Monday of June and the Free Kids Fishing Day that is held the Saturday following Mothers Day

In the hatchery, both spring and fall spawning broodstock have been established at Department hatcheries; this provide eggs at different times of the year and increases production of trout.
At Montauk, Bennett Spring, Roaring River and Maramec

parks, catchable size rainbow trout are released daily from March 1st to October 31st. Fishermen must have a valid Missouri fishing license and purchase a special tag each day to fish in these areas.
Shepherd of the Hills Hatchery regularly stocks Lake Taneycomo with trout. People come from many states to fish in this popular lake. Several other Missouri streams are stocked throughout the year. Trout fishermen in these areas must have an annual trout stamp and valid Missouri fishing license.

Most fishermen come to Bennett Spring in search of rainbow trout, but the MDC has been stocking brown trout in the Niangua River with success, also. Bennett Spring is the primary source of cool water for the Niangua River. In the warmest of summers, brown trout migrate toward the spring.
Each fall in October or November about 5,000 brown trout are stocked into the Niangua River with the goal of someday reaching a stable population.
Fishing
Brown trout in the Niangua River and its tributaries, including Bennett Spring Branch and the Trout

Park, must be 18" to be
harvested or possessed. The daily limit is five trout, but only one may be a brown trout. Brown trout are stocked annually. Rainbow trout are stocked downstream from the Bennett Spring Branch throughout the year. There is no size limit on rainbow trout.
Flies, spinners and small crank baits work well.
Smallmouth bass and rock bass (goggle-eye) provide much of the fishing action in the portion of the Niangua River above Bennett Spring. Smallmouth bass and rock bass are found around boulders and rootwads, especially when they are close to good current. Crankbaits, plastic grubs and worms, and earthworms fished close to rootwads and boulders are good producers.
Largemouth bass and spotted bass are more common in downstream reaches and in backwaters and eddies.
The Niangua River is a great place to take kids fishing for sunfish. Longear sunfish and bluegill are plentiful throughout the river and are easy to catch with a cane pole, bobber and hook baited with worms or crickets. The no-creel permit has been discontinued. Now, winter-fishing privileges at the four trout parks are included in the $7 statewide trout permit.

Another change in the no-creel program is that anglers no longer have to pick up the $1 daily tag at the hatchery, as in years past. Winter fishing is allowed on Fridays, Saturdays and Sundays from 8 am to 4 pm.
The entire stream may be fished, but only Zone-1-legal lures
may be used. Lures have to be single hook and made out of fur, feathers or yarn. Outside of the state park, anglers can take advantage of the bountiful fishing waters by canoeing or hiking along the banks. The range of fish found in the waters varies as much as the age of anglers on the river. With plenty of trout, bass and bluegill, the Niangua River offers challenges for the experienced fishermen as well as the young beginner.
Bennett Spring State Park
Over a million visitors come to Bennett Spring State Park to fish, hike, camp and picnic. The park has 3,100 acres including its own fish hatchery. Bennett Spring is the favorite Midwest fishing destination of those surveyed at the Lebanon booth at last year's sports show in Kansas City. The survey showed it beat out Lake of the Ozarks, Truman lake, Table Rock Lake, Branson and Lake Taneycomo. Bennett Spring is

the favorite Midwest fishing destination of those surveyed at the Lebanon booth at last year's sports show in Kansas City. Here are some additional activities available in the park.
Hiking
There are plenty of hiking trails to explore. Bennett Spring State Park has seven hiking trails with beautiful scenery, winding through the hills surrounding the stream, ranging from ¼-mile to 7-1/2-miles long. About 12 miles of hiking trails wind through Bennett Spring State Park.
Canoeing
Nearly all the private campgrounds offer canoe rentals. Trips can range from a short float that goes just a couple of miles and lasts a few hours to an all-day affair or even an overnight float. The river is a level 1 water, but some canoeing experience is encouraged before taking to the waters.
Camping
Campers at Bennett Spring State park now check in at the park's new fee booth near Campground 1. A new reservation system allows campers to plan six months to two days in advance of arrival. You may call 1-877-422-6766 from 7 a.m. to 10 p.m. or go online 24-hours a day at www.mostateparks.com. To reserve a cabin at the park, call 417-532-4307. The park has 189 campsites.
Background
While Bennett Spring pumps 103 million gallons of water each day, it also pumps out 165 cubic feet of water per second. The spring runs underground for much of its life before resurfacing in the state park. It has been a state park since 1924.
You'll want to stay at a small motel in the area while you're fishing Bennett Springs' Niangua River. You can still make Springfield your headquarters because that's where all the action is and that's where you'll want to put up your family. Of course there's Bass Pro Shop, Wonders of Wildlife Zooquarium, Discovery Center, Missouri Sports Hall of Fame, Springfield Conservation Nature Center and much more.

Consider the Sheraton Hawthorne Hotel on North Glenstone Avenue, just a few short minutes from Bass Pro Shops.
They have special weekend rates for families, and have pleasant surroundings, indoor pool, fitness center, a game room and other amenities that make the property family friendly. The staff is friendly, supportive and low-key. Where your family can enjoy the sights and sounds of a classy facility and pleasant surroundings; they probably won't even miss you. It's also the place for quiet a get-away for two when you're visiting the Springfield, MO area.
Contact information is below.
Contacts/Information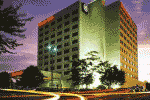 Sheraton Hawthorne Hotel
2431 North Glenstone Ave
Springfield, MO 65803
888-254-0637
417-831-3131
Discount Promo Code: 7155
Missouri Division of Tourism
P.O. Box 1055, Jefferson City, MO 65102
800-810-5500 or 800-877-1234
573-751-4133
E-mail [email protected]
www.VisitMO.com

Missouri Department of Conservation
2901 W. Truman Blvd., P.O. Box 180
Jefferson City, MO 65102
573-751-4115 Ph
573-751-4467 Fax
www.conservation.state.mo.us

Missouri Department of Conservation
Southwest Regional Office
2630 N. Mayfair
Springfield, MO 65803
417-895-6880

Missouri Department of Natural Resources
P.O. Box 176
Jefferson City, MO 65102
800-361-4827; 573-751-3443
E-mail: [email protected]
http://www.dnr.state.mo.us/
Missouri Division of State Parks
www.mostateparks.com
800-334-6946
Bennett Spring State Park
26250 Highway 64A
Lebanon, MO 65536
800-334-6946, 417-532-4338 or
E-mail: [email protected]
www.mostateparks.com/bennett.htm
Springfield Convention & Visitors Bureau
3315 E Battlefield Rd
Springfield, MO 65804
800-678-8767
E-mail [email protected]
Bass Pro Shops
2500 E. Kearney
Springfield, MO 65898
800-227-7776 (800-BASSPRO )
Scott Pauley
Missouri Division of Tourism
Outdoor Marketing Specialist
Email: [email protected]
www.VisitMO.com
573-443-3598
800-647-7687
Trout Hatcheries and Locations:
Bennett Spring Hatchery
Bennett Spring State Park
Lebanon, Missouri 65536
Maramec Spring Hatchery
Maramec Spring Park owned by the James Foundation
St. James, Missouri 65559
Montauk Hatchery
Montak State Park
Salem, Missouri 65560
Roaring River Hatchery
Roaring River State Park
Cassville, Missouri 65625
Shepherd of the Hills Hatchery
Branson, Missouri 65616
---