State Fish Consumption Advisories – All (most) states have them
But are they fact or fiction? Minnesota has 1,114 (36% of nation's total), Wyoming has none !
So, is Wyoming a safer place to live than Minnesota? Or a safer place to fish?
Look at the recent news headlines that hit our region two weeks ago:: Lead the charge against mercury (Indianapolis Star), Mercury Contamination Widespread( Great Lakes Radio Consortium), Pollutants linger in lakes, EPA report says, (Toledo Blade) and not too long ago: Wisconsin Tightens Mercury Advisory on Fish- lists all 15,057 state lakes (WI Dept of Public Health) . Sounds like we poor folks here in the Great Lakes Region are living in a cesspool of pollutants, and our very lives are at risk.
It gets worse. In one Indiana tabloid, its editorial claimed "Tuesday's report from the Environmental Protection Agency states that mercury has contaminated fish in virtually all the nation's lakes and rivers." Now that's a real stretch, but it sells and some misguided folks – ours too, are swallowing this stuff. But it's just not true.
What EPA said in its news release was:
"The number of fish advisories is increasing even as emissions for major pollutants are decreasing and as pollutants such as DDT and chlordane are banned in the United States. In 2003, 48 states, the District of Columbia and American Samoa issued 3,094 fish advisories, 280 more than the previous year. With these additions, 35% of the total lake acres and 24 % of the river miles in the nation are now under advisory. Since 2002, the number of lake acres under an advisory increased by 2 %, river miles by 9 % and coastline by 4 %. A large part of the increase in lake acres and river miles under advisory occurred because Montana and Washington issued statewide advisories for all their lakes and rivers in 2003 and Hawaii issued a statewide advisory for its entire coastline.
There's really something amiss here. First, the USEPA doesn't generate or create any consumption advisories. That is the privilege and responsibility of the individual state, its health dept, and ultimately the governor. He has the responsibility for the health and well-being in his state' constituents. Much as the USEPA would like to have the privilege of establishing fish advisories on a national basis, they have never figured a way to wrest that responsibility from the states. Their function here is only to act as a collection agency and report the individual state actions on an annual basis.
By EPA's own admission "The National Listing of Advisories is a compilation of fish advisory information provided to EPA by States, tribes, territories, and local governments. The information is voluntarily submitted to EPA in an effort to provide a central repository of fish consumption advisories information for the U.S. The USEPA formats the data and makes the information available via the EPA website."
To suggest otherwise is to create confusion. And it occurs every year when the USEPA makes its annual announcement about the nation's fish consumption advisories. Environmentalists, do-gooders, and extremists jump on the report and distort both the actual data and the message of intent in most all advisories.
Despite all the saber rattling and doomsday predictions, "Scientists from the National Academy of Sciences say that people should continue to eat the fish they catch because its nutritional and other benefits outweigh the health risk it poses, but that people should follow consumption advice to reduce their expo-sure to mercury."
States follow relatively simple guidelines and "if elevated concentrations of chemicals, such as mercury or dioxin, are found in local fish and certain water-dependant wildlife (such as ducks or turtles), then they may issue health advice to the public in the form of a fish consumption advisory." The USEPA adds "A fish consumption advisory may include recommendations to limit or avoid eating certain fish species caught from specific waterbodies or, in some cases, from specific waterbody types (e.g., all lakes). An advisory may be issued for the general population, or for specific groups such as recreational and subsistence fishers, or for sensitive subpopulations such as pregnant women, nursing mothers, and children."
The EPA does not analyze the data nor does the EPA require that data be gathered in a specific way. It simply provides as a service to the public as a central "one-stop' repository for the convenience of the public. EPA has issued guidance that provides information for the states to assist in developing methods of monitoring, gathering and assessing information about their fish populations, but it is not mandatory. The States have primary responsibility for these decisions. Thus the basis for each State fish advisory variation..
EPA also draws no conclusions or identify trends from this National Listing. Again, EPA's sole role is to provide a central repository. Each State determines the scope and extent of monitoring, how to decide which waters should be placed under advisory, etc., thus the information is highly variable and difficult to draw conclusions or trends.
What about recent advice from EPA and FDA about mercury in fish? For most people, the risk from mercury by eating fish and shellfish is not a health concern. Yet, some fish and shellfish contain higher levels of mercury that may harm an unborn baby or young child's developing nervous system. The risks from mercury in fish and shellfish depend on the amount of fish and shellfish eaten and the levels of mercury in the fish and shellfish. Therefore, the Food and Drug Administration (FDA) and the Environmental Protection Agency (EPA) are advising women who may become pregnant, pregnant women, nursing mothers, and young children to avoid some types.
One study after another supports the National Academy of Sciences (NAS) in their position that the benefits of eating fish outweigh the risks. Here are a few of some very relevant studies that are never referenced by state health departments yet they support the NAS – and most anglers who refuse to recognize some of the strident positions taken by their state agencies:
► Fish Intake Lowers Risk of Stroke in Men
Men who eat fish once a month or more have a reduced risk of
stroke.
December 2003, Journal of the American Medical Association (JAMA)
► Salmon consumption reduces risk of Prostate Cancer
Eating fish more than three times a week, was associated with a reduced risk of prostate cancer
January 2003, Cancer Epidemiology Biomarkers & Prevention
► Eating Fish Lowers Heart Disease Risk in Women
Regular Fish Eaters Had Biggest Reductions in Heart Disease Risk
April 2003, Department of Nutrition, Harvard School of Public Health
► Fatty Fish Consumption Lowers the Risk of Endometrial Cancer
January 2002, Cancer Epidemiology Biomarkers & Prevention Vol. 11, 143-145,
► Eating Fish Cuts risk of Alzheimer Disease
Dietary intake of Omega 3 fatty acids and weekly consumption of fish may reduce the risk of Alzheimer disease
2003 JAMA, Archives of Neurology - American Medical Association
► National Academy of Sciences rejects New Dioxin regulation
Dioxin risk found to be too small to merit new government regulations
July 2003, Institute of Medicine, National Academy of Sciences
► Study Finds No Health Risks for Above-Average Mercury Levels
Study calls into question ongoing state and federal efforts to further regulate mercury emissions, which have already
sharply declined by 50% in recent years.
May 2003, University of Rochester Medical Center
► Mercury in fish may be less toxic than Feared
Some forms of Mercury less harmful than others, scientists say
August 2003, Stanford University Synchrotron Radiation Lab
►Fish Oil Benefits eyesight
People who eat most fish have fewest eye problems. Fish oil protects against Macular Degeneration and Dry Eye Syndrome
May , 2003 Association for Research in Vision and Ophthalmology
►Science Community rejects new Dioxin regulation
The National Academy of Sciences found Dioxin's risk too small to merit new government regulations. Dioxin levels have declined by 76% since the 1970s. NAS says "The health risks posed by the levels of Dioxins in foods have yet to be ascertained… "
July, 2003, Institute of Medicine, National Academy of Sciences
So, Dioxin levels have declined by 76% and since 1990 Mercury emissions by over 50%, yet the number of state fish consumption advisories continue to mount annually. Well, most of them. In 1999, Minnesota had 854 , 941 in 2000 and 1,114 in 2003. The national total in 1999 was 2,651, in 2000 it was 2,838 and last year it was 3,089. Wyoming was 0 in 1999 and still is.
So, why do the number of fish consumption advisories continue to increase annually? The science community has developed increasingly sophisticated research and laboratory equipment that can isolate and reveal more minute particles giving them samples they were unable to retrieve a few short years ago. Data that fifteen years ago used to be reported in parts-per-million (ppm) are now often stated in parts-per-trillion (ppt).
Although combustion of coal from power plants releases traces of mercury into the air, power plants are but a relatively small contributor of mercury. They account for less than 5 % of mercury in the environment. Natural sources of mercury and manmade sources other than U.S. power plants account for most of the mercury in the environment.
In February 2001, the USEPA said it did not know how much, if any, mercury in fish comes from power plants, and commissioned a five-year research program on the subject. USEPA's benefit analysis, released in June 2004, conceded it is "unable to model the impacts of the mercury ... emissions reductions that may result from this regulation." The Utility Air Regulatory Group, which represents utilities affected by the proposed rule, stated in its comments, "EPA readily admits that it cannot quantify the linkage between mercury levels in humans and mercury emissions from coal-fired power plants."
Combined, the eight Great Lakes States have 2,031, that's 66 % of the nation's 3,089 fish consumption advisories.
Back in the mid '90s the Great Lakes states were "encouraged" by EPA to tighten their action levels on fish contaminated with PCBs. Those action levels went from 2.0 ppm to .05 ppm, a magnification of 40. The other 42 states still use FDA's action level of 2.0 ppm for PCB advisories, and apparently were not pressured or encouraged to change their action levels as the Great Lakes States did. To many observers these activities of seven years ago were in part politically inspired, and there is a concern similar motives exist today.
See related article on mercury "Proposed EPA Mercury Rule Garners Comments, Controversy"
Total Number of Fish Consumption Advisories-2003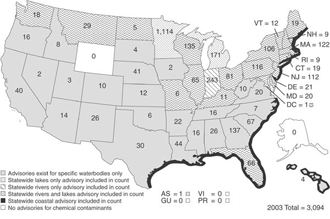 ---
Proposed EPA Mercury Rule Garners Comments, Controversy
The public comment period for the U.S. Environmental Protection Agency's proposed power plant mercury rule closed on June 29 after much controversy. Most of the record-breaking 600,000 comments came from environmental groups and their members, attacking the Bush administration EPA's proposed 70 % reduction in mercury emissions by 2018 as being far too lenient. A number of comments, by contrast, raised doubts that any further action regulating mercury is justified.
EPA puts the price of the proposed rule at more than $1 billion per year, and others think it could cost considerably more. "Clear Skies would reduce mercury emissions by 70 percent, [but] at a cost of about $4 billion per year," noted American Enterprise Institute visiting scholar Joel Schwartz regarding a similar plan to cut mercury emissions by 70 percent, proposed by the Bush administration in 2003.
Comments on the EPA proposal raised questions regarding whether U.S. utilities are a logical target for mercury reductions. Combustion of coal from power plants, for example, releases traces of mercury into the air, but power plants are a relatively small contributor of mercury. Natural sources of mercury and manmade sources other than U.S. power plants account for most of the mercury in the environment, noted Schwartz.
Recent research indicates even a "complete elimination of mercury from coal-fired utilities would reduce mercury deposition in the U.S. by at most about 10 percent," said Schwartz in comments submitted to the agency.

Current Mercury Levels No Danger
Mercury emissions are the subject of public health debate because some airborne mercury is deposited into bodies of water, where it is transformed into potentially dangerous methylmercury, which is taken up by fish. Of greatest concern is the potential effect on neurological development in children whose mothers ate substantial amounts of contaminated fish during pregnancy. The scientific research is decidedly mixed as to whether consumption of such fish is harmful.
The strongest scientific case for concern about mercury has been made by a 2004 study in the Faroe Islands. The study, conducted by researchers from the Harvard School of Public Health and institutions in Japan, Denmark, and the Faroe Islands, followed the progress of children born to mothers exposed to relatively high levels of methylmercury through whale meat consumption during pregnancy. The study concluded there was a modest loss of neurological development in the children. "The implications for neurological and cognitive health are relatively minor," noted Schwartz in his comments to EPA, even assuming Faroe Island results are indicative of harm to American children whose mothers ate fish during pregnancy.
A University of Rochester Medical Center study, conducted in the Republic of the Seychelles and published in May 2003, is probably more applicable to the United States. Unlike the Faroe Islands study, the residents of the Seychelles ate ocean fish similar to those consumed by Americans, rather than whale meat. In addition, whereas whale meat is also contaminated by polychlorinated biphenyls (PCBs), which may also cause health problems, there were no potential contaminants in the Seychelles fish other than methylmercury. The Seychelles study, which has tested the same group of children five times from the age of six months to nine years, has uncovered no evidence of developmental or other problems.
The Center for Science and Public Policy concluded in May 2004 that the Seychelles study found "no observable health effect associated with fish consumption in which methylmercury is present" and "the Faroe Islands study should not be the sentinel study upon which assessment of methylmercury intake via fish consumption should be gauged." EPA, however, has chosen to rely on the Faroe Islands study rather than the Seychelles research.
Proposed Rules Have Questionable Legality
EPA itself has lent credence to concerns about the strength of its case for the proposed rule. The agency's benefit analysis, released in June 2004, conceded it is "unable to model the impacts of the mercury ... emissions reductions that may result from this regulation." Instead, the agency assumes mercury controls will also reduce other power plant emissions, and it calculates the potential benefits based on declines of those emissions.
For that reason, the proposed mercury rule may be on shaky legal grounds. Under the Clean Air Act, EPA is to set power plant mercury standards only if the evidence shows they are "appropriate and necessary" based on evidence of a public health threat. The Utility Air Regulatory Group, which represents utilities affected by the proposed rule, stated in its comments, "EPA readily admits that it cannot quantify the linkage between mercury levels in humans and mercury emissions from coal-fired power plants."
Hence, the group argues, "EPA's conclusion that regulation of mercury emissions from coal-fired power plants is appropriate and necessary is not supported by the factual record."
Though far outnumbered by comments urging aggressive action against power plant mercury, EPA's docket also contains comments raising serious concerns whether any power plant emissions reductions are warranted. EPA is now obligated by administrative procedure law to address those concerns before moving forward with its proposed rule.
Courtesy: The Heartland Institute Environment News 09/01/2004
---
Mercury warnings should not keep anglers from fishing
ASA/DNRs says it is still safe and fun to fish and to eat your catch
The American Sportfishing Association and the International Association of Fish and Wildlife Agencies assure anglers that it is still safe and fun to fish and to eat their catch.
Sport anglers need not put away their fishing gear because of the recent flurry of fish consumption advisories and discussion about mercury in fish tissue according to a joint statement issued by prominent a fishing tackle trade association, the national DNR association and conservation organizations.
"We are concerned that recent announcements concerning mercury in fish will cause anglers to believe fishing is no longer one of America's great past times," said Gordon Robertson, Vice President of the American Sportfishing Association. "While mercury, if consumed in high quantities, can have a health impact, the likelihood of a typical sport angler consuming enough fish to have a health impact is minimal." No scientific evidence links eating recreationally-caught fish with mercury poisoning.
State fish and wildlife agencies concur that recreational angling should remain a healthy and popular activity. "We want anglers to continue to enjoy fishing and wisely eating fish," said Eric Schwaab, Resource Director for the International Association of Fish and Wildlife Agencies. "Many of our member agencies, in conjunction with state health departments have posted health advisories about fish consumption. While the states participate in efforts to fully inform anglers about potential consumption risks, such advisories are intended to provide a basis for informed risk analysis, not frighten people away from a healthy recreational pursuit.
It is important to note that the number and type of new advisories do not indicate the situation is worsening. To the contrary, in most cases, new advisories result from additional sampling, stricter risk standards and more sophisticated and high-tech laboratory equipment. State agencies regularly expand the range of environmental sampling efforts over time, leading to consistently increasing number of advisories.
In addition, one challenge in understanding the current approach is that assumptions are made in the Human Health Risk assessment about the frequency and duration of
consumption patterns. These assessments are based on much more regular consumption of fish than that exhibited by most recreational fishermen. Schwaab also explained that current EPA standards, on which some state advisories are based, set a stricter standard that, in the case of mercury, is four times higher than the threshold used by the Food and Drug Administration, which governs the fish Americans purchase off their grocery store shelves.
At a minimum this discrepancy presents a confusing basis for risk based decisions by the American public. "The topic of mercury in the environment and in fish is very complex", said Noreen Clough, Conservation Director for BASS, the Nation's largest individual angler membership organization. "Certainly, there can be situations where anglers should heed consumption advisories, but we know of no studies of mercury induced health problems from eating sport-caught fish in the U.S. Much of fishing is about catching the fish, sharing the experience with family and friends and building on our outdoor skills. Many anglers practice catch and release and the current discussion surrounding mercury should not deter anyone from enjoying the great sport of fishing and the great out-of-doors."
Most organizations stressed that scientific work directed at health risks associated with mercury and fish consumption has focused on subsistence cultures with high lifelong rates of consumption of fatty fish or marine mammals. The highest mercury concentrations are known to exist in fatty tissue of older, top level predatory fish, which subsist on diets of other fish. Eating younger, lower level predator fish, avoiding fatty tissue and using proper cooking procedures all reduce health risks from fish.
Sportfishing generates approximately $116 billion each year for the Nation's economy and is responsible for over one million jobs. Most importantly, the tradition of sportfishing brings enjoyment, a learning experience and strong social bonds to over 44 million Americans each year.
The American Sportfishing Association is the sportfishing industry's trade association, uniting more than 600 members of the sportfishing and boating industries with state fish and wildlife agencies, federal land and water management agencies, conservation organizations, angler advocacy groups, and outdoor journalists. The American Sportfishing Association safeguards and promotes the enduring social, economic, and conservation values of sportfishing.
---