Cyber Santa fills stockings with ice, no matter if you're naughty or nice
There's no such thing as the angler who has everything. There's always room to cram one more lure in the tackle tray, forcing the lid shut. Every garage stall has shelf space for one final fishing gadget. If it doesn't, put in another shelf. Cut and dry, if it's gifted, and built for catching fish, you'll gladly receive it (even if you have one like it)and create space for it (even if a physical assessment says there's no room at the inn).
Macho Minnow
Realizing you can't miss with a fishing trinket, there's still wisdom in buying smart and seeking what's new and hot. Here are a few gift ideas for the ice angler in your life:

Let's start small, and budget-minded. About a decade ago, Northland Fishing Tackle changed ice fishing forever with the Buck-Shot Rattle Spoon. The deliberately noisy jigging spoon remains the standard by which all ice fishing lures are judged. Well, it seems there's a new benchmark on the frozen lakes for 09-10:
The dynamic lure has dazzling action that drives fish bonkers. A beveled brass body causes it to randomly slip out and away on the drop. Once locked and loaded, the Macho Minnow's signature KickerTail Fin gives it life, flashing-fin like a distressed minnow… or disgruntled elf kicking and screaming. It comes in a spectrum of six sizes and ten colors, from 1/12-ounce panfish punishers up to the predator pleasing ¾-ouncer. www.northlandtackle.com
About $4.39 to $5.79
MarCum VX-1 Flasher
Can't find a jig without a flasher? "Finding" of course means

spying it under the ice on a sonar screen. MarCum Technologies just made owning high-definition electronics that much easier on the wallet. The VX-1, despite its entry-level price, affords most of MarCum's signature and patented features. It all starts with output, massive output. Peak-to-peak, the VX-1 delivers 1,000 watts of unchallenged power to locate your jig – bottom, weeds, fish, etc. – and return a signal that competing models in its price-range cannot.
Other remarkable features include a super bright display for superb daytime viewing, even on the brightest afternoons. A patented interference rejection system lets you fish in tight quarters without picking up clutter from buddy's flasher, regardless of what brand he fishes. Last but not least, the LX-1's Bottom Zoom feature helps dial-in low-lying fish like walleyes and sauger.
This IS the gift that keeps on giving… www.marcumtech.com
About $299.00
Snosuit Gauntlet Gloves
Also available in Mitt style
You know those junked choppers with the ragged linings crinkled-up on the closet floor? Throw 'em out, or re-gift them as a practical joke to a loved one. Because if your wishes come true, there'll be a brand spanking new set of Snosuit
Gauntlet Gloves hung by your chimney with care.
Perhaps the ultimate gift – based on return on investment –

the Gauntlet Gloves were intuitively designed with the climate conditions of an ice fishing expedition in mind. From the snow to the icy chill to the wetness, Snosuit has you covered.
Santa would die for (metaphorically) protection like this. SnoShell waterproof, windproof and breathable technology make sleet and snow non-factors. SnoCore Micro Fiber Thermal Insulation turns howling rooftop winds into summer breezes. 3M Scotchlite Reflective Material keeps you noticeable on the ice and Santa visible to low-flying aircraft. And a bonus treatment of DuPont™ Teflon® Fabric Protector keep the Gauntlet Gloves in fine physical condition, even while cleaning-up after the reindeer.
About $49.99
Frabill 1662 Pro Thermal Tip-up
It'll be unmistakable under the tree gift wrapped without a box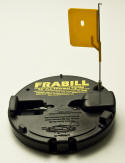 – much like a paperback book or lamp. The discus-shaped Frabill 1662 Pro Thermal Tip-Up is classic in form, but unique from other family members in that it comes packaged with 50 yards of line, a line marker, depth finder, and a 1677 Lil' Shiner Tip-Up Light. It's ready for deployment straight off the shelf.
The wonderment behind Frabill's entire series of Pro-Thermal Tip-Ups is their capacity to operate ice-free. The circular, hole-sealing tip-up is completely insulated. Neither wind, nor rain, nor snow, nor the blow of Old Man Winter is going to wreck your day. Same goes for Santa; he's a real trooper.
About $29.99
StrikeMaster Glide-Lite sled
Like Christmas, ice fishing has an official sleigh. It's not
strung with jingle-bells or navigated by Rudolph, but it, too, carries a precious payload. StrikeMaster's inventive Glide-Lite pull-behind sled was dreamed-up explicitly for toting ice fishing gear, and with ease.
Fortified by the time-honored roto-molding process, the Glide-Lite yields mega-storage for ice fishing essentials; i.e. a flasher, underwater camera, and tackle boxes. In its rear, the transport unit sports holders for a half dozen rod and reel combos. The seating arrangement serves two purposes as well. Drop in a Frabill Sit-N-Fish or other 5 or 6 gallon bucket, and voila, there's a place to rest your haunches as well as store your day's catch.
About $79.99
---