2011 College Bass National Champ Will Get Classic Berth
Little Rock, Arkansas - For the first time in the history of the Bassmaster Classic, a collegiate angler will have the opportunity to compete against the top professional bass anglers on the biggest stage in the sport. The captain of the winning team at the 2011 College Bass National Championship will secure a coveted berth in the 2012 Bassmaster Classic to be held on the Red River in Shreveport/Bossier City, Louisiana

"The bass fishing world hasn't completely realized the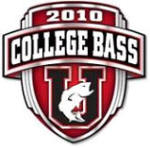 potential of collegiate bass fishing," said Jerry McKinnis. "This qualifying slot should be a game changer." Providing a dedicated avenue for the College Bass champion, again to be held in Little Rock, Ark., in 2011 and aired on ESPNU, will enhance the profile of college bass fishing and represent an added, youth component to the Classic.

College Bass anglers will have to fight harder than ever to make it to Louisiana against strong competition from colleges and universities around the country, beginning with a series of Super Regional qualifiers and then culminating in the College Bass National Championship.

"Every angler dreams of fishing in the Classic from the time they first get hooked on the sport," said College Bass host Rob Russow. "Now, one College Bass angler will get that life-changing experience and I can't wait to get started determining who that will be." Full information on the qualifying process for the National Championship and the Classic will be released soon.
Since its inception, the College Bass National Championship has been the only fishing tournament to air on ESPNU. In its sixth season, College Bass received extended television coverage totaling nine hours of ESPNU programming. ESPNU reaches more than 71 million households across the United States.

In 2010, Eastern Kentucky anglers Tyler Moberly and Jonas tipped the scales to claim the College Bass National Championship crown in North Little Rock, Arkansas. More than 220 schools from more than 30 states and Canada participate in hundreds of College Bass-sanctioned events each season.

College anglers with questions regarding the 2011 College Bass season can direct them to Rob Russow at [email protected] or 501-416-6544. For more info: www.CollegeBass.com.
---
Santa's Wonderland Kicks off at Bass Pro Shops
Nov 6
Bass Pro Shops presents their third annual "Santa's Wonderland—A Classic Christmas"—an event that has already become a family Christmas tradition. This year, the magic returns with Santa's arrival, Saturday, November 6th at 5pm. Families can enjoy the wonder of Christmas inside every Bass Pro Shops store with "Santa's Wonderland"—an over 3,500-square foot Christmas village chocked full of fun games, activities and crafts for the whole family –from November 6th through December 24th.
Comprised of both animated and live elves, nutcrackers, reindeer and more, the village offers a Lionel old-time model train area, remote control trucks, a Red Ryder® laser arcade, a Nerf soft gun range and slot car racing. Kids can also play the hottest new video games of the season with The Strike and The Hunt. They'll love the activity tables where they can write a letter to Santa, color and do fun crafts every weekend--all absolutely free. New this year, a fun, different Santa Bandz bracelet will be offered every week to the first 150 kids who visit Santa's Wonderland on Tuesdays, Wednesdays and Thursdays only from 5-7pm. Of course, Santa will be in residence there throughout the season.
Customers can get a free 4x6 photo with Santa and his reindeer from 5pm to 8pm Monday through Friday, Saturdays 10am to 8pm and Sundays noon to 5 pm with extended hours beginning December 13th. Photo and gift packages will also be available. If the line is long, they can just grab a Bass Pass and their appointment with Santa is set.
Every weekend from 12 to 5 pm beginning November 7th through December 19th, and Tuesdays, Wednesdays and Thursdays, November 9th through December 23rd from 5-7pm, kids can take part in the time-honored traditions of making crafts and holiday ornaments. They can do a fun elf mask, construct a snowman suncatcher, and make great ornaments out of fishing bobbers, popsicle sticks and more—even decorate Christmas cookies December 21st-23rd. Again, it's all free! A complete schedule of activities and times will be available at Santa's Wonderland or visit www.basspro.com/santa and click on your local store beginning November 2nd.
Kids will be invited to help Santa, through a little magic, light up the outside of the store, a big Christmas tree in the main entrance and then on into the store for the unveiling of Santa's Wonderland. Santa will also be giving away $25 Bass Pro Shops gift cards to one lucky winner every half hour. Kids can kick off the season by coloring stockings and the first 150 kids to visit Santa's Wonderland will receive a Santa Bandz bracelet!
Bass Pro Shops also has big plans for Black Friday. The 4th Annual Great Turkey Campout begins at 5pm Thanksgiving Day. Customers are invited to bring their tents and camp out all night on the parking lot so they can be one of the first in line to enter the store the next morning. They can enjoy hot chocolate, coffee and smores from 5 pm – 8 pm around the fire pits and there will be special drawings for prizes.
---