The Winchester Model 94 Returns
Morgan, Utah -Winchester Repeating Arms is excited to announce the return of the Model 1894 lever action rifle to its line of firearms for 2010. This reintroduction of the most popular rifle in history will be offered in two Limited Edition models that will commemorate the 200th anniversary of Oliver F. Winchester's birth in New England in 1810. A Model 1894 Custom Grade and Model 1894 High Grade will be offered in 30-30 Winchester caliber.
The Model 1894 began at the workbench of John M. Browning, being the first sporting rifle to use smokeless powder. It has been said that the Model 1894 has taken more deer than any other rifle in the world, and with over six million sold, has become by far, the most popular rifle in history. What better way to welcome back the timeless Winchester® Model 1894 than with a tribute to Oliver F. Winchester.
Model 1894 Custom Grade

500 Custom Grade rifles in sets with the High Grade model will be offered. This rifle will have an exquisite 24" half-round, half-round octagon deeply blued barrel. A buckhorn rear sight is matched with a Marble's® gold bead front sight. The Custom Grade model has Grade IV/V walnut with a rich, high gloss finish. Deep scroll engraving covers both sides of the blued receiver. An early Winchester Repeating Arms crest graces the left side of the receiver, with the right side bearing the words, "Two Hundred Years, Oliver F. Winchester," and the dates "1810 - 2010", in gold. The barrel is deeply polished, with the signature of Oliver F. Winchester in gold on the top of the bolt. "One of Five Hundred" is inscribed in gold on the barrel of the Custom
Grade rifle.
The Model 1894 Custom Grade rifle has a Suggested Retail of $1,959.00.
Model 1894 High Grade

The Winchester Model 1894 High Grade also honors and commemorates the 200th anniversary of Oliver Fisher Winchester's birth. This model is deeply embellished with delicate scroll work, with Oliver F. Winchester's signature in gold on top of the bolt. The left side of the receiver bears an early Winchester Repeating Arms crest. On the right side are the words, "Two Hundred Years, Oliver F. Winchester," and the dates, "1810-2010." The fancy Grade II/III walnut stock is enhanced with a high gloss finish and is delicately checkered, complementing the fine embellishments on the silver nitride receiver. The High Grade model is also chambered in the timeless 30-30 Winchester caliber with a deeply blued half-round, half octagon barrel. A buckhorn rear sight is fitted with a Marble's gold bead front sight. 500 of the High Grade model will be sold as a set with the Custom Grade. The remaining limited quantities will be sold individually.
Delivery of these two commemorative rifles will begin starting in the 2nd quarter of 2010. Both models have 8 round magazine capacity, 42" overall length, 10" rate of twist with average weight at 8 lbs.
The Model 1984 High Grade rifle Suggested Retail is $1,469.00.
---
Laserlyte introduces latest Pistol Bayonet
LaserLyte introduces the "Mini Survival Knife" pistol bayonet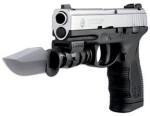 that features an exaggerated top serrated two-tone blade. This is the third generation in the extremely popular line of LaserLyte/Ka-BAR® brand pistol bayonets. The LaserLyte "Mini Survival Knife" is ready for any situation - or just looking cool on your favorite gun.
This razor-sharp, 2.75 inch Ka-Bar blade fits on any medium to large pistol with rail and slides on and off easily with the press of two buttons. Its carbon steel blade is sharpened to a fine edge and finished with a black Teflon® coating for protection. Featuring a full tang design, the blade also comes with a custom polymer sheath. The blade handle is constructed from 30 percent glass-filled nylon for extra
strength and durability.
LaserLyte Pistol Bayonet Specifications
• Product # PB-3
• Material: medium carbon, glass filled nylon
• Weight: 2.6 oz., 73.71 g
• Blade Length: 2.75 in., 69.85 mm
• Overall Length: 5.75 in., 146.05 mm
• Compatible Firearms: with rails, medium to large frame pistols
About $49.95
Links:
928-649-3201 www.laserlyte.com
Ka-Bar Knives, Inc. www.kabar.com
LaserLyte PB-3: http://laserlyte.com/New_Products/New_PB-3.html
Image Download: www.laserlyte.com/download
---
Rig Gun Care Now Available to Consumers
Birchwood Casey recently announced that their RIG gun care

products are now available. RIG Universal Gun Grease has been protecting firearms for years and has set a standard for high quality since its introduction.
RIG Universal Gun Grease is available in the traditional 1 ½-ounce tube and 3 & 12-ounce jars. The anti-galling RIG + P Stainless Steel Lube and preservative comes in a 1 ½-ounce tube. The perennial favorite - RIG Rag is also available in the same sheepskin applicator, already coated with RIG Universal Gun Grease.
Suggested retail prices are as follows:
Rig-Rag Universal Grease Applicator $10.50
Rig Universal Grease 1 ½-Ounce Tube $5.20
Rig Universal Grease 3-Ounce Jar $7.90
Rig Universal Grease 12-Ounce Jar $15.80
Rig + P Stainless Steel Lube 1 ½-Ounce Tube $5.80
Ask your favorite retailer or look for RIG products from Birchwood Casey in the traditional yellow and black packaging.
For more information, consumers can log onto the Birchwood Casey website at www.birchwoodcasey.com, write to 7900 Fuller Road, Eden Prairie, MN 55344-2195 or call 800.328.6156 x7933.
---
Marlin Model 1895SBL scores big hit with editors at OnTarget Magazine
Still in the first year of its production, the Marlin 1895SBL rifle has garnered quite a following. The latest accolade for this full-featured lever-action comes from OnTarget magazine. In the August 2009 issue, the editorial staff at OnTarget deemed the 1895SBL worthy of their 2009 Editor's Choice Award.
Bill Battles, Editor of OnTarget, gives the Model 1895SBL high marks for its many innovative features saying, "With the XS scout scope mount and aperture rear sight, the 1895SBL is ideally suited for fast-paced, close-quarters hunting."
Chambered for the legendary 45-70 Government, the Model 1895SBL is built to handle the worst Mother Nature can throw its way. All major components - barrel, receiver, trigger guard
plate, magazine tube, loading gate and enlarged loop lever; are constructed of durable stainless steel and housed in a weather-impervious black and gray laminated stock. Other distinctive features include 18 ½-inch heavy barrel contour, full length tubular magazine with 6-shot capacity, deluxe recoil pad and nickel-plated swivel studs.
Ready for a quick call to action, the Model 1895SBL features the durable XS Ghost Ring Sight System which allows for faster target acquisition and improved accuracy over conventional sights. For those who prefer using optics, the 1895SBL comes standard with a XS Lever Scout Mount that provides a rock-solid mounting platform for a variety of options including long-eye relief scout scopes, traditional scopes and even red dot or holographic sights.
---