New Study Shows Benefits of Eating Fish Greatly Outweigh Risks
Fish Consumption Associated With Reduced Risk of Cardiac Death, Lower Total Mortality, and Improvements in Child Brain Development
BOSTON, MA--Eating seafood twice a week is good for your

heart and generally outweighs the risk of exposure to mercury and other dangerous contaminants, the Institute of Medicine said October 17. Despite growing attention and concerns over mercury and other contaminants, eating seafood is far better for your health than not eating it at all.
A 12-member expert panel set up under a contract with the National Oceanic and Atmospheric Administration and the Food and Drug Administration produced that report.
A separate study from the Harvard School of Public Health (HSPH), posted in the current issue of Journal of the American Medical Association, measures just how much better off consumers are in eating fish. The study showed those who eat just 3 oz of farmed salmon regularly "lower their risk of death from heart disease by 36 % and their overall mortality rate - death from any causes - by 17%".
"This is a remarkable reduction considering that this is the benefit for deaths from all causes," said Dariush Mozaffarian, lead author of the study and an instructor in epidemiology at HSPH and in medicine at Brigham and Women's Hospital. "Somehow this evidence has been lost on the public."
The National Heart, Lung and Blood Institute sponsored this study.
Even so, the government needs to help consumers figure out which seafood is safer, an Institute report said.
"The confusion may have scared people out of eating something that is beneficial for them, and maybe for their offspring," said Jose Ordovas, a Tufts University researcher and member of the report committee. "Our goal was to put both things in perspective and see where is the balance," Ordovas said.
The findings from the Institute, which advises the government on health policy, are in line with widely accepted government advice that eating fish and shellfish may reduce people's risk of developing heart disease, the leading cause of death in the United States.
Interestingly, researchers said it's unclear how eating fish fights heart disease. It may be that beneficial omega-3 fatty acids offer some protection. Or the answer may be simpler, that people eat less saturated fat and cholesterol when they choose leaner seafood instead of fatty cuts of meat.
Confusing messages and inflated fears are keeping the public from getting the benefits that come from eating fish, says Mozaffarian. "We were surprised at how little evidence
there actually is for some of these harms."
Americans generally eat too much saturated fat and cholesterol and too little of the good omega-3 fatty acids, the report said. And evidence shows that eating seafood rich in omega-3s can contribute to vision and cognitive development in babies and help expecting moms carry babies to term, researchers said.
Critics were alarmed the report offers the same guidance for pregnant women as for young children. "They seem to be unaware that children are smaller than adults," said Jean Halloran, director of food safety at Consumers Union, which publishes Consumer Reports magazine. "That advice, which they have featured prominently, could result in young children getting excessive doses of mercury."
For pregnant women and children younger than 12, the report said:
_ They may benefit from eating seafood, especially seafood with higher amounts of omega-3 fatty acids.
_ They may eat six to 12 ounces of seafood a week. That can include up to six ounces of albacore tuna.
_ They should avoid big predatory fish such as shark, swordfish, tilefish or king mackerel, which have higher mercury levels.
For healthy teenagers and adults and those at risk of heart disease, the report said eating seafood may reduce the risk of heart disease. And if people eat more than two servings of seafood a week, they should be sure to eat different kinds of seafood to reduce the risk of exposure to contaminants, the report said.
While the report does not list "good" or "bad" fish, it does describe broad categories
_Fatty fish like salmon have the highest omega-3 levels but also have more saturated fat and cholesterol and can have higher levels of dioxin and PCBs. They tend to have less mercury.
_Shellfish and crustaceans are low in saturated fat but can have moderate amounts of cholesterol and present the greatest risk of microbial infection if eaten raw.
_In all seafood, levels of dioxin, PCBs and other contaminants do not pose health risks when eaten in government-recommended amounts.
Bottom line? - Although there are times when contamination should be a concern, the health benefits of regular fish consumption outweigh the risks.
Harvard School of Public Health - October 17, 2006
New Study Shows the Benefits of Eating Fish Greatly Outweigh the Risks
www.hsph.harvard.edu/press/releases/press10172006.html
---
Update on Coast Guard meetings dates on firing zones
CLEVELAND - The Ninth Coast Guard District has submitted a notice of public meetings to the Federal Register, which contains the schedule, locations and agenda of nine public meetings, to discuss proposed permanent safety zones on the Great Lakes, and to conduct live gunnery training exercises.
Three more meetings were added after the initial announcement, and two more were added on October 10.
The purpose of the meetings are to gather information from the public concerning the Ninth Coast Guard District's proposal to establish permanent safety zones located in the Great Lakes.
Original Meeting schedule:
(1) Oct. 16, DULUTH, MN: Duluth Convention Center, 350 Harbor Dr, Duluth, MN; (218) 722-5573
(2) Oct. 18, GRAND HAVEN/SPRING LAKE, MI: Grand Haven Holiday Inn, 940 W Savidge, Spring Lake (616) 846-1000
(3) Oct. 19, PORT HURON/MARYSVILLE, MI: Crystal Gardens, 1200 Gratiot Boulevard, Marysville (810) 364-6650
(4) Oct. 23, CLEVELAND: Celebrezze Federal Bldg, 31st fl, 1240 E 9th St, Cleveland; (216) 902-6020. Need Photo ID
Meeting dates added –
Oct 30 - Rochester Fast Ferry Terminal, 1000 N. River Street, Rochester, NY
Nov 1 - Lake County Conference and Banquet Center, 248 Ambrogio Drive, Gurnee, IL
Nov 3 - Charlevoix Public Library, 220 W. Clinton Street, Charlevoix, MI
Nov 6 - Erie, PA - Cruise Ship Terminal - exact location to be
determined
Nov 8 - Sturgeon Bay, WI - exact location to be determined
Schedule of events for all meetings:
4 -5:30 PM - Open house. The public can receive information on the proposed zones and ask questions of Coast Guard officials.
5:30-8 PM - Public meetings. After a brief statement by Coast Guard officials, the public can comment. Comments will be recorded and entered into the docket for this rulemaking.
Topics to be covered during the public meetings are: (1) introduction of the proposed zones and the need to train on the U.S. Great Lakes; (2) how the Coast Guard determined the locations of the safety zones; (3) scheduling and frequency of training in the safety zones; (4) notification procedures; (5) safety procedures; (6) weapons and munitions; and (7) environmental risk assessment overview.
"In accordance with the Administrative Procedures Act, the public meeting is not a question and answer format, but rather an opportunity for the public to have their comments recorded and formally entered into the docket for consideration. After a brief opening statement by Coast Guard officials, the public can provide comment".
Additional information can be found at the Ninth Coast Guard District's proposed permanent safety zones web sit at www.uscgd9safetyzones.com . This site is solely dedicated to the pubic distribution of information concerning the Ninth Coast Guard District's proposed permanent safety zones.
For more info call: Ninth Coast Guard District Public Affairs Office, Cleveland, at (216) 902-6020
---
Updates from the US Coast Guard and live fire hearings
Suspension of live firings
Adm. Crowley has suspended live firings during the public comment period. Crowley made the decision to suspend live-fire exercises, until the Guard could allow the public to submit their comments and evaluate their input. There were also concerns from various government and non-governmental organizations which contributed to the decision.
The mayor of Sarnia, Ontario, earlier had urged Canadian Prime Minister Stephen Harper to intervene to stop the tests. "It's turning the Great Lakes into a military zone," Mayor Mike Bradley said by telephone last week. "There's no justification to do this." The mayors of Toronto and Chicago — the lakes' biggest cities — also have criticized the tests.
Safety Zones Duration of activation
Safety zones will only be activated 2-3 times per year, for 4-6 hours at a time, in order to conduct training. These periods will be well advertised through press releases, local notice to mariners and marine radio broadcasts, and contacts to the Great Lakes Sport Fishing Council.
Group plans to sue Coast Guard
The Milwaukee Pioneer Press reported on Friday, October 20, 2006 that a Duluth-based environmental group, upset with the Coast Guard's plan to hold live-fire training drills on the Great Lakes threatened Thursday to sue. Citizens for Environmental Enforcement notified the Coast Guard it will file a Clean Water Act citizen lawsuit in two months if the military doesn't back off.
Curt Leitz, executive director of the nonprofit group, said the bullets would result in almost 7,000 lbs of lead, a toxic metal, being discharged into the lakes each year. The Clean Water Act bans the discharge of such pollutants into lakes without a permit, he said. He added the Coast Guard also doesn't have a permit for the live-fire training. "We are for the radical idea that the law should be followed,'' Leitz said.
The Press added Leitz says he believes his organization,
formed this summer, is the first to challenge the drills in court. The 60-day notice letter sent to the Coast Guard on October 19 is required under the Clean Water Act. Marc Fink, a lawyer for the group, said that period gives the Coast Guard a chance to adjust its plans to comply with the law.
About the Citizens for Environmental Enforcement
Little else is known about this new group. Their web site www.env-enforcement.org/ is less than two pages long, showing two attorneys as their board of directors. One of them Bernard D Zaleha, who currently serves as Vice President of Citizens for Environmental Enforcement, is also currently serving his second term on the Sierra Club's national board of directors.
Leitz, their executive director, has worked on environmental policy and issues at the local and state levels for the Izaak Walton League of America, and he currently chairs the Conservation Issues Committee for the McCabe (Duluth) Chapter.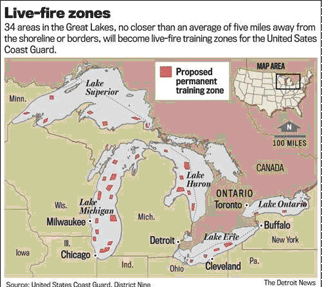 ---
New Law Requires Greater Public Notice on Coast Guard Live Fire Exercises
Homeland Security Bill approved by Congress, signed by Bush Oct 4
WASHINGTON – This year's funding bill for the Department of Homeland Security includes a provision requiring the Coast Guard to provide enhanced public notice beyond just marine band radio when preparing for live fire weapons training on the Great Lakes.
Congressman Dave Obey (D-WI) and Congressman Bart Stupak (D-MI) announced the passage of the provision, saying it would help to keep the public safe.
"Great Lakes mariners deserve to know, before they set out, if the Coast Guard is going to be conducting training exercises
that could affect their plans," said Obey. "No matter how the Coast Guard finally decides to handle its training areas, this provision will ensure that boaters get fair warning of areas to avoid." "This legislation will ensure that, at minimum, the Coast Guard employs other methods of communication to put out the word that they will be conducting a live fire exercise."
The Homeland Security appropriations measure specifically "directs the Coast Guard to notify the public beyond just using marine band radio." The legislation was signed into law by the President on October 4th.
The safety zones are expected to occupy a total area of 2.5% of the surface area of the Great Lakes or 2,376 square miles. www.house.gov/apps/list/press/mi01_
---