Kenosha group needs new pond fence
The Kenosha Sport Fishing Conservation Association (KSFCA) needs a new fence around the entire pond, estimated to be $9,000. They also had had a contractor come in to see what the cost would be to build a roof over the pond itself not the entire facility and that is estimated $90,000.00.
Located just North of Kenosha Harbor, the KSFCA pond has been in the business of raising salmon for decades. Active participation in the rearing of fish has been a great adventure for the group, and the club was actually founded in 1960 to build the Kenosha Salmon Rearing Pond. They raise between 40,000 to 60,000 fingerlings annually, for about 6 weeks at the pond, which are then released into the Pike River and Lake Michigan. The feeding and care of the fingerlings and maintenance of the pond are all made possible from membership dues and sponsoring member contributions.
If you can donate to this group and pass the word to other fishing clubs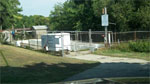 and anglers, this would be great because the KSFCA is looking for donations. The really important thing for the community and Lake Michigan is the fencing and the life ring kiosk as they would have an immediate impact for the safety of anglers, and aide in the continuous sustainability
Active participation in the rearing of fish has been a great adventure for the Kenosha Sport Fishing and Conservation Association, and the club was actually founded to build the Kenosha Salmon Rearing Pond. We raise
between 40,000 to 60,000 fingerlings (baby
fish) for about 6 weeks at the pond, which are then released into the Pike River and Lake Michigan. The feeding and care of the fingerlings and maintenance of the pond are all made possible from membership dues and sponsoring member contributions.
Also, Life Ring Kiosks for the north pier in the Kenosha harbor are another program being undertaken by the KSFCA. There has been many lives taken from the pier and a club member presented this to the membership and we said YES. We are looking at 3 kiosks; each one would have a 200 ft of rope with a ring attached. The cost is $1000/ sponsorship and this is a life time sponsorship or we can do $500/ sponsorship for each Kiosk to total $1000.

Many club activities are closely related to the pond and, a very good working relationship exists between the KSFCA and the Wisconsin DNR, which supplies the fingerlings, provides technical services and also assists in the release of the fish.
Please mail a check to:
KSFCA
P.O. Box 746
Kenosha, WI 53144
---
Match the Migration for More Walleyes
By Nathan Shore
The most important factor in any walleye presentation isn't the lure, technique, trolling speed or line size. All those things can be as important as the color of your boat. Like the way to a man's heart, the way to walleyes is through their stomachs, and that means that your knowledge of the local baitfish can be the most important factor to catching lots of walleyes.
Jonny Petrowske is one man who knows baitfish better than you. He's a Jack-of –all-trades, carving a life out of the Northwoods by running resorts, renting fish houses and plowing roads. He's a fishing guide, too, and a darn good one, but he might say he wears his most important hat when gathering bait for clients and local shops. Baitfish habits, Petrowske claims, comprise the most important information a fisherman can own.
In Petrowske's holistic angling world, everything is connected. A look at the lake, the season, the water temperature, and the conditions will suggest a crazy-quilt pattern of baitfish movements on any given day. Some minnows are moving inshore while some are moving out. Part of the walleye population will be close behind in every case. How much of the walleye population might be involved depends on abundance, so Petrowske keeps a finger on the pulse of baitfish populations in the waters he works.
Angling success in every season of the year, Petrowske says, is tied directly to the movements of baitfish. He considers the kaleidoscopic movements of spottail shiners, ciscoes, perch, chubs, dace, emerald shiners and whitefish, tries to picture the most prolific and concentrated scenario, and sets about tracking down those minnows to see what's hunting them. Lure choice is anything but random. Petrowske matches the hatch with lures that imitate that particular baitfish in size, shape and color.

"Everybody gets so hung up on one run of baitfish," Petrowske said. "Every walleye angler in the North knows about the ice-out spottail shiner run. Anglers beat that shallow shiner bite until July when spottails head to deeper water."
Spottails are working their way out in early summer and for every 5-degree increase in water temperature they head 2-feet deeper, and while following them Petrowske is pulling size #5 Lindy Shadlings in Yellow Perch or Rainbow Smelt color patterns. Spottails have a green-brown back to them, and color selection is critical.
"Your bait should look like another sheep in the flock, but you want it to be a wounded sheep—the one with a limp," he said. "Those big schools of spottails begin to dissipate out deep as water temperatures on top rise to 70-degrees and above, so why chase them all summer and into fall like the rest of the crowd? Let the migrations come to you."
After all, there are plenty of fish in the sea. As surface temperatures cool toward the 60-degree mark in September, Petrowske changes his baitfish focus to emerald shiners, which come back out of open water.
"Some say it's a feed thing, but when the emeralds run back into shore, I go to a size #5 Shadling in Tullibee or Alewife," he said.
Identifying areas full of emeralds is easy by looking for minnows jumping out of the water. When the maple leaves start turning red and you have to put the sandals away, you can bet they're shallow and walleyes aren't far behind.
When water temperatures drop a little more and approach the 50-degree mark, giants come in to play.
"Now you're seeing big, fat walleyes because tulibees, ciscoes, and whitefish are coming in to spawn. These are large baitfish, and you have to match the hatch to get the big girls to bite shallow."
Emerald shiners are already in the shallows, and these bigger baitfish prefer rock and gravel in 10- to 15-feet of water. Petrowske trolls #7 Shadlings in Purple Smelt or Shiner to match the size and colors of these big-meal baitfish.
Ciscoes, tullibees and whitefish range over wider areas, but eventually coalesce into tight groups over very specific rock-gravel spots where spawning substrates are optimum. Casting and trolling defines the larger area, but when he finds heavy concentrations of bait, Petrowske pitches jigs.
"Hard breaks are where it's at," he said. "Sharp, rocky breaks down to 15-feet where rocks are too heavy to get a crank through is perfect for jigging."
He prefers 1/4-ounce to ½-ounce Lindy Watsit jigs bulked up with the big 2-inch 'Fat' Watsit body, and subtle isn't in his vocabulary. He twitches them sharply using a 7-foot, medium-power rod with 8-pound braided line tied directly to the jig. Sometimes he tips the jig with dead shiners toughened up with a salt brine.
"Rip-jigging tears off the bait off sometimes, but the big Watsit has tentacles that undulate, so if you lose your bait you've still got something to trigger strikes with," he said. "It has a great, slow drop like a hair jig—a classic parachute effect. I rip the Watsit Spins, too, to add more vibration and flash to the jig in dark water."
Tulibees and ciscoes reflect a lot of light in the blue-purple part of the spectrum, but also have darker accents. In clear water and on bright days, Petrowske imitates them with blue/white Watsit Jigs and bodies, but on dark days he prefers metallic gold. "If you know when that first shallow movement begins in fall you'll be in position and geared up in advance for the tulibee run and a parade of monster walleyes."
Petrowske says walleye anglers make the mistake of chasing baitfish migrations instead of anticipating their movements and waiting for them to arrive. "It's like deer hunting. It's easier to shoot one if you're where it wants to be and it comes in calm, and a lot harder to hit one on the run."
---
Weekly Great Lakes Water Levels for Sept 13
WEATHER CONDITIONS
Seasonally normal temperatures gave way to above average temperatures throughout the region the past week. The change in temperature spurred numerous thunderstorms providing the entire Great Lakes basin with moderate precipitation, with the upper lakes receiving an average of just under 1 inch. High pressure and below seasonal average temperatures will take over the region this weekend. Temperatures are expected to climb along with the chance for precipitation to start the new week.
LAKE LEVEL CONDITIONS
Lakes Superior and Michigan-Huron water levels are 11 and 7 inches, respectively, above their levels of a year ago. Lakes St. Clair, Erie, and Ontario are 7, 8, and 12 inches, respectively, above what they were at this time last year. Over the next month, Lake Superior and Lake Michigan-Huron are each expected to fall 1 inch. The levels of Lakes St. Clair, Erie and Ontario are expected to drop 3, 5, and 6 inches, respectively, over the next 30 days.
FORECASTED MONTHLY OUTFLOWS/CHANNEL CONDITIONS
Lake Superior's outflow through the St. Marys River is projected to be above average for the month of September. Lake Huron's outflow into the St. Clair River and Lake St. Clair's outflow into the Detroit River are both expected to be below average throughout the month of September. Lake Erie's outflow through the Niagara River is predicted to be near average
and the outflow of Lake Ontario into the St. Lawrence River is expected to be above average in September.
ALERTS
Official records are based on monthly average water levels and not daily water levels. Users of the Great Lakes, connecting channels and St. Lawrence River should keep informed of current conditions before undertaking any activities that could be affected by changing water levels. Mariners should utilize navigation charts and refer to current water level readings.
| | | | | | |
| --- | --- | --- | --- | --- | --- |
| | Superior | Mich-Huron | St. Clair | Erie | Ontario |
| Level for Sept 13 | 602.03 | 577.62 | 573.95 | 571.39 | 245.51 |
| Datum, in ft | 601.10 | 577.50 | 572.30 | 569.20 | 243.30 |
| Diff in inches | +11 | +1 | +20 | +26 | +27 |
| Diff last month | +2 | -1 | -4 | -5 | -7 |
| Diff from last yr | +11 | +7 | +7 | +8 | +12 |
---