Rend Lake Resort – Rend Lake, IL for fishing, hunting and relaxation
About Rend Lake - Its history
For decades the land surrounding Rend Lake was plagued by lack of water - despite plentiful rainfall, and its location

between two of the nation's great rivers, the Mississippi and Ohio. Although the region flourished as a coal mining area in the early 1920's, with coal miners such as Colonel Rend, establishing towns like Rend City. (From whom Rend Lake takes it's name). The land's impermeable clays were incapable of soaking in rain, making ground water scarce. By the 1950's the onset of an economically devastating three-year drought, took its toll on the region. As a result, plans to construct a large water supply lake began to take form, one that would be the solution to the area's problems, and evolve into the project that would become Rend Lake.

The authorized purposes of the Rend Lake project include flood control on the Big Muddy and Mississippi Rivers, water supply, water quality control, fish and wildlife conservation, recreation and area redevelopment. Today, Rend Lake is a multi-purpose project designed to enhance the region's quality of life. It supplies over 15 million gallons of water per day to 300,000 persons in over 60 communities.
Rend Lake was built as a joint project by the Illinois Department of Conservation, the Rend Lake Conservancy District, and the U.S. Army Corps of Engineers. This 18,000 acre reservoir was built to provide a dependable domestic water supply to a two-county area beginning in 1965. Construction of the $60 million project took 5 years to complete with the final filling of the lake in the early 1970's. Since that time, many improvements have been made resulting in the current quality facilities that are currently available.
Rend Lake State Fish and Wildlife Area was developed to provide public hunting, and other recreational opportunities.
Rend Lake with its excellent camping, lodging and boat launch facilities, is a great headquarters for anglers. Since75 % of the park's boundary is Rend Lake shoreline, the site provides outstanding bank fishing opportunities. The lake is well-known as an outstanding sport fishery for white and black crappie, particularly in the early spring, as well as excellent fishing for largemouth bass, channel catfish and bluegill. As a result of a DNR stocking program, the lake is one of the few southern Illinois locations to have a noteworthy white bass fishery. Current state records for bowfin and black crappie were creeled from Rend Lake.

Rend Lake, being a relatively shallow reservoir, is very productive for both sport and commercial fish. All species of fish common to southern Illinois can be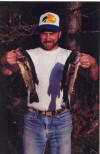 found at Rend Lake; however, abundant and large crappie and channel catfish will delight any angler. Hybrid striped bass are also a popular catch and flathead catfish have become established generating considerable angler interest. A commercial fishing program is conducted each winter which allows the general public to purchase fresh buffalo, carp and other commercial species.
Largemouth Bass
Largemouth bass is one of the most popular species in Rend Lake. In Rend Lake, largemouth bass fishing is generally best from early April to mid-June and again from early September to mid-October when the water temperature ranges between 55 - 75º. The best spots to fish in the spring or fall are shorelines, rock riprap or shallow, brushy or weedy areas that are utilized either for spawning or protective cover.
When daytime summer water temperatures approach the 80º mark, bass generally move to the deeper, cooler water along steep banks, in river and creek channels or old pond beds and spring seeps that also have protective cover. Plastic worms, spinner baits and the deep diving plugs are the best baits to use under these conditions. However, they will move from these areas into the shoreline shallows to feed during the early morning or late evening hours, which are prime times to fish.
Crappie

Both black and white crappie are found in Rend Lake. There are no striking differences in the habits of these two species; although the white crappie is apparently more tolerant of turbid waters. Both species like areas with an abundance of cover, which provides protection, food and some shade. Therefore, they are

generally found in bays and coves with stickups and flooded timber, around submerged fence rows, bridge pillars, in creek channels and along rip-rap areas from mid-September to early June.

During the summer months, crappie seek the cooler, deeper water of the lake. If they can be located in their deeper haunts, crappie can also be caught during the hot summer months.
Fishermen prefer using 10 to 14 ft fiberglass extension poles, cane poles or stiff action fly rods. These are rigged with 8-12 lb test monofilament line which is strong enough that crappie can be quickly pulled from the brush., or the wire hook

straightened out if one becomes snagged on brush or a tree. Light wire hooks, size No. 6 to No. 2 and small round, oblong or quill bobbers are commonly used.
Channel Catfish
The best fishing period for channel catfish runs from early May

until mid-October. Peaks of good fishing occur whenever there is a rise in pool level; especially in the shallower bays influenced by the tributary streams.
Channel catfish can be caught during the daylight hours if the water is murky or bait is worked into a deep hole or cover where they are hiding. Channel catfish are

omnivorous feeders or ones that are not selective in the food they eat. Their main food items are
crayfish, insects and their larvae, snails, small clams, worms and fish, both living and dead. However, any bait that will give off a strong smell or taste such as cheese, blood, soured fish, clam and meat chunks, entrails and liver will also attract the attention of a hungry channel catfish.
The pole and line fishermen confine the major part of their activities to the river and creek channels, or bay and shoreline areas where there are hard mud and sand bottoms.
Hybrid Striped Bass
Hybrid striped bass were initially stocked in Rend Lake in 1983 and 3-pounders were caught as early as the fall of 1985. Almost all shad-imitating plugs, spoons, and jigs are effective lures.
White Bass
White bass, a species not normally found in Southern Illinois waters, were initially stocked on an experimental basis by the Division of Fisheries. They have become well established and now provide some great summer and fall angling, which has really caught the fancy of the sport fishermen.
Up to date and timely information on hunting and fishing opportunities is available 24-hours a day 365 days a year, through the Rend Lake Recreation Information Network. Weather forecasts and lake conditions are updated regularly. Information on seasonal fishing prospects and goose information, is also available. The Rend Lake Recreation Information Network can be accessed by tuning your car's AM radio to 530 kHz.
Fishing reports can also be found online at http://www.rendlake.com/pages/recreation/fishingreport.htm
Rend Lake Resort

This is the place to stay while you're fishing Rend Lake and enjoying the surrounding area. This beautiful waterside resort offers first-class accommodations in one of southern Illinois' finest recreation areas, Wayne

Fitzgerrell State Park. All 105 rooms and
cabins have balconies or decks with lakefront views, full baths, TVs and telephones. Some rooms have fireplaces, sleeping lofts and spas, and some are wheelchair accessible. Although cabins do not have cooking facilities, they are equipped with

refrigerators, and they are all on the lakeshore. In fact, you can fish from the deck of some of them.

Offering breakfast, lunch and dinner, Windows Restaurant at Rend Lake Resort features a lounge and casual outdoor deck dining. House specialties include pork

chops, catfish and steak, plus excellent homemade salads and desserts. The restaurant also offers a kid's menu.
Amenities include an outdoor swimming pool, tennis court, playground, golfing packages, a convenience store and gift

shop, gas for boats, courtesy boat docking

and rental of pontoon boats and wave runners, and a conference center that will accommodate groups from 25 to 600.
Rend Lake Resort is the location to select as your headquarters for all your recreational activities while you're

fishing one of Illinois's best bass and crappie lakes. For a break from fishing or for other members of the family there are other activities at Rend Lake. Different seasons also offer different activities.
Boating
Boating enthusiasts will find easy access to Rend Lake. Within the Rend Lake State Fish and Wildlife Area, eight of the 19 public access areas provide launching ramps. There are also five additional ramps within the sub-impoundment used seasonally for waterfowl hunting and a large one at Rend

Lake Resort. Rend Lake is a relatively shallow reservoir averaging less than 10 ft in depth with many submerged and exposed stumps, therefore, boaters must be alert while operating in these areas.
Camping
Wayne Fitzgerrell has 40 tent sites to accommodate primitive campers who relish a rustic outdoor experience. Those who want a few more amenities can take advantage of the 243 modern campsites, which offer electrical hookups and sanitary facilities. Three shower buildings are available for campers.
Campers should register with the Campground Host upon arrival. The fee for camping is $15 per night for sites with electricity, or $6 per night for a primitive site. The campground remains available on a first-come, first-served basis which gives everyone equal opportunity for campsites.
Rend Lake Shooting Complex

Located in the Wayne Fitzgerrell State Park, the Rend Lake Shooting Complex

offers shooters a state of the art shooting facility with 10 fully automated traps, 38 station clay range, Handicap accessible traps and shooting, 5-

stand with a tower and 7 traps, Skeet field, 3-D Archery Range, fully ADA accessible and Pro-Shop. No membership is required, and it is open year round.
Rend Lake Marina
Rend Lake Marina offers every convenience you would ever need, including fuel, boat parts, large dock & slip facility and pontoon and boat rentals.
Hunting
The sub-impoundment dams across the Big Muddy River and Casey Fork Creek and the upstream areas they impound, are planted to a variety of crops and are flooded when mature for optimum waterfowl hunting. A daily drawing is conducted on site for the allocation of goose pits at the popular Whistling Wings Access Area and staked locations throughout the Casey Fork Sub-impoundment. There are also considerable acreages at high elevations that provide excellent habitat and opportunity for archery and firearm deer hunting. Another popular attraction is the annual controlled pheasant hunt held at Wayne Fitzgerrell State Park. Hundreds of upland game hunters flock to Wayne Fitzgerrell each fall to participate in a controlled pheasant hunt accommodating up to 120 hunters a day.
Available game species include: Waterfowl, quail, rabbit, squirrel, dove, deer, woodcock, furbearers, and turkey.
Wayne Fitzgerrell State Park
Overlooking the 19,000-acre Rend Lake Reservoir, Wayne Fitzgerrell State Park has another 3,500 acres of recreation area. It is a gateway to Southern Illinois' biggest outdoor playground - a paradise for outdoor enthusiasts of all ages and interests. The park offers outstanding opportunities for hunting, fishing, camping, picnicking, horseback riding, hiking and other outdoor recreational pursuits
Dedicated in 1975, just five years after the Rend Lake reservoir was constructed, the park encompasses 3,300 acres of former farmland leased to the DNR by the US Army Corps of Engineers. The site is named in honor of the late Wayne Fitzgerrell, a state representative from nearby Sesser who was an advocate for the construction of Rend Lake.
Approximately 2,000 acres of the site are developed for picnicking, boating access, camping and other activities, while another 1,000 acres have been set aside for hunting, field trials, wildlife observation, hiking and other land uses.
The area contains many fence rows, abandoned crop fields and cleared farmsteads interspersed with small oak-hickory woodlands. Three quarters of the site's perimeter is Rend Lake shoreline. This varied topography provides excellent habitat for a variety of upland and woodland wildlife, as well as waterfowl, shorebirds and raptors.
Day Fees
A day use fee of $2.00 per day is collected at designated Corps of Engineers boat ramps. Day use fees also apply to swimming (must be paid before swimming) at the North Marcum and South Sandusky beaches. Standard fees are $1.00 per person with a maximum charge of $3.00 per car. Children, 12 and under, are admitted free to the beach. An annual day use pass for boat ramps and beaches may be purchased at Corps of Engineers offices for $25.00. Persons with a Corps of Engineers camping permit are exempt from day use fees on any date for which the permit is valid. Golden Age and Golden Access Discounts apply to day use fees.
Driving time
Convenient Interstate access makes getting to Rend Lake a snap. .Drive time from St. Louis is 1.5 hours, from Chicago it's 5 hours .
For more information on hunting, fishing and golfing packages or to make lodging reservations, call 618-629-2211 or 800-633-3341.
Lake and Dam Demographics:
Shoreline length…...162 mi
Pool length................13 mi
Pool Width..................3 mi
Maximum depth…......35 ft
Average depth...........10 ft
Surface area…...24,800 acres
Contact information
Rend Lake Resort
11712 East Windy Lane
Whittington, IL 62897
618-629-2211
800-633-3341
http://www.rendlakeresort.com/
Fishing Reports
http://www.rendlake.com/pages/recreation/fishingreport.htm
U.S. Army Corps of Engineers
Rend Lake Visitor Center & Project Office
12220 Rend City Road
Benton, IL 62812
618-724-2493
Located at the east end of the Main Dam Road
Wayne Fitzgerrell State Park
Illinois DNR
11094 Ranger Road
Whittington, IL 62897
618-629-2320
800- 633-3341
http://dnr.state.il.us/lands/Landmgt/PARKS/R5/WAYNE.HTM
Rend Lake Marina
8955 West Dam Lane
Benton, Illinois 62812
618-724-7651
http://www.rendlakemarina.com/
Illinois Department of Natural Resources
Region 5 Office
11731 State Highway 37
Benton, IL 62812
618-435-8138
Illinois DNR State Fish and Wildlife Area
R.R. 1, Box 168G
Bonnie, IL 62816
618-279-3110
http://dnr.state.il.us/lands/Landmgt/PARKS/R5/RENDLAKE/
Rend Lake Marina
8955 West Dam Lane
Benton, Illinois 62812
618-724-7651
http://www.rendlakemarina.com/
Illinois Department of Natural Resources
Region 5 Office
11731 State Highway 37
Benton, IL 62812
618-435-8138
Illinois DNR State Fish and Wildlife Area
R.R. 1, Box 168G
Bonnie, IL 62816
618-279-3110
http://dnr.state.il.us/lands/Landmgt/PARKS/R5/
Rend Lake Shooting Complex
Rt. 3, Box 242
Benton, IL 62812
(618) 629-2368
Just off Interstate 57 at Exit 77
http://www.rendlake.org/shooting/
Other Important Phone #s