Invasive snail found in Lake Michigan
New Zealand mud snail now in four of Great Lakes
Champaign (AP)--A rapidly reproducing, tiny invasive snail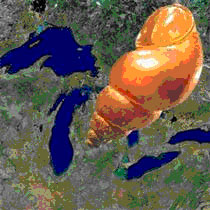 recently found in Lake Michigan could hurt the lake's ecosystem, say government research scientists. The New Zealand mud snail joins a long and growing list of nonnative species moving into the Great Lakes, threatening to disrupt the food chain and change the aquatic environment.
Scientists checking Lake Michigan water samples earlier this summer found a population of the New Zealand mud snail, the Illinois Natural History Survey said. They grow to only a few millimeters — several dozen could sit on the surface of a dime — making them hard to spot.
The snails reproduce asexually and in large numbers, and have no natural predators in North America, Kevin Cummings, a Natural History Survey scientist said recently. That means they could quickly spread, at high enough densities to out-compete native invertebrates for food and living space, he and other scientists say.
"It's hard enough to contain a species once it makes its way into nonnative waters," Cummings said. "When each mud snail has the ability to produce large quantities of embryos without a partner, you've really got a problem."
Scientists won't know for some time how well the mud snail will do in Lake Michigan, but it has been in Lake Ontario since the early 1990s and lives in high numbers there and in Lakes Superior and Erie, said Dr. Rochelle Sturtevant, an ecologist with the National Oceanographic and Atmospheric Administration's Great Lakes Environmental Research Lab in Ann Arbor, Mich.
The snail is native to New Zealand but is now found in several western states and all the Great Lakes except Lake Huron. It is carried in ships' ballast water and, once in lakes and
streams, hitches a ride on boats and even the clothes worn by human waders.
"Where they've gotten into streams in the western part of the country, they've caused a lot of problems," said Sturtevant. "They're taking over space that should have other native species living in it."
Plenty of invasive species have made homes for themselves in the Great Lakes. Zebra and quagga mussels are a threat to the region's $4 billion-a-year fishery, eating up algae that is the lowest link in the lakes' food chain. And some invasive species make it possible for others to follow, Sturtevant said. The round goby, an aggressive fish native to Eurasia, now thrives in the Great Lakes because it eats zebra mussels.
Those are just a handful of what Sturtevant says are now at least 186 invasive species in the lakes.
The U.S. Geological Survey adds the tiny snail has been documented in Lake Erie, Lake Ontario and Lake Superior. Now researchers have reported the species in Lake Michigan, and the waters flowing from Lake Ontario.
However, Hugh MacIsaac, a researcher at the University of Windsor's Great Lakes Institute for Environmental Research, said he remains unconvinced the New Zealand mud snail will wreak havoc. "It is concerning to see yet another addition to the Great Lakes," said MacIsaac. "But I cannot see how these snails can be anywhere as invasive in the Great Lakes as they are in streams. "These snails are felt most in shallows."
Conservation groups are particularly critical of the role oceangoing ships play in introducing species like mussels to the lakes. Ships that aren't loaded down with cargo fill their ballast tanks with water for better stability when they're on the ocean, then empty the tanks when they arrive in port. That ballast water often contains any number of species, from microscopic organisms to mussels and fish.
The U.S. Environmental Protection Agency introduced a plan earlier this summer that would require ships to dump ballast water at least 200 miles from shore. But the plan, including a permit required to dump ballast water, includes an exemption for loaded ships. The angling community is particularly critical of the EPA's plan.
---
Weekly Great Lakes Water Levels for August 15, 2008
Weather Conditions
Typical summer like weather occurred in the Great Lakes basin this week. Lots of morning sunshine lead to scattered afternoon thunderstorms in many locations. More scattered showers are expected Thursday. To date in August, the Great Lakes basin as whole has seen 87% of its average precipitation. High pressure will build in for the weekend leading to very nice weather. Temperatures will top out near 80, under abundant sun.
Lake Level Conditions
Currently, all of the Great Lakes are above their levels of a year ago. Lake Superior is 17 inches above last year's level, while the remaining Great Lakes range from 6 to 15 inches above their levels of a year ago. Lake Superior is forecasted to remain steady over the next 30 days, while Lake Michigan-Huron is predicted to decline an inch. Lakes St. Clair, Erie and Ontario are in their periods of seasonal decline and are forecasted to fall 5 to 8 inches during the next month. All of the Great Lakes, with the exception of Lake Erie, are expected to remain above their water levels of a year ago over the next few months. Lake Erie is projected to be near last year's level starting in September.
Current Outflows/Channel Conditions
In July, outflow through the St. Mary's River was slightly below
average, and outflows through the St. Clair and Detroit Rivers were also below average. The Niagara River's outflow was slightly above average, while outflow from the St. Lawrence River was also above average.
Alerts
Users of the Great Lakes, connecting channels and St. Lawrence River should keep informed of current conditions before undertaking any activities that could be affected by changing water levels. Mariners should utilize navigation charts and refer to current water level readings.
| | | | | | |
| --- | --- | --- | --- | --- | --- |
| | Superior | Mich-Huron | St. Clair | Erie | Ontario |
| Level for Aug 15 | 601.8 | 578.2 | 574.4 | 571.7 | 246.4 |
| Datum, in ft | 601.1 | 577.5 | 572.3 | 569.2 | 243.3 |
| Diff in inches | +8 | +8 | +25 | +30 | +37 |
| Diff last month | +1 | 0 | -2 | -5 | 0 |
| Diff from last yr | +17 | +9 | +8 | +6 | +15 |
---