Tips on where to go, what tactics to use
MADISON – Wisconsin's record-setting heat and resulting high water temperatures may be stressing northern pike, but catfish aren't complaining and anglers will find that for the next few months, these fish are the cat's meow.
"The catfish populations are looking outstanding in the Wisconsin River from Wausau to Wisconsin Rapids," says Tom Meronek, fisheries biologist. "The fish are very active with the high water temperatures. Definitely, folks should try catfishing this year if they have never done it, river conditions are perfect, because catfish love the heat."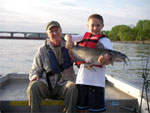 Fishing for 'cats is fun for anglers of all ages

They are also on the Mississippi River, where Potosi bills itself as "Wisconsin's Catfish Capital" and on Aug. 12 holds its Potosi Firemen's Catfish Festival (exit DNR), where area firemen will be frying up the cats in their secret batter.
Fisheries biologists are reporting that cat fishing is sizzling, as the reports below show, and that fishing opportunities for it should remain strong into the fall.
"Catfish are very abundant and can be had just about anywhere," says Kurt Welke, fish biologist stationed in Fitchburg, talking about the Madison lakes. "Corn, stink bait, crawlers – it doesn't matter, they go for it."
Wisconsin is home to eight species of catfish, five of which are game fish targeted by anglers, and brown, yellow and black bullheads. For most Wisconsin anglers, the channel cat is the prime target – it's widespread, grows big, is easy to catch, and is tasty fried up in a pan.
Channel catfish may be found in all three of Wisconsin's major drainages – the Mississippi River, Lake Michigan, and Lake Superior. It is most common in the Mississippi River and in southern Wisconsin. It prefers riverine habitat, but may be found in some lakes and reservoirs, and it is an opportunistic feeder, taking insects, fish, crayfish and amphibians. It is the single most important commercial species in Wisconsin waters of the Mississippi River. The state record caught by hook-and-line was 44 pounds in 1962 from the Wisconsin River.
Flathead catfish are the state's largest piscivore (fish-eater) and some fish may have historically exceeded 120 pounds. The state record caught by hook-and-line was 74.5 pounds in 2001 from the Mississippi River. In 1911, two fish caught by set line in Wisconsin were reported to weigh 118 and 125 pounds, according to "Felines with Fins," in the February 2007 Wisconsin Natural Resources magazine.
The black bullhead is the most common bullhead in Wisconsin waters. Bullheads are harvested by many anglers and are often a young angler's first introduction to catfish – and to a fish that can "bite" back, according to Steve Hewett, DNR fisheries section chief. The state records for bullheads range from 3 pounds 5 ounces for a yellow bullhead from Nelson Lake in 1983 to a 5 pound 8 ounce monster black bullhead from Big Falls Flowage in 1989.

The season for channel and catfish is open all year, with a daily limit of 10 in total. There are no minimum length limits. The season for bullheads is open all year and there are no size nor bag limits.
Wisconsin's fish consumption advisory recommends that children and women of child bearing age limit themselves to one meal per month of catfish, while men and older women can eat one meal per week of the cats. The exception to those recommendations is for catfish caught in certain rivers, where PCBs may be a problem. Parts of the Black, Fox (IL), Lower Fox, Kewaunee, Manitowoc, lower Milwaukee, Mississippi, Red Cedar, St Croix, St. Louis, Twin, Wisconsin Rivers and Green Bay and due to mercury in Lake Arbutus.
Recipes for catfish, information about where to go to fish for them, and trips on making the most of your tip can be found on catfish pages of the DNR website. Some fish biologists turned in "forecats" for the next few months of fishing, below.
Pool 8 on the Mississippi River
In the last 30 years, the only time channel catfish catch rates were higher were during the summers of 1993-1995. During 2011 we had the second largest average size of channel catfish recorded since routine surveys were started in 1982. The largest channel catfish on average were found the previous year in 2010. Channel catfish larger than 31 inches and flathead catfish larger than 43 inches lurk in the deep waters of the Mississippi River. – David Heath, fisheries biologist, La Crosse
Petenwell Flowage
Channel catfish are plentiful in the Petenwell Flowage, but the few anglers
that the wardens have talk to report that the catfish bite is slow. – Jennifer
Bergman, fisheries biologist, Wisconsin Rapids
Peshtigo River
Fishermen floating the Peshtigo River are catching smallmouth bass, pike, and catfish along the entire length of the river. Top water baits have provided most of the action. Anglers trolling for trout and salmon between Peshtigo and Marinette have also been catching a fair number of large catfish. – Tammie Paoli, fisheries biologist, Peshtigo
Wisconsin River in central Wisconsin
The catfish populations are looking outstanding in the Wisconsin River from Wausau to Wisconsin Rapids. Our recent summer survey provided a good look at our local catfish population, as survey nets were full each day. The most common sizes were between 18-20 inches, these are perfect for getting nice fillets for grilling or smoking. The fish are very active with the high water temperatures. Definitely folks should try catfishing this year if they have never done it, river conditions are perfect, because catfish love the heat.- Tom Meronek, fisheries biologist, Wausau
Illinois Fox River
We performed a catfish survey on the Illinois Fox this past June. We found excellent size structure and abundance with fish ranging from 16"-28". The survey was performed near big bend and anglers were catching cats near woody structure using cut bait. - Benjamin Heussner, fisheries biologist, Waukesha
Lower Chippewa River
Catfish populations are strong on the lower Chippewa River from Lake Holcombe downstream to Lake Pepin. Catfish anglers do best on the main flowages such as Lake Wissota and the Holcombe Flowage however the smaller riverine flowages such as Cornell, Old Abe, Chippewa Falls and Dells Pond should not be overlooked. Boat access is plentiful on these flowages and shorefishing opportunities are present in many locations. Downstream of Eau Claire the Chippewa River is free flowing for 61 miles and provides a riverine catfishery experience. This area is in the Lower Chippewa River State Natural Area and provides anglers with a semi-wilderness angling experience with a setting of towering bluffs, floodplain forest and solitude. Access points at Eau Claire, Carryville, Meridean, Durand, Ella and the Tiffany Bottoms are present on this section of river. Water can get low in late summer downstream of Eau Claire and canoes, very small boats and jet/air boats work best for navigation on this portion of river, upstream boat passage can get difficult especially downstream of Durand. – Heath Benike, fisheries biologist, Eau Claire
St. Croix River
Just stopped in the bait shop in Star Prairie last night The word is catfish angling has been excellent on the St. Croix River in the Apple River bottoms area the last few weeks. There also are fair number of huge flatheads in the area other than channel catfish.- Marty Engel, fisheries biologist, Baldwin
Southwest Wisconsin
The low water conditions and high temperatures have not slowed the channel catfish bite here in southwest Wisconsin. Catfishing in Southwest Wisconsin has remained stable and with the spawning season over, both males and female channel catfish will be active. Low water has limited the access for boat anglers in many areas. Anglers finding their way to the water, either by boat, canoe, or bank have been reporting good success while catfishing this summer.
Anglers are reporting success for channel catfish from the lower Pecatonica River, lower Sugar River, and lower Platte River. For the Lower Platte River focus your effort within the first 2 miles upstream of the Mississippi River. Night crawlers and cheese bait have been the bait of choice for these three rivers. The Lower Wisconsin River from Prairie du Sac to the Mississippi River is by far one of the best channel catfish fisheries in Southwest Wisconsin. This stretch of River is also producing good channel catfishing this summer. Anglers will find success fishing cheese or blood-flavored dip bait while on the lower Wisconsin River. Anglers fishing cut bait on the Lower Wisconsin River will find catch rates a bit lower than with dip baits, but the average size of catfish caught will be higher.
As we near the end of summer and approach fall, anglers may see the bite slow in their favorite summer fishing holes. Catfish may start to migrate towards their overwintering areas forcing catfish anglers to change locations as well. Tagged catfish on the Pecatonica River started migrating as early as the 18th of August. In our small rivers along the Mississippi River and the Wisconsin-Illinois border, catfish tend to migrate downstream. Some may leave our state all together, but many will still remain for anglers to pursue. – Bradd Sims, fisheries biologist, Dodgeville
For more info: Steve Hewett (608) 267-7501 or your local fish biologist
---