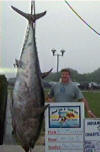 Shark Fisherman Reels In Record Tuna
Fisherman Dan Dillon went out to sea in search of shark. He returned empty handed, at least as far as sharks are concerned. Dillon, however, did reel in an 873 lb bluefin on July 9, 2005, the biggest tuna on record in Delaware.
Dillon, 39, a real estate executive from
Herndon, VA, said the monster fish was caught 40 miles off the southern Delaware
coast. He used an 80 lb test monofilament line on an 80 lb class reel, using a bluefish fillet as bait. Measuring 9' 7" in length, 80" in girth, the fish outweighed the state's previous record catch by more than 500 lbs.
---
Robin, Not Crow, May Be West Nile Culprit
HARTFORD, Conn. (AP) — The American robin, not the crow, may be the more potent source for West Nile virus, according to new research. A DNA analysis of blood taken from the abdomens of 300 mosquitoes trapped in Connecticut over the past three years found that 40 % fed on the blood of the red-breasted songbird and only 1 % on crows, said Theodore Andreadis, chief medical entomologist at the Connecticut Agricultural Experiment Station.
His findings have been turned over to the federal Centers for Disease Control and Prevention for publication in the agency journal Emerging Infectious Diseases. West Nile virus has
been identified in more than 200 species of birds, according to the CDC.
"I'd be surprised if the American robin would be very important," said Komar, who had not yet seen Andreadis' data. "I wouldn't jump to the conclusion that crows are not important. If this study analyzes mosquitoes where there are lots of robins but no crows that could be misleading. "What mosquitoes feed on is a very complicated and very large puzzle. We need more data," Komar said. "Sometimes researchers will find one piece that fits. All the pieces are required."
---
Contest Rewards Kids for Wearing Life Jackets and Telling Us About It
The National Safe Boating Council's Boating Safety Sidekicks want kids to tell us the reasons why they wear their life jackets. We hope that by hearing these stories their parents, brothers, sisters, families and friends will realize how important it is for children as well as adults to wear their life jackets.
The "Why I Wear My Life Jacket" contest is requesting essays or short stories from kids between the ages of 4 and 15, explaining the importance of wearing a life jacket and why they choose to wear one. The stories should be between one and two pages and discuss their various boating experiences and why they have worn a life jacket while on the water. The entries can be mailed or emailed to the National Safe Boating Council
at Sidekicks Life Jacket Stories, P.O. Box 509, Bristow, VA 20136 or to [email protected]
A first, second, and third prize winner will be announced in the following age groups: 4 to 7 years old, 8 to 11 years old, and 12 to 15 years old. Winners will receive a $100 dollar savings bond! Awards will be given based upon good grammar, punctuation, composition, and the story told. Entries should include your name, age, and mailing address.
For more info go to www.boatingsidekicks.com or www.safeboatingcouncil.org , or to submit your entry. The deadline for entries is November 1, 2005. The winners will be announced the first week in December on the "Sidekicks" and the Council's web sites.
---
FishAmerica and NOAA Award Grants for Fisheries Habitat Restoration
Alexandria, VA…The FishAmerica Foundation and the National Oceanic and Atmospheric Administration's (NOAA) Restoration Center awarded 22 grants totaling more than $785,000 for fisheries habitat restoration projects located in communities in twelve states. The projects range from improving fish passage in the Betsie River (Michigan) watershed of Lake Michigan to recreating oyster reef fisheries habitat in San Francisco Bay to restoring hurricane-damaged fish habitat in Florida. This is the first year the partnership will fund projects in the Great Lakes watershed.
The grants were awarded to local watershed associations, conservation clubs, and local and state agencies. Over the course of the projects, it is estimated that more than 1,400 volunteers will donate 15,000 hours to restore sport fish spawning and rearing habitat, improve water quality and improve fish passage for salmon, trout, striped bass, bluefish, snook, tarpon, redfish, black drum, sheepshead, flounder and other sport fish.
The twelve states receiving funding are: Alaska, California, Florida, Massachusetts, Michigan, New Jersey, New York, North Carolina, Oregon, Pennsylvania, Rhode Island and Washington state.
In the United States, saltwater recreational fishing is a $31
billion industry while fishing in the Great Lakes adds an additional $7.3 billion to the economy. Overall, American anglers spend $41.5 billion in retail sales and generate $116 billion in economic benefits for the nation each year.
Grants awarded in the Great Lakes:
Michigan:
The Conservation Resource Alliance was awarded $20,000 to improve fish passage along Dair Creek in the Betsie River watershed of Lake Michigan, a popular fishing spot for local anglers.
New York:
The Chautauqua County Soil and Water Conservation District was awarded $50,000 to stabilize and restore the streambanks of Chautauqua Creek, a major tributary of Lake Erie. A prime trout stream, the creek's lower five miles provides spawning and rearing habitat for coho, Chinook, steelhead, and brown trout.
Pennsylvania:
The Pennypack Ecological Restoration Trust was awarded $42,800 to remove the Bethayres Dam along Pennypack Creek in the Delaware River watershed, initiating the restoration of fish passage to nearly thirty miles of valuable spawning and rearing habitat for many species of anadromous fish.
---