Agencies keep pressure on Asian Carp activities and potential expansion
Regional committee, state agencies committed to control – search and destroy, but how successful?
Right now there are major activities going on in different parts of the Great Lakes Region, searching for any presence of Asian Carp. But how successful are they- and will they continue to be, at controlling the presence and expansion of these scary and heinous critters?
Asian Carp sampling for eDNA evidence is ongoing - in the Chicago Waterway System (CAWS) by the Asian Carp Regional Coordinating Committee; the state of Michigan, using the study team from the University of Notre Dame is monitoring for eDNA evidence in the southwestern Lake Michigan tributaries, and the Ohio DNR Division of Wildlife and U.S. Geological Survey are monitoring the tributaries of western Lake Erie and looking into the Maumee River for any populations that may be hunkered down there.
In Canada, Fisheries and Oceans Canada (DFO) is leading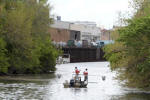 the Canadian research, while it's Centre for Expertise for Aquatic Risk Assessment is leading the risk assessment, which is being coordinated by the Great Lakes Fishery Commission. The DFO effort, under the able leadership of Becky Cudmore is doing an extensive evaluation of the risk assessment of Asian Carp in the Great Lakes and the North American Continent.
They are conducting research that will complement ongoing work in the Unite States to look at potential entry points, food supply, habitat and spawning habitat availability, potential spread and impact in Canadian waters. The results of this research, along with those from the U.S., will feed into a binational risk assessment. It is anticipated the risk assessment will help clear up uncertainties surrounding potential introduction, survival, establishment and impact in the Great Lakes, and provide science-based advice for managers to direct activities.
The 18-month long study requested by the GLFC should be completed late this year. Cudmore tells us, "The data should be available in November-December of this year."
The most intense and possibly the most critical activities are ongoing, and renewed from last year, in the Chicago Waterway. Formed last year, The Asian Carp Regional Coordination Committee is committing federal funds and resources to contain any carp movements.
Federal and state officials announced at a recent media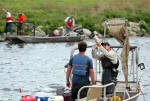 boat outing an updated plan to prevent Asian carp from expanding beyond the Chicago River system, or other waterways, and establishing themselves in Lake Michigan and the other Great Lakes. The program does not include closing the locks at the head of
the Chicago River, an activity sought by state officials from
other Great Lakes States who went so far as filing federal lawsuits to accomplish that task. That and subsequent appeals were rejected by the courts.
"We're not letting up in our fight to keep Asian carp from the Great Lakes," said John Rogner, assistant Illinois DNR director. "We're not letting up on our monitoring activities. We are building on what we did last year and expanding on those programs and eDNA evidence." Rogner added, "If Asian carp are above the barrier, they're in very low numbers. We're prepared to take any action to keep Asian Carp out of the Great Lakes."
Rogner added Illinois DNR biologists/researchers have been on the water since late March monitoring the area. Right now Asian carp have been monitored 35-65 miles downstream of the barrier - majority of the carp are located there.
The ACRCC committee, comprised of federal, regional and state natural resources agencies, is using all known methods to deal with this pending environmental disaster, including electro-shocking, hiring commercial fishermen to set gill nets to remove the carp from the CAWS system, and eDNA testing by the U.S. Army Corps of Engineers.
Asian Carp Director John Goss and other state and federal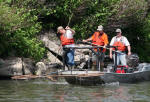 officials took the media and this individual for a boat ride on the to see Asian carp monitoring and sampling strategies on the Chicago Area Waterway System to an area called Bubbly Creek, about three miles from the lakefront. State and federal fisheries biologists, and commercial fishermen were using electrofishing boats and gill nets to sample the waters for any carp activity. They only found the common carp, and some game fish. They were also taking water samples for subsequent eDNA testing, all activities they will be repeating every two weeks.
Illinois Natural History Survey biologists were sampling for fish eggs and larval fish. The agency, a division of the Ilinois Dept of Natural Resources is monitoring the river for Asian Carp.
USFWS Deputy Regional Director, Charley Wooley said "we have the ability to use federal dollars to survey and sample with nets and electrofishing. If there is a need for a rapid response anywhere in the Great Lakes the USFWS will move with all haste. "We will be using cutting edge scientific methods to monitor Asian Carp" added Wooley. "It's an important component of our strategy, and will include the use of underwater Didson cameras to monitor and evaluate carp activities at strategic locations. Another is to identify and block other avenues into the Great Lakes." Responding to questions about the camera, he said "these cameras have sonar/acoustic imaging capability, and we'll be reporting more on them as we proceed."
---
Weekly Great Lakes Water Levels for June 3, 2011
WEATHER CONDITIONS
Temperatures were hot and humid across the Great Lakes basin at the start of the week. Several areas saw strong to severe storms on Tuesday, which was followed by much cooler temperature and less humidity on Wednesday. There is another chance for thunderstorms in some locations today and tomorrow with heavy rainfall possible in northern portions of the basin and the potential of up to an inch of rain. Temperatures are expected to be around seasonal averages for the weekend.
LAKE LEVEL CONDITIONS
Lakes Superior and Michigan-Huron are 1 and 2 inches, respectively, above their levels of a year ago. Lakes St. Clair, Erie, and Ontario are 9, 13, and 24 inches, respectively, higher than they were at this time last year. Over the next thirty days, Lakes Superior and Michigan-Huron are projected to climb 4 and 2 inches, respectively. The water levels of Lakes St. Clair, Erie, and Ontario are forecasted to decrease 3, 4 and 4 inches, respectively, over the next month.
FORECASTED MONTHLY OUTFLOWS/CHANNEL CONDITIONS
Lake Superior's outflow through the St. Mary's River is projected to be below average for the month of June. The outflows from Lake Huron into the St. Clair River, and from Lake St. Clair into the Detroit River, are expected to be
below average throughout the month of June. Lake Erie's outflow through the Niagara River is predicted to be above average and the outflow of Lake Ontario into the St. Lawrence River is predicted to be above average.
ALERTS
The water level of Lake Superior is below chart datum. Lake Superior is forecasted to remain below chart datum until July. Users of the Great Lakes, connecting channels and St. Lawrence River should keep informed of current conditions before undertaking any activities that could be affected by changing water levels. Mariners should utilize navigation charts and refer to current water level readings.
| | | | | | |
| --- | --- | --- | --- | --- | --- |
| | Superior | Mich-Huron | St. Clair | Erie | Ontario |
| Level for June 3 | 600.75 | 578.02 | 574.9 | 572.83 | 247.31 |
| Datum, in ft | 601.10 | 577.50 | 572.30 | 569.20 | 243.30 |
| Diff in inches | -4 | +6 | +31 | +44 | +48 |
| Diff last month | +5 | +5 | +6 | +9 | +11 |
| Diff from last yr | +1 | +2 | +9 | +13 | +24 |
---