Northern zone musky season opens May 23
MADISON - It may be hard to top last year's record haul of trophy muskies, but anglers wanting to try should target some of Wisconsin's largest musky waters in 2009. Last year's parade of monsters reaffirms that if you want to catch a big fish, you should fish big waters, says Tim Simonson, the fish biologist who leads the Department of Natural Resources' musky team.
"We know that the ultimate size of fish – how big they grow – is higher in larger lakes," Simonson says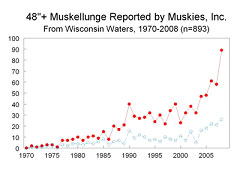 In 2008, anglers registered with Muskies Inc. a record
89 muskies caught from Wisconsin waters that were
48" or larger, 29 of which were 50" or larger.
Anglers who chose to register their 2008 catch with Muskies, Inc. reported catching a record-high 89 fish 48 inches or greater from Wisconsin waters, with 29 of them 50 inches or larger. That's up from 58 total fish 48 inches or greater registered in the previous year.
Nearly one third of the 2008 fish reported to the Musky Inc. registry came from the big waters Green Bay, the Fox River, or Lake Michigan. Another big water, the Chippewa River, in 2008 produced a new world fly rod record for a released fish on a 36-pound tippet for the 51.25" musky Hayward resident Brad Bohen caught Oct. 16, 2008. The Chippewa Flowage, an unnamed Vilas County lake, the Wisconsin River, the Holcombe Flowage in Chippewa County and Green Bay rank among the top 50 waters in the number of 50 inch and greater fish registered with Muskie Inc. since 1970.
Lake size explains nearly 70 % of the observed variability in the ultimate length musky reach, Simonson says. This relationship predicts that lakes larger than 2,000 acres typically support populations more likely to produce fish that will, on average, reach or exceed 50", he says.
The big fish are there for the catching. DNR fish technician

Greg Matzke displays the 50.7" musky he captured and released during spring surveys on Sherman Lake in Iron County. (WDNR Photo)
This relationship also predicts that lakes down to 100 acres (and lower) are capable, biologically, of producing 40 inch or larger fish, Simonson says. They may give up trophy fish on rare occasions, as DNR fish crews found earlier this month when they captured a 50.7-inch fish on Sherman Lake, a 123-acre walk in-access only lake in Iron County.
Scientists don't fully understand yet why musky grow to a larger size in larger waters, Simonson says, but it's likely related to the type and availability of forage in the big waters.
It's also likely related to the fact that it's easier for musky to elude capture in a bigger water. "When a fish lives 15 to 20 years, the chance of it being caught several times are pretty good, particularly in smaller waters," he says. "Every time it's caught, there's a chance it could be injured during handling even if it's released."
Lists of musky lakes and rivers in Wisconsin, including their size and classification as trophy waters or action waters, can be found on the DNR Web site.
The musky season opens May 23 in Wisconsin north of U.S. Highway 10, excluding Wisconsin Michigan boundary waters, and runs through Nov. 30. The daily bag limit is one and the minimum length limit is 34 inches is most waters. Check the 209-2010 fishing regulations for special regulations on some waters.
Wisconsin-Michigan boundary waters opened for musky fishing on May 15.
Lake Michigan waters north of Waldo Boulevard in Manitowoc open for musky fishing May 23. Included in this season are the Bay of Green Bay, the Fox River upstream to the DePere dam, Sturgeon Bay and other bays to Lake Michigan and Green Bay. The daily limit is one, the minimum length limit is 50 inches, and the season closes Nov. 30.
The Lake Michigan season for musky south of Waldo Boulevard in Manitowoc is already open. It runs May 2 through Dec. 31 and the daily limit is one. There is a minimum length limit of 50".
---
New online boating safety course is available
Now three convenient options to get this life-saving training
MADISON – A new online boating safety course can help young boaters meet state requirements to legally drive a boat -- and can help boaters of all ages stay safe on the water this summer, Wisconsin recreation safety officials say.
"This new course provides another opportunity for people to get trained and educated in the boating safety techniques and information that just may save their life," says Todd Schaller, DNR recreation safety chief. "We now offer three convenient options to choose from – two online courses and hands-on classroom instruction -- so people can find something that best fits their schedule and their learning styles."
Wisconsin law requires that anyone born on or after Jan. 1, 1989 must pass a boating safety course to operate a motorboat on Wisconsin waters. However, the DNR recreational safety specialists recommend that all boaters take the course to learn the rules and responsibilities of operating a boat.
The vast majority of boating accidents and fatalities on Wisconsin waters every year involve operators who have never taken a boating safety course. In 2008, 19 of the 20 people
killed in boating accidents on Wisconsin waters had never taken a boating safety education course. Operator inexperience, inattention, recklessness, and speeding are the four leading causes of these tragic accidents.
The new boater safety course is called BoaterExam.com and is offered by a company of the same name. It features many eye-catching animations and the ability for students to choose to hear the material as well as read it on the screen, making this course a good choice for younger students, says Cathy Burrow, recreational boating specialist. The "Boater Exam" joins BoatEd, the other online course that DNR provides through a private contractor. BoatEd has recently been updated to include animations, video and true stories of boating survivors.
The third option is classroom option provided by the DNR's corps of seasoned boating safety instructors. All three options cover the same material. Learn more about each of these three options online, including a schedule of courses offered in the classroom on the boating safety education page of the DNR Web site.
For more info: Todd Schaller (608) 267-2774
---
Anglers should reap the rewards this season from trout stream restoration projects
MADISON – For great trout fishing this summer, anglers will want to check out a recently released report detailing new trout habitat improvement projects on more than 100 miles of streams in 35 counties, Wisconsin fish biologists say. Such habitat projects often lead to eye-popping increases in fish populations at the habitat improvement sites, particularly a few years after work has been completed.
A recently released report on inland trout stamp revenue expenditures from 2004 – 07 details how $5,222,564 in trout stamp funds were spent, where habitat work was done, and summarizes projects that took place in 35 counties.
"Many anglers seek out streams with habitat work, knowing that good fishing will likely be found there," says Larry Claggett, Department of Natural Resources coldwater fisheries ecologist. "And since it takes a couple of years for the fish to respond, anglers should really start seeing the benefit of an improved fishery from projects in this timeframe."
Since 1978, anglers have had to purchase a trout stamp (now $10) to fish inland waters, with the funds going to restoring and improving trout habitat. Overall, the DNR fisheries program has restored more than 750 miles of trout stream, and each year, maintains many miles of previous habitat work and keeps more than 750 miles free of beaver dams in northern Wisconsin.
There is also a significant amount of revenue from general fishing license fee sales that supports inland trout habitat work. During 2004 to 2007, nearly an additional $1 million was spent on improving Wisconsin's inland trout streams.
Gilbert Creek in Dunn County is great example of habitat work well received.
In-stream trout habitat improvement projects completed on Gilbert Creek resulted in restoration of more than 2.5 miles of outstanding native brook trout water with densities up to 6,000 per mile, of which 700 per mile exceed the legal length limit of eight inches.
"The trout stamp program is very successful and directly benefits the angler," Claggett says. "Our goal is to make sure the trout are healthy, have good habitat and increased natural production, and that anglers have a great fishing experience. The program is as strong as ever thanks to trout anglers continued commitment to the sport and purchase of trout stamps."
Angler looking for more information on where the habitat work was completed can purchase a private book; Todd Hansen's 2008 "Map Guide to Improved Trout Waters of Wisconsin".
For more info: Larry Claggett, fisheries biologist, (608) 267-9658.
---