Asian Carp Committee Announces new Monitoring
and Sampling Plan
Includes closure of Little Cal River May 20-26, from 1-3 miles below the O'Brien Lock for Rotenone treatment
The Asian Carp Regional Coordinating Committe (RCC) is announcing its latest monitoring and sampling plan to guide Asian Carp control efforts in the Chicago Area Waterway System (CAWS).
"This sampling plan will provide us with important data needed
to make future decisions," said John Rogner, Assistant Director
of the Illinois DNR. "Keeping Asian carp from establishing a
population in Lake Michigan remains our ultimate goal and
we think this new monitoring pan will help us achieve
our objectives."
"These new monitoring efforts will help us make the most strategic decisions for keeping Asian carp from becoming established in the Great Lakes," said Charlie Wooley, Deputy Regional Director of the USFWS. "The new monitoring plan will provide the quantitative information necessary to determine the most successful control methods for Asian carp, if they are present in the area."
To date, the Regional Coordinating Committee's efforts have focused on monitoring and sampling the CAWS to determine whether positive hits of Asian carp environmental DNA (eDNA) found in multiple locations upsteam of the electric barrier indicate the presence of Asian carp. Traditional sampling techniques including gillnetting and electrofishing did not yield the capture of any Asian carp inareas surveyed during the inital six week sampling period.
Based on the eDNA tests, the new sampling and monitoring plan will take those traditional fishing methods to the North
Shore Channel where a three day sampling effort using
electrofishing gear and commercial fishing nets will be used
in an attempt to locate Asian carp. The operation will require
the Illinois DNR to close a portion of the North Shore Channel
starting on Tuesday, May 11 and will reopen the morning of
Friday, May 14. The area targeted for sampling extends ¼ mile
south of Oakton St, approximately five miles north to the
Wilmette Pumping Station. The North Shore Channel is almost
exclusively used by paddlers because of its shallow depths
and not navigable to most commercial and recreational boats.
The new plan also calls for a rotenone sampling operation upstream of the electric barriers near the O'Brien Lock and Dam to determine whether- and if so, how many- Asian carp might exist in that location where positive eDNA samples have been taken.
The planned application and subsequent fish recovery will
begin with waterway closure on Thursday, May 20 and last
five to six days. The application will take place on the Little
Calumet River approximately one mile downstream of T.J.
O'Brien Lock and Dam, east of the I94 overpass, and will cover a stretch of two miles downstream of the starting location.
The waterway will be treated in one day,and therecovery phase
of the operation will last between four to five days. During that
time, the FWS, IDNR, and other participating agencies will aim
to recover as many fish in the application area as possible to
determine theabundance and type of fish present in the treated area.
The U.S. Army Corps of Engineers will support this effort
by modifying operations at T.J Obrien Lock and Dam as needed
during the operation.
The toxicant will eradicate Asian carp and other fish in the canal,
but does not present a risk to people or other wildlife when
used properly.
During the application and recovery phases, the USCG will
implement a safety zone to protect waterway users and workers
conducting sampling operations in the vicinity of he O'Brien
Lock. Access to the canal will be restricted for a period of five to
seven days, meaning that boaters will not be able to transit the
safety zone until sampling operations are completed and the
safety zone is rescinded by the U.S. Coast Guard. Any safety
zone notice for these sampling operations will be published
in the federal register and will also be posted online at www.uscg.fishbarrierinfo.com.
The Monitoring Plan has several objectives with an overall goal
of preventing Asian carp from establishing self-sustaining populations in the Great Lakes including:
►Determine the distribution and abundance of Asian carp in
the CAWS, if they are present
►Establish parameters of acceptable risk and determine our
current risk level
►Remove Asian carp in the CAWS to a level below what is
considered an acceptable risk
►Determine the leading edge of major Asian carp populations
and reproduction
Rotenone, a fish toxicant commonly used in fisheries
management, was previously used on a six mile stretch of the
Chicago Sanitary and Shipping Canal in December of 2009
while the U.S. Army Corps of Engineers shut down the
Electric Barrier System for routine maintenance. That effort
yielded one Bighead carp caught just above the Lockport Lock/
Powerhouse about six miles downstream of the Electric barrier.
No Asian carp have been found above the electric barrier to date.
Knowledge of the population size and location of possible
Asian carp in CAWS is critical data that will inform biologists
and decision makers on selecting and prioritizing appropriate
actions to keep Asian carp from moving into Lake Michigan.
The U.S. Army Corps of Engineers continues to report eDNA
results through the RCC multi-agency http://asiancarp.org Web site.
These partners are working to address the threat Asian carp
pose to the Great Lakes through the development and
implementation of the Asian Carp Control Strategy Framework.
The Framework, which is guided by the latest scientific
research, is expected to encompass more than two dozen
short- and long-term actions and up to $78.5 million in
investments to combat the spread of Asian carp.
For up to date information about the efforts of the Asian Carp
Regional Coordinating Committee please see an updated
version of the Asian Carp Control Strategy Framework now
available at www.asiancarp.org.
---
Local fishing clubs raising fish
There are a handful of Ontario fishing clubs and some American clubs that raise and stock hundreds of thousands of salmon & trout annually to perpetuate our beloved fishery. Taken on as a long term permanent club project, annually raise and release Chinook Salmon, Rainbow trout and Brown trout; hundreds of thousands of them into Lakes Huron and Michigan and beyond.
The Lake Huron Fishing Club, with their Chinook Hatchery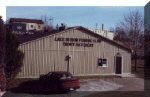 annually returns some 250,000 Chinook smolts back into the Lake Huron area. The Canadian government does not stock salmon into Lake Huron, so this task has been assumed by the club hatcheries such as the The Lake Huron Fishing Club. Other clubs such as Sydenhamham Sportsmen's Association and Blue Water Anglers, all members of the Great Lakes Sport Fishing Council, also contribute time, money, efforts and thousands of man-hours to these greatful and rewarding programs
In Kincardine, The Lake Huron Fishing Club's Trout Hatchery produces 2 types of fish; 60,000 brown trout are raised annually from eggs obtained from the Ministry of Natural Resources. They have been doing this since 1993. These fish are released directly into Lake Huron at sites from Point Clark to Pike Bay, usually the last week of October. Brown trout eggs are supplied by the OMNR.
Their hatchery also raises 60,000 rainbow trout annually from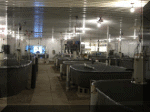 eggs obtained from wild fish on the Saugeen River. These fish are raised to 10 months of age when they will be 10 to 18 cms in length and weigh 25 to 75 grams. These fish are all released into the Saugeen River around the Walkerton area.The eggs are supplied by The Ontario Steelheaders and members of the Lake Huron Fishing Club.
In late April 2010 about 57,000 rainbow trout were released into
the Saugeen River in the Walkerton area. Average weight of the
yearling rainbows was about 49 grams. The Bluewater Anglershave been in the fish raising business since 1982. Their facility is located at the head of the St. Clair River in Point Edward, Ontario, which is used to restock lower Lake Huron with Salmon, Rainbow Trout and Brown Trout.
Several years later the Bluewater Anglers built an indoor facility for the annual rearing of 150,000 Chinook salmon and 25,000 Rainbow Trout, with occasional forays into Brown Trout. The hatchery is located immediately north of the Bluewater Bridge. Two wells inside the building provide a safe, 52 F water supply. The rearing season begins in September with the collection of Salmon eggs at Owen Sound. At the same time Rainbow Trout eggs are purchased for the hatchery. The 3" Salmon are ready for stock-out by mid April.
The Rainbows stay in the Bluewater hatchery until mid to late May and grow quickly to a 7" size. They are stocked within Sarnia city limits. Salmon, Rainbows and Browns are kept in an outside pond to grow to adult size for spectacular fish viewing.
The Sydenham Sportsmen's Association also operates Chinook salmon, rainbow trout and brown trout hatchery programs. Located on Owen Sound, the Association works in collaboration with the Weaver Family. Yearly they raise and stock 200,000+ chinook salmon, 125,000 rainbow trout and up to 100,000 brown trout.
Just south of Milwaukee and headquartered in Kenosha, on the western shores of Lake Michigan, the Kenosha Sportfishing & Conservation Association operates a rearing pond a stones throw from the big lake. On the evening of May 4th the KSFCA released 115,000 Chinook salmon from their net pens in Milwaukee. The KSFCA annually raise 60,000-100,000 fingerlings for about 6 weeks at the rearing pond before they transfer them to their net pens for imprinting. The organization was originally founded in 1969 to build their rearing pond, which they have maintained since then. The rearing pond had an excellent survival percentage.
Kudos to these and all the other clubs involved in egg taking, hatchery fish raising and net pen projects to help perpetuate our great fishery.
---
USGS Study up and running for 2010!
USGS researcher Jeff Schaeffer reports they had a great time presenting the 2009 results during April at the Sea Grant workshops and fishing club gatherings. It was nice to finally meet many of you in person and we hope that you enjoyed our presentations.
We have already sampled two tournaments in Port Huron, and we will sample a third tournament in Harbor Beach this Saturday. We have received reports that the first non-tournament stomachs have been collected already.
Sea grant funds and hiring of additional technicians to process stomachs is nearing completion, and we are already processing newly obtained stomachs with our existing staff from last year.
We have established seven locations (so far) where stomachs can be dropped off.
1. Straights State Park at the office, St Ignace
2. Cheboygan DNRE launch ramp, DNRE cleaning station
3. Rogers City boat launch cleaning station
4. Alpena field station office has a freezer
5. Harrisville State Park office has a freezer
6. Bunyantown marina also has freezer in Oscoda. They are right on route 23 at the river.
7. Lighthouse Park, freezer at the fish cleaning station in Grindstone City.
More freezer locations should be available within a few weeks, but these are available now.
Worse case scenario? We can pick up stomachs from you directly from your home freezer. We will do pick-up runs as needed during the summer.
Not everyone who wanted collection kits has them. There are three ways you can receive a collection kit.
1. Pick up an existing kit from MDNRE offices in Bay City or Alpena.
2. Print your own labels and use your own bags. Labels and instructions can be found in the attached word files.
3. Email us your address and we will mail you a kit.
Lake trout taken at Port Huron consumed gobies and rainbow smelt, but one had eaten a yellow perch.
Remember, this study achieved success by a large group of people each contributing what they could. The three, four, or five stomachs that you can provide are important and may be the only data we get from that area during the year. Every stomach counts.
Thanks and good fishing!
Jeff Schaeffer
USGS Great Lakes Science Center
1451 Green Rd. Ann Arbor, MI 48105
734-214-7250 (voice)
734-994-8780 (fax)
---
Weekly Great Lakes Water Levels for May 7, 2010
Weather Conditions
Scattered showers and thunderstorms occurred in many places across the Great Lakes Basin this week. Another low pressure system is expected to move into the region this weekend, bringing up to an inch of precipitation to portions of the basin. Temperatures are predicted to be much cooler through the beginning of next week, with a frost being a possible concern throughout the basin. The colder temperatures bring a chance for snow to be mixed with rain showers. By mid-week clouds are expected to clear giving way to a high pressure system and seasonably average temperatures. This warm-up brings additional chances for rain and scattered thunderstorms to be experienced by mid to the end of the week.
Lake Level Conditions
Currently, all of the water levels on the Great Lakes are below last year's levels. Lakes Superior and Michigan-Huron are 6 and 7 inches below last year's levels, respectively. Lakes St. Clair, Erie and Ontario are 11, 13 and 20 inches, respectively below the last year's levels. Over the next month, the water levels of Lakes Superior and Michigan-Huron are both expected to increase by 3 and 2 inches, respectively, while Lakes St. Clair and Erie are expected to rise by 1 inch. Lake Ontario is projected to rise 3 inches over the next month. Due to dry conditions so far in 2010 all of the Great Lakes are expected to be below their levels of a year ago during the next six months.
Forecasted May Outflows/Channel Conditions
The outflow from Lake Superior into the St. Mary's River is forecasted to be below average. The outflows from both LakeHuron into the St. Clair River as well as the Detroit River are forecasted to be below average. Near average outflow is expected from Lake Erie and into the Niagara River. Conversely, the flow in the St. Lawrence River is forecasted to be below average throughout the month.
Alerts
Users of the Great Lakes, connecting channels and St. Lawrence River should keep informed of current conditions before undertaking any activities that could be affected by changing water levels. Mariners should utilize navigation charts and refer to current water level readings.
| | | | | | |
| --- | --- | --- | --- | --- | --- |
| | Superior | Mich-Huron | St. Clair | Erie | Ontario |
| Level for May 7 | 600.62 | 577.85 | 573.88 | 571.33 | 244.98 |
| Datum, in ft | 601.1 | 577.5 | 572.3 | 569.2 | 243.3 |
| Diff in inches | -6 | +4 | +19 | +26 | +20 |
| Diff last month | -1 | +1 | +2 | +4 | +1 |
| Diff from last yr | -6 | -7 | -11 | -13 | -20 |
---