Bighead caught in St. Croix underscores urgency of Asian carp
The discovery late last week of another Asian carp at the mouth of the St. Croix River underscores the need to move ahead with efforts to stop their spread, according to officials with the Minnesota Department of Natural Resources.
On Thursday, April 19, commercial fishermen working near Prescott, Wis., netted a 30 lb bighead carp from the St. Croix River where it flows into the Mississippi. One of several nonnative species of Asian carp that can cause serious ecological problems, bighead carp have been working their way north in the Mississippi River.
Thursday's catch was the second time this year Asian carp have been found by commercial fishermen in Minnesota waters. In March, a bighead and a silver carp were netted on the Mississippi River near Winona. Last April, another bighead was taken from the St. Croix near Prescott. While no established populations of bighead or silver carp are known to exist in Minnesota, environmental DNA (eDNA) testing last year suggests the fish may be more common in Twin Cities segments of the Mississippi and St. Croix rivers than either agency or commercial netting have been able to confirm.
"This latest discovery – the third in the last year – underscores the urgency surrounding Asian carp," said Steve Hirsch, director of DNR's Division of Ecological and Water Resources. "These invaders have huge potential to wreak havoc on Minnesota's fisheries and aquatic ecosystems, so we need to do everything we can to stop them from spreading, and we need to do it now."
Hirsch said the highest priority action now is for Congress to authorize closure of the lock at Upper St. Anthony Falls. Bills to that effect have been introduced by Sen. Amy Klobuchar and Rep. Keith Ellison, with other members of Minnesota's congressional delegation as co-sponsors. Those bills also would increase federal support for Asian carp control efforts in the Mississippi River and its tributaries, which has until now been limited to the Great Lakes.
As part of an Asian carp control plan, the DNR also is working on several other measures to halt or slow their spread:
Obtain funds for a carp barrier at Lock and Dam #1 in Minneapolis

Continue eDNA monitoring and increase contract netting by commercial fishing operators

Do a vulnerability assessment to evaluate the risk Asian carp pose to Minnesota waters statewide

Support research to develop control techniques

Restore habitat for native fish species to increase ecosystem resiliency to resist invaers
Populations of bighead and silver carp are established in the Mississippi River and its tributaries downstream of Dubuque, Iowa. Bighead and silver carp are voracious eaters, capable of consuming 5 to 20 % of their body weight each day. They feed on algae and other microscopic organisms, often outcompeting native fish for food. Scientists believe Asian carp could severely disrupt the aquatic ecosystems of Minnesota waters. For more info: www.dnr.state.mn.us/asian-carp/index.html
---
DNR offers 12 parcels of land for sale
The Minnesota DNR will offer 12 parcels of land for sale at public auction May 30 at 11 a.m. in the DNR's Central office, 500 Lafayette Road, St. Paul, MN 55155. Registration begins at 10:30 am.
Parcels are located in the northern portion of the state
including Aitkin, Crow Wing, Cook, Hubbard and St. Louis
counties. While some parcels have been offered before, values are reflecting the change in the real estate market and may be at lower prices than previously offered. More info regarding land sales and terms and conditions: www.dnr.state.mn.us/lands_minerals/landsale/index.html
---
Lake Sturgeon making comeback on Lake of the Woods and Rainy River
The Minnesota DNR is celebrating a major milestone in the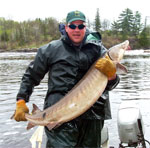 recovery efforts of the lake sturgeon population on Lake of the Woods and the Rainy River. According to DNR fisheries biologists, short-term population recovery goals have been met, which is a big step toward full recovery.
"The population is recovering nicely and it's a testament to a how successful long-term cooperative efforts on international and border waters can be when coupled with strong clean water legislation," said Phil Talmage, DNR area fisheries supervisor in Baudette.
The lake sturgeon recovery has been a cooperative effort between the Minnesota-Ontario Borders Waters Fisheries Mgmt Committee, which includes fisheries biologists from the DNR northwest and northeast regions and Canada Ministry of Natural Resources. Since the early 1980s, fisheries biologists in Minnesota and Canada have engaged in cooperative research and management of the fisheries resources along the U.S.-Canada border. Cooperatively, the Border Waters Lake Sturgeon Committee drafted short- and long-term goals for the lake sturgeon population.
The underlying objective was to re-establish and then maintain a self-sustaining sturgeon stock in all suitable habitats within the Minnesota–Ontario border waters. The population goals were based on what would be expected from a lightly exploited population. All of the goals were based on age, size, abundance and brook stock characteristics.
To monitor the recovery, DNR and Canada Ministry of Natural Resources biologists have aggressively surveyed the population. Early efforts included tagging studies to determine lake sturgeon movement. More recently biologists have conducted population estimates and annually monitored spawning locations. Through this cooperative effort, there are now almost 5,000 tagged lake sturgeon that are used to monitor the sustainability of the fishery and ensure this great recovery continues. As a result of this monitoring program, biologists have determined the short-term goals of the plan have been met.
The Lake of the Woods/Rainy River population, like other lake sturgeon populations in Minnesota, has been threatened by the combined effects of past overharvesting, decades of industrial water pollution, and habitat degradation caused by dams that have changed water flows and short-stopped fish migration routes to breeding waters.
Lake sturgeon recovery efforts on Lake of the Woods
began in the 1960s when pollution controls were put in
place through the U.S. Clean Water Act and reciprocal legislation in Ontario. However, recovery has been gradual because of the low reproductive capacity of this species. The lake sturgeon, sometimes called the living dinosaur of the fish world, can live to more than 100 years of age and weigh more than 200 pounds. It is a long-lived, slow-growing, late-maturing fish. In Lake of the Woods, males do not reach sexual maturity until 17 years old and females until 26 years old. Unlike most fish species, they do not spawn annually.
Due its slow growth and late maturing characteristics, the lake sturgeon is highly susceptible to over harvest. Only under low levels of harvest will a depleted population be able to fully recover.
According to DNR fisheries biologists, during the recovery phase the allowable harvest on this population has been conservative and held to a level that would provide some harvest opportunities while allowing the population to recover at an accelerated pace. The DNR is not anticipating any adjustments in lake sturgeon fishing regulations at this time.
"While our short-term recovery goals have been met, this does not trigger any changes in the management framework," said Kevin Peterson, DNR area fisheries supervisor in International Falls. "This framework will still include an innovative harvest management tag system, a defined harvest, catch-and-release seasons and a closed season to protect spawning fish."
Lake sturgeon fishing regulations on the Minnesota side of Lake of the Woods and on all other state waters will remain the same. Anglers can purchase a tag to harvest one lake sturgeon between 45 and 50 inches, or one more than 75 inches per calendar year. Mail-in registration cards are required for anyone wanting to harvest and possess a lake sturgeon. Party fishing for lake sturgeon is illegal. Gaffs may not be used to assist in landing sturgeon.
The spring harvest season on the Rainy River runs from April 24 – May 7. From May 8 to May 15, anglers can fish for lake sturgeon, but must release all fish they catch. The fishing season for lake sturgeon is closed May 16 – June 30. There is a second harvest season that runs July 1 – Sept. 30.
Lake sturgeon fishing regulations are detailed in the Fishing Regulations guide or online at www.dnr.state.mn.us/regulations/fishing.
For more information on the lake sturgeon, go to www.dnr.state.mn.us/minnaqua/speciesprofile/lake_sturgeon
---
Apply now for the 2012 Minnesota elk hunt
Hunters have until Friday, June 1, to apply for one of 23 elk licenses offered this year by the Minnesota DNR. Elk licenses will be available in the traditional Grygla area. Licenses also will be available in Kittson County, which offers its traditional zone and a new zone in the northeast. Maps of all three hunt zones are available on the DNR website at www.mndnr.gov/hunting/elk.
"A larger number of licenses are being offered this year to manage for the goal population levels identified in our elk management plan," said Erik Thorson, acting DNR big game program coordinator. "A conservative bulls-only hunt is also being offered for the first time this year in a new area of northeastern Kittson County to target a population that also spends time in Manitoba. This limited hunt is designed to maintain this population's wild behavior while still allowing the herd to grow."
All applications must be filed electronically at any DNR license agent, the DNR License Center at 500 Lafayette Road in St. Paul, online at www.mndnr.gov/buyalicense or by telephone at (888) 665-4236. Hunters may apply individually or in parties of two. There is a non-refundable application fee of $10 per hunter.
Successful applicants will be notified by mail. An elk license costs $250. Each party will be authorized to harvest one elk. Applicants must choose one zone in which to apply; they cannot apply to hunt in more than one zone. One license in the Grygla area and up to three in the Kittson County Central Elk Zone may be issued to qualified landowners in a preferential drawing. Licenses in the new Kittson County Northeast Elk Zone are only available through the general drawing this year. Unsuccessful landowner applications will be added to the general drawing, from which the remaining applicants will be selected. Alternates will be selected in case successful parties opt not to purchase a license.
Three seasons will be conducted in this year's elk hunt.
The first season in each zone runs from Saturday, Sept. 15, to Sunday, Sept. 23. The second season in the Grygla and Kittson County Central Elk Zones runs from Saturday, Dec. 1, to Sunday, Dec. 9. The third season in just the Kittson County Central Elk Zones runs from Saturday, Dec. 15, to Sunday, Dec. 23.
During the first season, two either-sex licenses will be available in Grygla (Zone 10), one either-sex license and five antlerless licenses will be available in Kittson County Central (Zone 20), and two bull-only licenses will be available in Kittson County Northeast (Zone 30). In the second season, three antlerless licenses will be available in Grygla, while one either-sex license and four antlerless licenses will be available in Kittson County Central. In the third season, one either-sex license and four antlerless licenses will be available in Kittson County Central.
If no qualified landowners apply, all licenses will be drawn from the general pool of applicants. Minnesota elk hunts are considered once-in-a-lifetime opportunities - which means parties who choose to purchase a license will not be eligible to apply for future elk hunts.
DNR expects bull elk to be the preference of most hunters. To accommodate this, the first drawing will select hunters for each zone. A second drawing among selected hunters will determine what license a hunter may purchase and the season in which they can participate.
All successful applicants will be required to attend an orientation session prior to the hunt. Hunters also will be required to register their elk in their hunt area.
Some biological information relative to elk physical condition will be collected at the check station. Elk will be tested for chronic wasting disease and bovine tuberculosis as part of Minnesota's wild cervid disease surveillance program. Hunters should be aware that all zones contain private land, so permission to hunt these lands should be obtained prior to purchasing a license.
---