Record-setting SHOT Show attendance
Signals good year ahead for Hunting and Shooting Industry
Surprise of Show – Taurus removes 28 Gauge Revolver from display
LAS VEGAS -- Back in 1979 before the first SHOT Show, organizers worried that industry professionals might not show up for the fledgling event, a story recounted in the just-released National Shooting Sports Foundation 50th Anniversary history publication. Organizers needn't have worried then, or now, about the vitality of the SHOT Show.
The 2011 Shooting, Hunting and Outdoor Trade (SHOT) Show soared above expectations by setting records for buyer attendance at 31,769 and media attendance at 2,074. Overall attendance of 57,390, comprising buyers, exhibitors, media and guests, ranked the show as the third largest ever behind the 2008 and 2010 events. In this sluggish economy, the SHOT Show demonstrates the resilience of one of America's oldest industries and the popularity of its products.
The surprise of the show was when Taurus removed their 28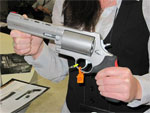 Guage Raging Judge revolver from the booth after a day, and decided not to make it. Taurus could well have been faced with an insurmountable problem with the fact that no .54 or.55 cal. Bullet was available and the feds may have considered the Raging Judge qualified as a sawed off shotgun.
Now, the big news just may be the new .410 shotshell Governor by Smith & Wesson. We'll revue this new addition in a future issue.
"The importance of the SHOT Show to the firearms industry cannot be underestimated," said Steve Sanetti, president and CEO of NSSF which owns the trade show. "The SHOT Show is simply the must-attend business event for all segments of our industry. Based on what we're hearing, industry has every reason to think that 2011 shows promise of being another strong year."
Filling the Sands Expo and Convention Center to capacity with 1,600 exhibiting companies covering 630,000 net square feet with their booths, SHOT Show brings together all facets of the $4 billion industry. Many companies use SHOT Show, the largest trade show of its kind in the world, to announce new products and services. Buyers and media members are able to handle and discuss products that include firearms, ammunition, outdoor and tactical clothing, optics, knives, related accessories and law enforcement equipment.
Comments from exhibitors and buyers confirmed that the 33rd SHOT Show was a success. Bob Morrison, president and CEO of Taurus, captured the mood with his comments in a local television interview: "We are having terrific growth right in the middle of this recession, and I'm delighted to be in this business."
Other industry professionals were just as upbeat about both the show and their prospects for the year.
Lea L. Ramthun of Beretta said, "Busy is the word. Dealers are excited about our new products. We've seen a lot of smiling, happy faces."
Paul Pluff of Smith & Wesson said, "The show has been an extremely positive event, very busy—almost busier than I have
ever seen it. We anticipate a great year due to a very successful SHOT Show."
Randall Pence, of Sturm, Ruger, said, "Traffic in our booth has been super. Our Scout rifle has been of big interest, and our LC9 pistol has been the hit of our booth. We're sensing a very positive attitude from everyone."
Chris Schwarzkopf of ArmaLite Inc., said, "New products are the retailers' main focus. We've seen a lot more traffic in our booth than we expected, and we added some excitement in our booth with a simulator made by Cubic."
Blake Mecham of Browning said, "Foot traffic is up, attendance is great, we've had good buzz about our products and our 1911-22 was the hit of the show for us. This SHOT Show has put us in a good position for the year."
More than 100 countries were represented at the show. Steve Collings of New Zealand-based Steve's Wholesale said, "We import a lot of ammunition and gunpowder, so it's very important to come and talk to my suppliers, to find new products, to get updates, to get a heads up on a change in metal prices. It's absolutely essential to be here."
Retailers do more than purchase products for their stores at the show. They improve their business skills at SHOT Show University, which was sold out and at seminars where representatives from the Bureau of Alcohol, Tobacco, Firearms and Explosives review regulations that apply to federally licensed retailers. For the second year, law enforcement professionals were provided with their own series of educational seminars.
With media at an all-time high, a larger press room, including a new working press area, was widely praised. Media also turned out in force at Media Day prior to the show, where they could test new models of firearms and other products.
Highlights from the show included . . .
Some 2,000 industry guests attended the NSSF State of the Industry Dinner sponsored by the Outdoor Channel at which NSSF reviewed its accomplishments over the past year. Comedian Jeff Foxworthy provided entertainment.
NSSF announced its 50th anniversary celebration and publication of "The National Shooting Sports Foundation: A History 1961 to 2011, 50 Years of Promoting, Protecting and Preserving Hunting and the Shooting Sports by NSSF, the Firearms Industry's Trade Association." An accompanying film, which will soon be available online, was shown at the NSSF State of the Industry Dinner.
Doug Painter, NSSF's longest-serving employee and former president and CEO, who will retire this spring after 37 years with the Foundation, was honored for his service to the industry and the organization.
Bob Behn, 41-year industry veteran and former Marlin president and CEO, was presented the NSSF-Ken Sedlecky Achievement Award.
Michael Bane, television host, blogger and author, received the Professional Outdoor Media Association-NSSF Grits Gresham Shooting Sports Communicator Award.
The 2012 edition of the SHOT Show will be January 17-20 at the Sands Expo and Convention Center in Las Vegas.
---
Milwaukee Journal-Sentinel Editorial Jan 20, 2011
The feds may be doing little to stop an invasion of the Great Lakes by the Asian carp, but at least several states are working together to protect this great natural resource.
Government agencies in Washington and Illinois seem to be moving with all the speed and alacrity of an ice floe on the Milwaukee River when it comes to dealing with the threatened invasion of the Great Lakes by the Asian carp. They've known the carp is coming; they've had years to deal with the issue. And their movement has been almost imperceptible.
So it's good to know that some Great Lakes states aren't just sitting on their hands. As two recent Journal Sentinel articles in the continuing "Great Lakes, Great Peril" series noted, those states are pursuing efforts to head off an invasion even as the carp move ever closer to the lake, bypassing federal barriers and efforts.
One such state effort is a lawsuit initiated by former Michigan Attorney General Mike Cox that pushes for an emergency closure of two Chicago navigation locks. The lawsuit, backed by Wisconsin, Minnesota, Ohio and Pennsylvania, also seeks to re-establish the natural separation between Lake Michigan and the Mississippi River basin that was breached by the Chicago canal system over a century ago.
There was perhaps some concern that with Cox's departure, the steam would go out of the lawsuit. Not so. Cox's successor, Bill Schuette, has said he has no plans to
abandon the lawsuit. That's good news. The states need to keep pushing together on this.
The states are appealing a judge's decision to deny an injunction to close the locks while at the same time pushing ahead with the larger case to permanently plug the Chicago canal system, a move that would have a serious impact on how Chicago handles its wastewater and barge traffic. This Editorial Board has argued for such a closure but remains open to any solution that would curtail invasive species from entering the Great Lakes.
On another issue, studying how best to block the carp, the states are also moving ahead of federal efforts. The Army Corps of Engineers is just now getting to the heart of a $25 million study that was ordered by Congress in 2007, and agency officials say it likely won't be done until 2015. That's way too long; by that time, the carp could have become a staple in local fish fries.
A Great Lakes mayors' group called the Great Lakes St. Lawrence Cities Initiative and the Great Lakes Commission announced last week that they raised $2 million from six foundations and are going to move ahead with their own study. We hope they find an answer soon, and that the feds and Illinois have the good grace to seriously consider any solutions found by that study.
The Great Lakes states are showing there's a good reason for a federal system in which states still have some powers.
---