Cast, Catch, Release and Repeat
Easily rigged with a 4/0 hook securely attached to the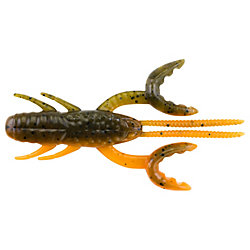 line with a Palomar knot, the instructions for Berkley® PowerBait® Fight'n Bug are even easier: cast, catch, release and repeat.
There's no arguing that this 3.5" soft plastic triggers strikes with its open, active pincers and extended tentacles, though deciding whether it's better on a Texas rig or as a jig trailer remains a point of contention. When working the bait through heavy cover, a slight twitch of the rod tip allows the Fight'n Bug's action to do what it does so effectively: catch fish.
With an MSRP of $4.99 and available in 12 colors, the Fight'n Bug has a long body and oversized pincers that move violently through the water when retrieved and an exclusive PowerBait formula that fish bite and won't let go. Combine the bait's action with a textured, lifelike body and ease of use and it becomes readily apparent why this will be the new go-to craw-style bait for professional and novice anglers alike.
Prime locations to use the Fight'n Bug are in and around cover and along rocky points where crawfish gather. Anglers in doubt about color selection should make sure to note water clarity and amount of sunlight. Typically, anglers should stick with natural colors in sunny conditions and turn to darker colors for stained water and cloudy days.
Features Include:
Available in 13 colors
Length: 3.5"
Pkg of 10
About $ 4.99
800-237-5539 [email protected]


Big Body with a Big Attitude
Baits that lumber through the water do so without any

life and they fail to entice fish to strike. While the Berkley PowerBait Slim Shad is big (6" long) its ribbed body gives it much more action than the stale behemoths that lumber through the water columns.
The paddle tail and deep, thin body gives the bait a rolling action like no other. With a ribbed body, the Slim Shad has a swimming action that calls to big bass that are holed up in deep-water grass pockets late in the season. Big predators prey on big baitfish, which don't fly through the water like small ones. Big baitfish cruise through the water in a somewhat carefree manner, making them easy forage for big bass not looking to expend a lot of energy to secure a meal.
Rigged on either a large jighead, weighted belly hook or part of a Texas rig, the Slim Shad is designed for deep-water applications. It doesn't matter if bass are suspended deep or cruising the shallows guarding fry, the Slim Shad can be thrown in most any conditions. With a significant amount of belly roll producing more flash, the Slim Shad is ideal in low light or murky waters.
The large profile and 12 colors give this bait a realistic look, while the exclusive PowerBait formula delivers a taste that bass can't resist.
Features Include:
Available in 12 colors
Length: 6"
Pkg of 2
About $ 4.99
800-237-5539 [email protected]


Floating T-Handle Makes Cull Markers Easy to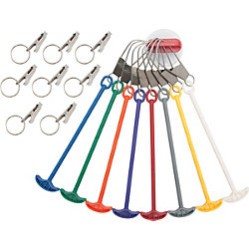 UseIn any tournament situation, culling is a good thing unless you are dealing with cumbersome culling markers. Fish that get handled too much suffer and no angler wants harm to come to his/her catch. Berkley Cull Markers (pkg of 6) take the hassle out of culling that small fish so culled fish make it back safely to their haunts.

Developed with a floating T-Handle, the Berkley Cull Markers are made for quick catch and release of fish. These markers were developed with quick culling in mind granting you enough time to cull the last small one in the livewell before heading in for the day. Anglers can quickly identify which colored marker needs to go and which ones need to stay.

The solid, one-piece markers ensure there is never an issue of water getting trapped inside. If an angler needs to balance beam fish the markers can stay on without worry of water tipping the scales the wrong way.

An added storage hanger for the Cull Markers makes storage and accessibility easy. Each Cull Marker is colored and has number codes to match the Berkley 35 lb. Precision Scale, adding to the accurate measures needed to make a decision on which fish needs to be released.

About $19.99

800-237-5539 [email protected]


Two Models for Multiple Uses
There are times when just the thought of packing gear down to the water can ruin a fishing trip before it even begins. Anglers need not be deterred by the thought of gearing up for their next fishing adventure. Berkley Fishing Carts will put their minds at ease by giving anglers a well-constructed and innovative solution to hauling their gear wherever needed. The Fishing carts are specifically designed to hold bait, buckets, coolers, surf spikes, rods, reels or anything else an angler would need.
Available in two sizes, the Fishing Cart 48 and Jumbo Fishing Cart 72, the Berkley Fishing carts can handle up to 200 pounds of gear. Typical use in salt and sand will not damage these carts. Each cart is constructed of lightweight aluminum with an electrostatic finish which increases their durability and stability. Each model comes with liner, incredible compact storage features, bait bucket and cutting board.
Berkley Fishing Carts collapse down for easy storage and weigh less than 30 lbs. Anglers also have designated spots for surf spikes, and convenient hook and loop straps will lock gear sturdily in place. The Berkley Fishing Cart 48 has 6-rod holders while the Jumbo Fish Cart 72 comes with 8-rod holders.
Specifications Include:
Size Fishing Cart 48 - 34.5" x 16" x 9"
Size Fishing Cart 72 - 44" x 17.5" x 9.5."
Aluminum Frame with Electrostatic Finish
Capacity -200 lbs (Both Models)
About $199.99 or 249.99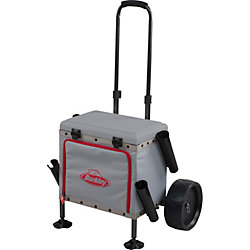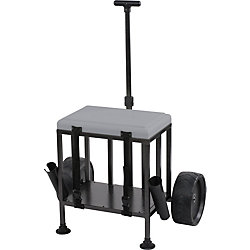 800-237-5539 [email protected]


Dynamic Swimming Action Delivered

Giant swimbaits are cool for California, but what if the waters back home don't play well with monsters? Small swimbaits are ideal for cleaning up pressured waters or on the end of a schooling rig. The Berkley PowerBait Rib Shad is 4.5" of pure swimming action that is designed for shallow or deep applications.
When the giant California swimbaits are too big for waters at home and all of the small swimbaits are already on an umbrella rig, the Berkley PowerBait Rib Shad gives anglers a big-bass bait that's just right. Fish seem insulted as the Rib Shad swims by without a care in the world, leading to punishing strikes.
Ribs line the 4.5" bait from nose-to-tail that rocks through the water perfectly on a small 1/8-oz jig head or a weighted-belly hook. Simply cast around vegetation or in and around heavy cover; vary the retrieve, and let the fish dictate how the Rib Shad is presented.
Power fishermen can use the Rib Shad as a clean-up bait to be used in an area believed to have been picked clean – and they will be shocked to see how many fish were left untouched. Laced with the exclusive PowerBait formula that fish bite and won't let go, the Rib Shad is available in 12 eye-catching colors
Features Include:
Available in 12 colors
Length: 4.5"
Pkg of 10
About $4.99
800-237-5539 [email protected]


UV Light makes night fishing easy
Anglers understand the importance that light plays in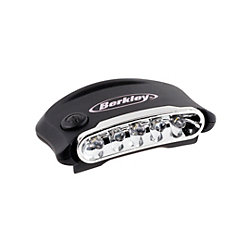 fishing – especially when it comes to night fishing. The Berkley Hat Light places the light squarely on the brim of any hat, making it readily available when needed.
Featuring a UV and white lights in one unit, the Berkley Hat Light gives anglers the ability to see fluorescent lines in the dark. This handy tool is bright enough to illuminate your fishing gear including fine detail work such as tying up light line during low light hours. A large oversized button makes for easy light activation whenever needed. With 20 hours of runtime on two, CR2032 batteries, the Berkley Hat Light has enough juice to run all night.
The Berkley Hat Light has two, white LEDs and three, UV LEDs. The solid construction of the light also makes this Hat Light water-resistant.
Features Include:
2 – CR2032 Batteries
Run Time-20 Hours
3 – UV Lights
2 – White Lights
About $9.99
800-237-5539 [email protected]


New Rigs Offer Unique Actions
Anglers must adapt to any given situation on the water.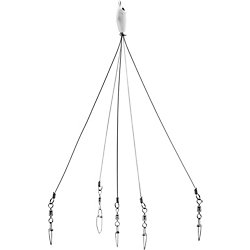 Berkley understands this simple fact and is now offering two more variations of its popular Berkley Schooling Rig and Schooling Rig Kit.
The Ripple Schooling Rig kit is a versatile rig that offers unique actions depending on how it's fished. Each rig features a removable middle arm and can be fished with 2-hooks or 3-hooks depending on state or body of water regulations. The Ripple Rigs can be fished "buzz" bait or "jerk" bait style, or a straight slow retrieve, and features a unique lifelike shad or minnow movement on the fall.
Anglers can access videos for these unique actions as well as rigging instructions by scanning the QR code on the front of the packaging or by visiting the Berkley website directly. The Ripple Rig Kits comes with a 5" long rig, three 3 ½" size Ripple Shads, and three 4/0 weighted belly offset hooks. Colors include Pearl White, Smelt, Greenback Pearl, and Racy Shad.
When fishing a lake or river system in the early spring or fall months and fish are following shad, Berkley has created the Mini Schooling Rig Kit. Each rig includes a 2 hook rig with a middle arm that has a willow blade spinner that adds additional flash to the rig. The Mini Schooling Rig kit comes with a 4" rig, two 3" size Ripple Shads, and two 1/8 matching jig heads with 2/0 hooks. Colors include Pearl White and Smelt. The Mini Rigs include a control ring for compact transportation on a boat or vehicle.
Both kits include high quality terminal tackle components and PowerBait swimbaits for added scent attraction to help anglers catch more fish.
About $14.99 for either
800-237-5539 [email protected]


Compact Cart for easy transportation of gear
Gear storage and transportation poses a problem for any angler. It can be difficult to get all of the necessary equipment required for a great day of fishing to the water. The Berkley Sportsman's Carts solve this dilemma and have been developed specifically to be compact and easy-to-use. There are two models of Sportsman's Carts perfect for anglers in need of a transportation solution for their tackle.
The Sportsman's Cart is constructed of steel with an electrostatic finish to provide durability in the harshest of conditions. The Pro model is made of lightweight galvanized aluminum with the same electrostatic finish as the standard cart offering equal durability and quality.
Sportsman's Carts come with extending handles for easy transport and storage. The pro model handle is infinitely adjustable for maximum versatility. Each model comes with an integrated seat with integrated cutting board. The seat is rated to hold up to 300 lbs.
The dimensions of both carts are 16" x 12.75" x 10.75" with 10" lightweight rubber tread tires giving them compact storage capabilities. The Sportsman's Cart comes with two rod holders, enough storage for 8 tackle trays and weighs 20 lbs. The Sportsman's Cart Pro comes with four rod holders, storage for 8 tackle trays, includes skin with zippered access and weighs only 16 lbs.
Features Include:
Size (both) 16" x 12.75" x 10.75"
10" lightweight rubber tread tires
Sportsman's Cart has 2 rod holders
Sportsman's Cart Pro has 4 rod holders
seat rated to hold up to 300 lbs
About $ 99.99 or 149.99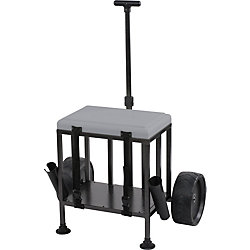 800-237-5539 [email protected]


800-237-5539 [email protected]