Rebel Pop-R Triple Threat 3-Pack and Classic Critter 4-Pack
· Triple Threat features 3 proven Pop-R's in advanced color patterns
· Critter 4-Pack perfect for streams, ponds, rivers and lakes
· Pop-R effective on all species of bass and many panfish
·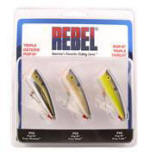 Critters catch anything that swims in freshwater, from trout to bass
Rebel Lures has been a leader in the fishing world for more than 50 years, and produces some of the fish-catchingest lures you can buy. The Pop-R Triple Threat and the Classic Critters 4-Pack feature the most effective lures in the best color patterns. Rebel is America's Favorite Fishing Lures.
About $9.99


Bill Dance Advantage Lure Retriever
· Saves snagged crankbaits/saves money
· Easy to use/easy to store
·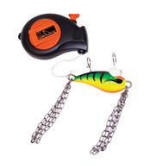 Perfect gift for the fisherman
The Bill Dance Advantage Lure Retriever is a hook-and-chain style retriever that rescues crankbaits from underwater snags by quickly attaching to the fishing line, sliding down to the snag and tangling in the crank's hooks, which then can be pulled back up to the boat with the super-strong cord. Pays for itself with only two uses!
About $14.99


· Protects against sharp teeth, fins and hooks
· Prevents life-threatening infections present in almost every body of water
· Prevents accidental cuts when filleting your catch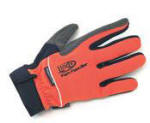 Lindy's Fish Handling Glove protects against more than the sharp teeth and fins of many predator fish, but also prevents life-threatening infections from bacteria present in many waters. It provides a sure grip on even slimy fish.
About $28.99


Tournament Marker Buoy Rack Pack
· Fluorescent colors bright enough to see from a distance
· Perfect for marking any underwater structure or fish
· Mounts to most boat interior surfaces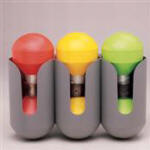 The Marker Buoy Rack Pack features three super-bright, barbell-style marker buoys with 60-feet of rot-proof cord and weight attached, plus a convenient rack that mounts to most boat surfaces to keeps them handy and out of the way when not in use. Internal ballast weights help the buoys resist "walk-away" in rough waters.
About $35.58


· Protects baitcasting reels from nicks, scratches and dust
· Neoprene construction for snug fit
·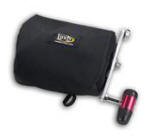 Keeps reels clean and safe during transport
The Lindy Reel Shield fits medium- and smaller baitcasting reels and keeps them safe during transport or while riding in the rod locker. Easy on, easy off for convenience.
About: $5.95


· Limited edition replicas of Heddon's most-collected lure
· Nostalgic look perfect for the tree or get-away cabin
·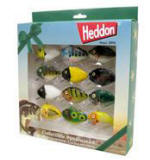 Two hook options for hanging vertically or horizontally
A perfect addition to your cabin by the lake or on the Christmas tree, Heddon Pumpkinseed Ornaments add a feeling of nostalgia anywhere they hang. Replicas of Heddon's most-collected lure, and only a limited number of these ornaments remain.
About $12.99


Silver Thread Bulk, 3,000 yd AN40
· Essential for every fisherman
· Lasts for years
· Tough, abrasion-resistant with superior knot-strength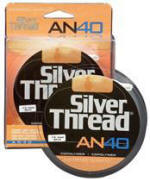 Perplexed at what to buy the angler in your life? Every fisherman needs line, and when you buy a bulk spool of 3,000 yards, it lasts for years. Silver Thread AN40 is the toughest, most-effective line you can buy.
About $29.99


· 3.5 GB computer flash drive
· Holds thousands of fish pictures (or family photos, if you prefer!)
· Designed on the same specs as an XCalibur XR50 Rattle Bait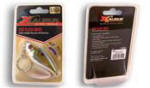 This computer flash drive holds thousands of pictures or documents and immediately identifies you as a computer-savvy fisherman. Works in virtually all computers.
About: $9.99


· Transport multiple rods easily and safely
· Fits four to six rod-reel combos of varying lengths
· Eliminates multiple trips from vehicle to boat
Transporting rods is cumbersome, but the Lindy Rod Tote makes it easy. Velcro connections allow for combos of various sizes and

lengths to be kept snug and safe while transport in a vehicle or while walking the shoreline.
About $20.20


· Super-warm, super-snug hoodie-style
· Lets anglers show their colors on cool days on the water
· Sizes from Medium to Triple XL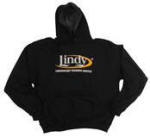 These quality sweatshirts are perfect for football or hockey games, cool nights around the fire or anytime there's a chill in the air.
About $22.99


· Filled with bass lures
· Pre-assembled ready to hang
· Reusable stocking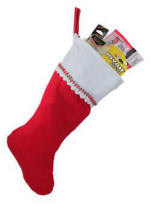 Lurenet's Holiday Stocking comes already filled with great bass lures at price half of what it would cost if purchased separately. You get BOOYAH Spinnerbaits, Bomber crankbaits, YUM soft plastics and more.
About $19.99