LaserMax offers complete Laser Kit for Rifles
Rochester, NY - LaserMax announces a new Value Pack for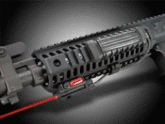 Rifles which brings together everything a rifle owner would need to fully equip his or her rifle with a state of the art laser sighting system. The bundle includes the popular Uni-Max® Rail Mount Laser, a Momentary Activation Switch (MAS) for remote activation, and the newly released MantaRail® Momentary Cord Control System that securely attaches the MAS to the Picatinny rail while managing the cord with supplied clips.
Since its inception in 2006, the Uni-Max Rail Mount Laser has quickly become one the most popular laser sights due to its light weight, compact size, durability, and the flexibility to fit on most anything with a Picatinny rail from pistols to rifles and shotguns.
Previously, the persistent challenge with MAS pressure pads was the loss of adherence demanding re-application of Velcro, tape, or other adhesives making a sticky mess of your rifle. The MantaRail solves this issue by eliminating the need
for any adhesives. Plus, with the clips included in the package, there's no need to worry about the 6" MAS cord dangling or snagging. The clips fasten the cord up close to the rail. These three high quality, rigorously tested products are now available in one convenient Value Pack for Rifles.
LaserMax is a leading innovator and manufacturer of high quality laser aiming systems. For more than 20 years, the company continues to proudly serve military units, law enforcement agencies and commercial markets worldwide. LaserMax products are recognized by professionals as providing First Shot Confidence your life can depend on. The company additionally delivers the most advanced laser products and optical systems for semiconductor, law enforcement, aerospace, biomedical applications, and telecommunications in harsh environments. LaserMax is a WBENC-certified small business and all products are designed and manufactured in our state-of-the-art facility in Rochester, New York, USA.
About $219.00
800.527.3703
---
Beretta Reduces Price of PX4 Storm Pistol
ACCOKEEK, MD Beretta announced that it has reduced the

price of its popular polymer pistol - the Beretta Px4 Storm. The Px4 Storm is now available for about $500.
Since it was first launched in 2003, the Px4 has been a recognized for its superior technological features and its myriad of customization options. Available in two operating systems, and three calibers (9mm, .40 S&W and .45 ACP), the pistol makes a great Father's Day gift.
One of the first pistols to be adaptable to hand size with interchangeable back straps and with a unique, recoil absorbing, rotary barrel design, the Px4 is available in full size, compact and sub-compact models. "Because the Px4 Storm is available in so many models, it's ideal for a wide range of use- from home protection to concealed carry to target shooting," said Ryan Muety, Director of Marketing and Consumer Direct at Beretta U.S. A. "This pistol has always had a great price per value story, and now we're able to offer it at an even lower price."
According to Gabriele de Plano, Vice President of Tactical
Marketing at Beretta U.S.A. the Px4 Storm surpasses the performance of the legendary Beretta 92 model and the military version, the Beretta M9. Because of this technology the Px4 Storm is noted for its reliability, durability and accuracy. It also uses the exclusive Beretta designed locked-breech with a rotating barrel system, the strongest action to date.
Beretta, established in 1526, is the oldest industrial dynasty in the world tracing its roots through 16 generations of continuous family ownership. Firearms bearing the Beretta name have been sold for almost 500 years. Beretta USA Corp. was founded in 1977 and supplies the standard sidearm to the U.S. Armed Forces. Today, Beretta manufactures, distributes and markets a complete line of firearms, accessories and apparel.
Beretta also owns and operates six retail Beretta Gallery stores worldwide
About $500.00
800-929-2901
---
Winchester expands its Model 70 Line
If dangerous game is on your wish list, the new Winchester Model 70 Safari Express rifle should be at the top of your purchase list. Big, tough, dangerous game demands a cartridge that can handle the job. Offered in 375 H&H, 416 Rem. Mag. and the time tested 458 Win. Mag., the new Safari Express Model 70 is the finest big game rifle in the world.
The new rifle features the famous Pre-'64 style claw extractor along with double recoil lugs, which dangerous game hunters have relied upon for many years to provide maximum action strength. The buttstock of the rifle features a classic cheek piece and Pachmayr® Decelerator® recoil pad.
The Safari rifle comes with an Express style rear sight and a hooded-blade front sight. Last, but not least, the new rifle features Winchester's new M.O.A adjustable trigger. A hinged steel magazine floorplate makes unloading the rifle easy.

About $1,279.00
---